On a recent summer evening, Harriet "Bunny" Olson climbed onto a sailboat for the first time in years. As she settled into her seat, talking all the while to the boat's captain and taking in everything around her, the boat slowly carved its way out of the harbor.
"Isn't this exciting," Olson exclaimed. "And I don't have to do a thing."
The 87-year-old Bellingham resident spent most of her adult life sailing in Bellingham Bay with her late husband, Dan. Now, through a program at her senior living community, she got to enjoy another evening on the water.
Solstice Senior Living, an independent senior living community in Bellingham, offers its residents the chance to check an item off their bucket list, whenever feasible, through a program called "Livin' the Dream." Solstice is home to over 100 residents, each of whom has their own private apartment with the option to have outside medical staff come in for extra help and to participate in a variety of programs and services.
Joining Olson on the voyage were her nephew, Dave Needy; Solstice Senior Living Vibrant Life Director Connie Streubel; the boat's captain, Pam Spencer; and Spencer's friends Kathy Sheehan and Chuck Dingee, who is also a frequent musician at Solstice.
Streubel connected with Spencer through a post on Facebook asking around for anyone who might be willing to lend their boat to grant Olson's wish. Spencer, the owner of Spencer Audiology, donated her time, sailboat and expertise for the evening.
Once out of the harbor, Spencer shut off the engine, and after some convincing, Olson took a turn steering the boat. Normally a little wobbly on her feet, she was suddenly sturdy and confident behind the wheel.
It was a calm evening on the bay, and the wind was barely blowing. As the boat sailed along, Olson's nephew jokingly kept watch on the boat's speed, poking fun at his aunt each time the boat fell a fraction of a knot in speed.
"Don't you worry one bit, Dave," Olson said. "I know what I'm doing."
Olson and her husband were Needy's favorite aunt and uncle, he said. Afraid of passing along a family history of multiple sclerosis, the Olson's never had children of their own, but frequently took Needy and his siblings skiing and sailing.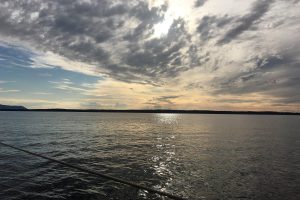 They traveled all over the country to ski, and they were always fun to spend time with, Needy said.
"When they showed up, the party was on," he said.
Olson met her husband, Dan, at the University of Washington. She was a sophomore cheerleader and he was a senior on the crew team. One day, sitting in the library, Dan passed a note to Olson's friend, asking who she was. Olson's friend was dating a friend of Dan's at the time. Her friend told Olson Dan was going to call her.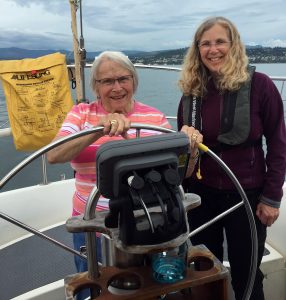 "That was January," Olson said. "Guess when he called? May. I waited months."
Dan also built sailboats. The first boat he built with Olson was a 23-foot sailboat that he called the Bunny Venture, referencing Olson's nickname.
"It's kind of like getting a tattoo," Needy said. "You're committed at that point."
In 1955, Olson and Dan got married. They moved up to Bellingham shortly afterward for Dan to join his brother's law practice. Olson taught first grade at Carl Cozier Elementary School. They spent many years sailing together on Bellingham Bay, with Olson at the helm and Dan managing the sails.
Dan passed away about three years ago, one week after Olson moved into Solstice Senior Living.
Out on the bay, Olson remembered the names of all the landmarks she steered the boat toward, and explained it all to Streubel as she went.
As they turned the boat around to head back, the wind picked up a little more, and the boat briefly reached five knots.
"Now we're sailing," Olson said. "Oh, aren't we just the luckiest people in the world?"
Sponsored