Have you ever wondered how Village Books brings so many great authors to Whatcom County, or how they create so many impressive literary connections?
Although the answer is multi-faceted, one reason is Book Expo, the annual event that's among the nation's largest gatherings of bookish brethren. Publishers, authors, illustrators, agents, editors and bookstore owners from across the country gather in New York City for three days of mingling and networking.
"It's been a long-standing tradition to attend Book Expo, and to find new books, new authors, and to find out what folks are excited about," says Village Books co-owner Sarah Hutton. "It's the place to be if you have anything to do with the book industry."
This year, Hutton joined co-owners Kelly Evert and Paul Hanson, along with events coordinator Claire McElroy-Chesson, for the May 29 to 31 event at the Javits Center in Manhattan.
Attending Book Expo allows Village Books to get in-person meetings with publishing houses and authors, which can have an increased effect on successful author event bookings. Talking up the quality of Bellingham's literary scene and surroundings goes a long way, says Evert.
"In order to get authors all the way to the other side of the country, we have to really promote that," she says. "And that's one nice thing that an independent store can do: bring authors to a community."
McElroy-Chesson is an integral part of getting those authors to Village Books. This was her first visit to Book Expo, and she was blown away by the scope of the event.
"I wish there were four of me," she says. "There's so much happening, all at the same time."
Commonly, McElroy-Chesson receives lists of touring authors from publishers via e-mail, and makes requests to have them visit. She was unsure if best-selling author Christopher McDougall would be bookable via those traditional means. Going to Book Expo changed that.
"Actually talking to the folks who represent Chris kind of sealed the deal," she says. "When I came back from Book Expo, there was an email waiting for me."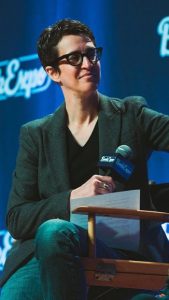 Still, other bookings occur a bit more serendipitously: meeting at a cocktail party, or making a connection through both knowing a third party. Attending Book Expo is also a chance to be star-struck by both literary giants and celebrities. Actress Jenny Slate, MSNBC's Rachel Maddow, Queer Eye's Jonathan Van Ness, Supreme Court Justice Sonia Sotomayor and Blondie's Debbie Harry were all at this year's event.
In between meetings with publishing houses, the Village Books team tries to discover new books and their authors, many of whom are happy to sign their works. This year also included several gift vendors, and each member took some books home with them.
"Whatever we have room for in our luggage," McElroy-Chesson says with a laugh.
Hutton says attending Book Expo each year reinforces the fact that Village Books is well-regarded in the book industry on a nationwide level. And more authors, she adds, are choosing to make tour stops in Bellingham instead of Seattle. Whatcom County is well-placed between the larger markets of Vancouver, B.C. and Seattle, offers a more low-key atmosphere, less traffic, and great turnout from book lovers.
And when more customers keep showing up at Village Books, that's good for everybody involved.
"When customers come and listen to an author, or buy their books at Village Books, then more publishers will be more likely to send more authors to our community," Hutton says.
There's a lot to look forward to in the coming months regarding both book releases and live events at Village Books. The team is especially excited about The Testaments, Margaret Atwood's long-awaited sequel to The Handmaid's Tale, due out in September, as well as Ruta Sepetys' October release The Fountains of Silence, a historical fiction novel set in 1950s Spain. Other new releases will be highlighted in this fall's Chuckanut Reader.
As for Literature Live events, there are many, but the team is especially excited to announce that Markus Zusak, author of the international best-selling novel The Book Thief, will visit the area later this year. In the more near future, New York Times best-selling author Louise Penny will speak at the Mount Baker Theatre on August 30 as part of the Booked at the Baker series.
For more on all things Village Books, visit the bookstore's website or stop by in-person at either location.
Sponsored