There are few things scarier than a cancer diagnosis—and receiving one can throw a person into absolute confusion. There's a long list of things that need to be done before a first visit with an oncologist. What must be done first? And in what order do other things follow? Add to all of this a wait time between diagnosis and treatment that feels like an eternity. It can all be overwhelming, at a time when fear of the unknown may make simply navigating each day a challenge.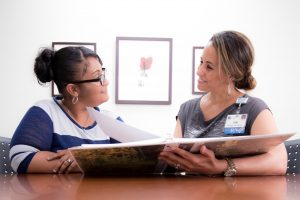 About ten years ago, hospitals realized that patients didn't always fully understand the steps and processes involved in the medical approach to cancer treatment. To help, they created a position called a nurse navigator.
At PeaceHealth, a nurse navigator is assigned to patients who receive a specific type of cancer diagnosis. They're in charge of guiding patients through the system and can be the only constant during a complicated process filled with multiple doctors and specialists.
After a cancer diagnosis, patients must schedule a long list of procedures, tests, imaging, specialist visits, and other appointments. Each step must be completed in order, giving the oncologists all the necessary information to devise the best possible treatment. Before nurse navigators, steps would often be taken out of turn, leaving patients and doctors with wasted time and extra visits, which cost the patient—and their insurance company—money.
"I help guide them through the world of testing, procedures, and doctor appointments while giving them support and information," says Kathy Millson, nurse navigator for PeaceHealth. "I use my skills to educate, guide, answer questions, and be available and present at appointments, so they feel they are not alone at this time."
Millson schedules visits in the order they're needed and answers patient and family questions. She's available as a constant resource anytime a request arises and works as the conduit between departments to ensure the patient is taken care of in every possible way.
"There was a gentleman who was diagnosed with lung cancer, who lived by himself, and his lung cancer had spread to his brain," Millson recalls. "He couldn't drive; we had to provide transportation for every appointment." Because of the man's illness, he often forgot about his doctor visits.
Millson and a social worker teamed up to make sure he made it to all of his appointments moving forward. Every day, without fail, the man would call one of them for his schedule and make sure he had a taxi waiting when he needed it.
Otherwise, "he probably wouldn't have gotten care for his cancer," Millson says. "We were able to give him care and a better quality of life."
"A lot of [patients] have challenges," Millson continues. "It could be that they don't drive or have a car, or they're worried they don't have insurance or [will have] financial constraints." Millson connects them with financial advocates, directs them to help with insurance, and assists them in finding transportation. "Supporting them makes their outcome more successful and less stressful."
Millson has been a practicing oncology nurse for 40 years. She's well versed in answering questions and can educate patients, easing their minds when they're unsure about procedures and exams.
"There can be 12 different doctors at one point involved with the patient's care," says Millson. "They'll call me when they don't know who to talk to when they're sick. I know the right questions to ask to direct them to the right doctor."
She compares her position to that of a tour guide. "I do all their scheduling ahead of time," she says. "I'm with them as they go through these different places and tests, so they're not alone; they're supported and educated along the way." Having this support can significantly relieve anxiety and fear during what is, for most people, a very challenging time.
The best thing about nurse navigators is that their services are free. "I don't have a timed phone; patients can call me, and there's no charge to them or their insurance. It's just to help ease their mind and to know that I'm there beside them," says Millson.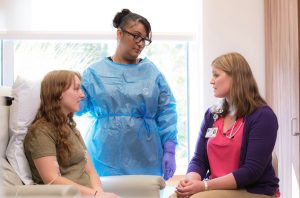 She loves her job and wouldn't trade it for anything. "I have the opportunity to have conversations at a very meaningful time in their lives," says Millson. "Being a nurse can be challenging, but I feel I can bring hope and support to patients while they travel through this disease."
Millson has been a cancer nurse her entire career because of her love for the patients. "When you have a diagnosis and reality sets in, people tell you the meaningful things in their life," she says.
Navigation is her dream job, allowing her to meet with people at a crucial time in their lives, to hear their stories and get to know them—as well as see the benefit they're getting through the healthcare process.
"It's very rewarding," says Millson. "I like to see how families work together. People come together in a way that's not surface anymore. It brings out the depth of true caring."
If you have questions or would like help from a nurse navigator, please call the PeaceHealth St. Joseph Cancer Center at 360-788-8222.
Sponsored