For 17 years, I've wondered about a guy I see around town. Perhaps you've seen him—gliding by on a recumbent bike with a safety vest and a grabber in a pipe sleeve. He'll ride into the Burlington Coat Factory parking lot eyeing the curbs for trash. He frequents Cordata Parkway, which will soon provide a buffered bike lane for him to bike on more safely.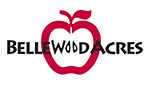 I had to find him. I asked area shopkeepers and friends who worked as property agents. Nothing. I walked daily to the Community Food Co-op in hopes I'd see him. Months went by. Hmmm. Perhaps he moved away—or worse. Finally, walking towards Westerly in the Co-op parking lot I see an orange flag above the bushes. I run toward the roundabout. There he is! I wave him down. He pulls out a card with his info on it. "This card is for when I get whacked by a car; then they'll know who I am," he says with a laugh.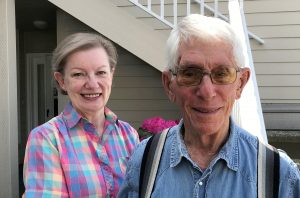 We meet at his home a few weeks later. His wife, Kerstin, set up the interview date and when I arrive, she greets me and is then immediately on the phone; Jack has forgotten the appointment. "You better get here in five minutes or we'll reschedule," she says firmly. "I wrote it on the white board. Next time I'll use red ink!" she says.
I chat with her and learn that the couple has been married for 37 years. She tells me Jack had an aneurysm and stroke 21 years ago. He nearly died. From this, he has vascular dementia, the main symptom of which is some loss in short-term memory and comprehension.
Jack and Kerstin moved to Bellingham to get away from the Minnesota winters and because they'd caught the "sailing bug" on Lake Superior. They were tired of waiting for the lake to thaw each spring, so headed west. Jack thought Anacortes would suit them, but Kerstin saw the hills and waters of Bellingham, and told Jack they'd found their place.
They also found a 38-foot sailboat in Vancouver, B.C. The couple wanted to sail the San Juans and maybe the Inside Passage to Alaska. On their final visit to prepare the boat for the trip to Bellingham, Jack suffered the aneurysm and stroke. After three surgeries and a year-and-a-half of rehab, the couple managed two years of sailing in the Salish Sea before it became too much for them.
During his rehab, Jack met with a stroke survivors support group. There he met an alternative transportation specialist and bicyclist that convinced him the bike was the best way to get around. Jack has "left neglect," meaning he can't see at all on his left side; the aneurysm surgery also resulted in tunnel vision. He was no longer able to drive—but he could bike. He's averaged at least eight miles a week for the last 15 years. Do the math: that's more than 6,000 miles!
When he's out picking trash, Jack regularly has teenagers and older ladies give him a dollar for his efforts. "It's my mission!" he says. "I grew up a civic-minded person."
Pacific Continental Realty used to pay Jack to clean up around their buildings. "And Saratoga Realty gave me $500 as an award for my work," he says. "After [Hurricane] Katrina, I donated that money to kids from my church who went to New Orleans to help with the cleanup. I also once donated my annual salary from Pacific Continental to the youth group." What a way to pay it forward.
Jack's cleanup route is between the Guide Meridian to the east and Aldrich Road to the west. For safety reasons, Kerstin requires him to be south of Horton Road and north of Bakerview. He doesn't go south of Bakerview, because he does not feel safe in the fast traffic, even with bike lanes. "People get in their cars and have blinders on," Kerstin says. Jack can't wait for the buffered bike lanes on Cordata to be completed.
He now sees a few other older couples walking around Whatcom Community College and the neighborhood picking up trash. He finds it inspiring to think he may have played a part in encouraging them to do so.
At the end of our time together, Jack wants to show me something in the TV room. There on the wall are his medals from his service in the Korean War. He was a tail gunner on the B-26 Marauder, from 1951 to 1952. He flew 56 missions trying to cut down supply lines between China and North Korea. With the photo is a Distinguished Flying Cross and Air Medal from the Air Force. "I'm a survivor," Jack says, "and I owe it all to Kerstin."
Got an idea for someone you've always wondered about? Maybe you already know them but think they deserve some limelight. I'm looking to get to know others that make our community a better place, a unique place, maybe even a stranger place. Drop me a line at submit@whatcomtalk.com.