Whole body health is all the rage in today's well-being circles. It might come as a surprise that massage therapists help with more than relaxation. Car accidents, tension headaches, carpal tunnel, migraines, and muscle strains are just a few of the many reasons clients choose Still Life Massage and Float for complete body care.
"We have 10 massage therapists, and everyone offers something different," says Shannon Fuller, co-owner of Still Life Massage and Float with her husband, Tim Fuller. If a therapist is working with a client and feels their colleagues have a specialty that would benefit them, they refer to each other without hesitation.
"Most of what we do is medical massage," says Shannon. "We treat injuries and car accidents, pregnant mamas, or people who have just plain over-worked themselves in their garden. Though some therapists, like Richard [Secrist], specialize in a "knock-you-out, blissed out, awesome massage," Shannon says. "He sees clients who have been in accidents, too, but many clients seek him out for his relaxing massage techniques."
Often massage helps people in unexpected ways. "A woman came to me after a car accident, and I saw her for close to a year," says Shannon. "It was time to wrap up, and she was feeling better." The woman told Shannon that she would miss the connection they had; nobody else had physical contact with her for an hour at a time. The client felt that the massage helped her to get out of a depression she hadn't even been aware of. "The reason I saw her was accident-related, but that wasn't her supreme outcome," says Shannon. "It was being touched and having somebody be there for her."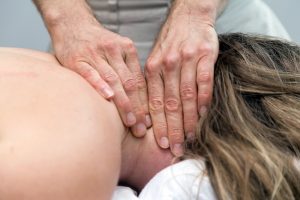 Still Life Massage practitioners offer several modalities all under one roof. Each therapist uses their specialties and passions to bring the best method of healing to clients.
CranioSacral massage
"Janel [Kollmar] does CranioSacral work," says Shannon. "It's extremely gentle, so she tends to get clients who want to be nurtured."
In CranioSacral massage, practitioners use tender touch to release the tissue around the central nervous system. "If there's any misalignment around your spine, then fluid doesn't move as well," Shannon explains. "It gently affects bones in the skull, working with the cerebrospinal fluids that wrap your brain and spinal cord, moving the fluid through your brain and skull, helping the nerves."
The list of ailments that CranioSacral massage helps is remarkable. Autism, ADD, concussions, traumatic brain injuries, central nervous system disorders, and fibromyalgia, among others, can be improved with this treatment.
Cupping massage
Cupping massage is another modality offered at Still Life by Yvonne Newgard, Ashley Rosen, and Lara Hart. During a regular massage, practitioners press into tissue, releasing tension under the skin with pressure. Cupping does the opposite.
"It's negative pressure," says Shannon. "Silicone cups create suction; they lift and separate tissue and move fluid out." This method allows practitioners to focus on areas that need extra care. You'll know how much fluid was moved by how dark the circular spots are that are left behind. The marks fade in three to seven days, depending on your skin.
Intraoral massage
Intraoral is a massage inside your mouth. Neck, gums, and tongue muscles all flow through your oral cavity and several muscles attach inside the jaw.
"After a car accident, all the muscles you chew with can be affected, or people who clench their jaws when they're tense or suck on their tongues. Suction you create in your mouth is all tension," says Shannon. "Having somebody working on it can be emotional—it is common for clients to cry; not from pain, but from the emotional release of that tension."
Neuromuscular massage
"Neuromuscular massage is detail-oriented, working on fascia," says Shannon. It's very specific muscular work—and it's Shannon's specialty "I love whiplash and working on necks; that's totally my thing."
Pre-natal massage
Pregnancy is an emotional time, with highs and lows, excitement, a lack of sleep, and often discomfort. A rapidly changing body can leave mothers feeling exhausted and sore.
Prenatal massage eases tension. "It helps to release and relax the muscles that aren't where they're used to being," says Shannon. "Plus, we have pillows for people to lie face down; that's a big deal for women who are tired of laying on their sides."
Deep tissue massage
There's often confusion when it comes to understanding the definition of deep tissue massage.
"A lot of clients think it is hard pressure, and that can be deep tissue, but it can also be defined as a slow and gentle to moderate touch to get to those deeper layers," says Shannon.
Shannon and her team make sure ahead of time that they know exactly what clients want before pairing them with the right massage therapist. If a client is specifically asking for deep pressure, she might direct them to Jamie Emmons or Richard Secrist, but if they are looking for light to moderate pressure she might direct them to Sondra Matara, Meghan Denny, Erika Rado or Andreas Weinrich.
Shannon and Tim want folks to know the wide array of options they offer and that a client can ask for a different type of massage. They can also feel free to say, 'This is what I need,' and the Still Life Massage team will know in which direction to go.
"If a client calls and we chat for a few minutes, I have an idea of who would be a good fit for them based on our conversation and what they're looking for," Shannon says. She uses inside knowledge of her staff, their personalities, and specialties to customize an experience for clients.
"The staff offers the whole package," says Tim. "They always give good advice. They want  you to feel better, not necessarily to just keep coming back."
Sponsored