When I met with executive director Katherine Freimund, she was still flush with excitement from Whatcom Literacy Council's recent fundraiser. The Trivia Bee had brought Ken Jennings—well-known, record-holding champion of TV's Jeopardy!—to Bellingham to rub elbows with participants.

Every spring, the Trivia Bee brings dozens of teams together to match wits, and see who wins bragging rights as the biggest know-it-alls in town. And every fall, the beloved champion of books and readers everywhere, Nancy Pearl, comes to town to host a fundraising breakfast. These big names and big fundraising events are key to helping the Whatcom Literacy Council accomplish some big goals for local residents.
The Whatcom Literacy Council has roots that go back to 1983, when a group of Bellingham Technical College instructors noticed that some of their students could do better in their studies if they had tutoring. Since then, the nonprofit organization has grown to span all of Whatcom County, sending over 100 volunteers to work with more than 800 learners each year. Their mission is still to assist adults who wish to improve their literacy skills or learn English for the first time. Most work below a high school level, and some are functionally illiterate.
Functional illiteracy is a term that describes an adult that reads at or below a fourth-grade level. It's estimated that six percent of Whatcom residents fit that description, a figure that puts us at the low end of the national average. Some are immigrants—many from the former Soviet states, and many from Central and South America—who are looking to make a life in this part of the world. Others were born and raised here, but grew up under the stigma of being bad students or troubled children, who we now recognize as living with dyslexia or other learning disabilities.
No matter the cause, the Whatcom Literacy Council has learned that they are most successful when they ask what each person's—or each group's—goal is, and create a program customized to their needs. "We have some of the best volunteers in the area," says Freimund. "We give them the training they need and the support to go out to meet people where they need help."
Whatcom Literacy Council volunteers often help in churches—congregations as diverse as Birchwood Presbyterian in the Cordata neighborhood and the Guru Nanak Gursikh Temple in Lynden host English classes for people who attend their churches.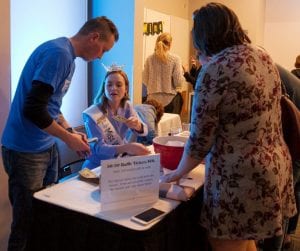 A lot of their work is done in city and county libraries. Since our libraries—like others across the country—have recently been undergoing a change from a place to borrow books to an outlet for all manner of community services, they have been happy to work with the Whatcom Literacy Council. "We consider libraries some of our closest partners," Freimund says. "They not only offer spaces for our classes and our tutors, but they also offer referrals to people that need our help."
They also find a large number of clients through the area's schools. "When parents are engaged in learning with classes like those offered by the Whatcom Literacy Council, data shows that their children will do better academically and socially," Freimund says.
And the numbers show that it goes both ways: when a parent struggles, their children are more likely to struggle, as well. And on top of being able to speak English well, when a parent can connect with their kid's schoolwork, communicate with schools, and hold a meaningful and fulfilling job, their children are more likely to accomplish more for the rest of their lives, as well.
Local businesses bring them a good share of their students. From laborers at farms and roofing companies, to those looking for a better opportunity through WorkSource, Goodwill and DSHS, the requests for assistance pour in.
Some of the more frequent requests include courses in English as a second language, and help studying for the GED or citizenship tests. One novel form of outreach sees the Council partnering with Unity Care NW; when new parents bring in their baby for a checkup, Unity Care NW's Reach Out and Read program sends them home with a baby book, in the hope of sparking a lifelong habit of reading. They also slide in a flier with information about the Whatcom Literacy Council's programs, in case the parents struggle with reading.
The Whatcom Literacy Council's success lies with its volunteers and with the investment they make in those volunteers, so they're fully prepared to tutor a person, lead a class, or teach a course. Freimund enjoys telling the story of one woman who came aboard to do a little tutoring, then caught the literacy bug. Now retired, she takes trips to various parts of the world to teach English as a Second Language.
And as a non-profit, their success also lies with community members who are willing to chip in financially, by making a donation or with a recurring monthly gift. And, of course, there's always the chance to share breakfast with a literacy superstar, or to engage in a battle of wits with peers from across Whatcom County.