On a recent Wednesday afternoon at the Bellingham Food Bank, shoppers walk around, choosing the items they'll take home that day. They move through the sections of the space, picking up vegetables, bread and non-perishable food items. Since March, individuals and families who visit also have a new product available to them: tampons, pads and other menstrual support products.

The Bellingham Food Bank launched the menstrual support products program as part of its commitment to introduce more non-food items. Menstrual products can be extremely cost-prohibitive for low-income families, leaving women and girls home from work and school if they can't afford these products.
"I'll admit to having a pretty big blind spot about all of the health concerns and absenteeism that can happen for women and girls in work and school when they can't afford tampons, pads, napkins or whatever products they end up using," says Mike Cohen, executive director of the Bellingham Food Bank. "We all got pretty excited about the difference that it [the new program] was going to make for the people who use it."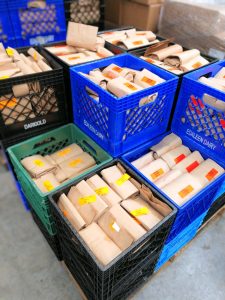 Of the families the Bellingham Food Bank already serves, 50 percent will be able to use this program, says Kristin Costanza, the Bellingham Food Bank communications coordinator.
"That is reason enough to introduce this program," she says.
Once they started doing research, they realized how vast the need is for these products.
"That's certainly what we hear from the people who visit us: 'It's not just food we struggle to pay for, it's any daily or weekly or monthly thing that is cost prohibitive,'" Cohen says.
Food stamps and SNAP benefits only cover food, so people are left to cover the cost of other essential products on their own. Most people also run out of food stamps approximately two weeks into each month.
Around the world, international aid is frequently directed at menstrual support programs, providing women and girls with pads and other products so they don't miss school or drop out altogether once they reach menstruating age. Similar efforts exist nationally, but the scope of the need for this support is less well known.
"I don't think nearly as much light has been shed upon what folks in this country who are low income are doing to combat the same challenge," Cohen says. "We know that people are having to choose between purchasing tampons or food or medicine."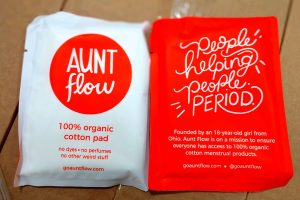 Here in Whatcom County, people often choose food over tampons and miss school or work as a consequence.
In Bellingham, 20 percent of people visited the Bellingham Food Bank in 2018.
Through this new program, the food bank decided to offer a selection of organic cotton and conventionally grown cotton tampons, pads, napkins and reusable menstrual cups. They order the items in bulk, and then volunteers put together packs of each product. People can take one of each kind of period support product; they don't have to choose just one. They hope to give people the opportunity to use what they're used to or what they'd like to use, Cohen says.
"So far it's been a really positive introduction," Costanza says. People don't expect to be able to take one of each kind of product.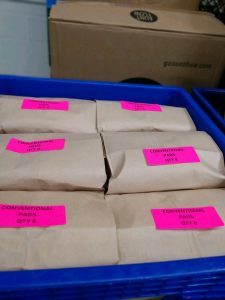 "There's a lot of pleasant surprise—and gratitude, of course," Costanza says.
The food bank keeps a database of their users. For this new project, they ask people who come in how many members of their family are of menstruating age and want to receive period support products. Then they're added to the database, so they won't be asked if they want the products each time they come in.
It's also a way to track if a family member has already picked up those products for the month. Because they are more expensive than other products offered, it's important to keep track of this information.
That said, the Bellingham Food Bank is not policing this information; they trust people will tell the truth about how many people in their family need these products.
The food bank estimates their packs of products can cover about 50 percent of a person's needs each cycle.
"Hopefully they'll have the buying power to cover the rest," Cohen says. "That's true with all the food we have; we can't be everything, sadly."
Through the new program, the Bellingham Food Bank is also contributing to efforts to destigmatize menstruation.
"It feels good to take talking about menstruation and menstruation supplies out of the shadows a little bit," Cohen says. "It's odd that it is sort of a whispered-about topic when most girls and women menstruate."
It's been interesting, he says, to witness how uncomfortable some people are talking about it and wondering aloud if they were planning to have the tampons and pads displayed in the food bank just like the other products. They are, by the way.
Talking openly about menstruation products and access issues is one way to destigmatize the topic and shed light on the need to address these issues.
"It seems liberating, I hope, to talk about it like a toothbrush or dish soap or food. It's an essential item," Cohen says.
To support this program, it's best to donate financially to the food bank, rather than donating supplies. Their money goes a lot further, because they buy everything in bulk. People can donate on their website any day, at any time. If you'd like the donation to go specifically toward period support products, you can say so in the comments section.
Bellingham Food Bank
1824 Ellis Street
360-676-0392
Hours:
Mondays: 11:00 a.m. to 3:00 p.m.
Wednesdays: 1:00 p.m. to 6:00 p.m.
Fridays: 11:00 a.m. to 3:00 p.m.