Mickey Erickson and his teammates knew it had been a while since the Ferndale High School boys golf team had last won a Northwest League title, but they had no idea just how long it had been.

"When coach told us it had been 45 years, everyone was pretty surprised," Erickson said. "None of us thought it had been that long."
Behind seniors Erickson, Sequoyah Julius and Liam Stewardson, the Golden Eagles ended the title drought this year. They didn't have to wait nearly us long to pick up their next trophy as Ferndale capped its historic season by placing eighth overall as a team at the Class 3A state tournament at Indian Summer Gold Course in Olympia on May 22.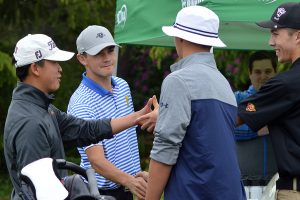 While the Golden Eagles were hoisting some hardware, Lynden's Jordan Medcalf was doing the same thing on the other side of the state as the freshman captured the 2A state boys' championship at Liberty Lake Golf Course outside Spokane.
Nearly three dozen golfers from Whatcom County closed out their high school seasons by playing at the state championships with five placing in the top 10.
Joining Medcalf as a state medalist were Mount Baker's Clara Bergman (fourth, 1B/2B/1A girls), Nooksack Valley (Carson Linville, seventh, 1A boys) and Bellingham's Jada French and Sophia Schmidt, who finished third and sixth, respectively, at the 2A girls state tournament.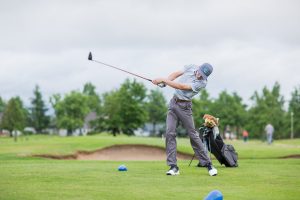 Medcalf became the first Lynden golfer to claim a state championship since Tim Feenstra won the 3A crown in 2001. However, unlike Feenstra, who notched his title 18 years ago after winning a playoff on the first hole, Medcalf finished with a two-day total of 147, two strokes ahead of runner-up Conrad Brown of Burlington-Edison.
Medcalf carded a 73 on the first day, placing him in a tie atop the leaderboard with Sequim's Paul Jacobsen. Medcalf closed the tournament out by shooting a 74 on round 2.
Sehome finished seventh at the 2A boys' state tournament as a team with Ian Hakeman (19th overall), Alex Hochsprung (24th) and Elliott Tanovan (34th) all placing in the top 40.
French and Schmidt's performances at the 2A girls' tournament at the MeadowWood Golf Course in Spokane helped the Red Raiders place second in the team standings for a second straight year. It also marked the third consecutive years both French and Schmidt finished in the top 20.
French, who finished the two-day tournament with a score of 152, was also second last year and 17th in 2018, while Schmidt (158) also registered a fifth-place finish in 2018 after placing 11th in 2017. Ellensburg's Kathryn Crimp won this year's tourney, carding a 146.
Bellingham also received a 29th from Kylie Kruhlak (184), while teammate Lucy Hodson (185) was right behind her in the standings, finishing 30th.
Linville shot back-to-back 79s to post a 158 at the 1A boys' tournament at the Olympia Country and Golf Course. Linville finished eight strokes behind state champion Gyan Bains of Charles Wright Academy.
Lynden Christian had three golfers participate in the 1A boys' tournament with Ty Hagen, John DenHartog and David Kenner. Meridian's Blake Van Den Top and Jordan Naidu and Mount Baker's Ayden Rodriguez also advanced to the state tournament.
At the 1B/2B/1A girls' tournament at Tumwater Valley Golf Course, Bergman ended her high school career by picking her fourth consecutive top 10 placing. Bergman shot 75 in both rounds for a total of 150. Annie Wright had the top two finishers in Abby Givens (151) and Nina Ye (155) to easily win the team state title.
Bergman also finished 10th as a junior last year, fourth as a sophomore and ninth during her freshman campaign.
Lynden Christian claimed eighth in the team standings, getting strong performances from Grace Meyer (18th), Sam Feenstra (35th) and Kiley Roetcisoender (37th). Meridian's Chloe Olson (32nd) and Nooksack Valley's Molly Tiemersma (43rd) also made the cut into the second round.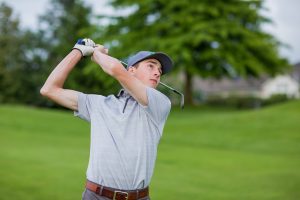 Ferndale's Sam Cox shot a 159 (77, 82) to place 20th at the 3A state boys' tournament, the highest placing among all five Ferndale golfers.
Julius (169) was 48th, Haiden Rasmussen (174) was 57th, Stewardson (189) was 68th and Erickson (191) was 71st for the Golden Eagles.
"It's been a pretty exciting season for us," said second-year Ferndale coach Chad Hoidal, who will graduate seniors Julius, Stewardson and Erickson. "The amount of leadership that the seniors have shown our young guys this season has been tremendous. Our whole program is sophomores and freshmen so having those senior lead by example has been so important for us."
Squalicum sent five golfers to the 3A tournament with Cameron Hulbert (50th) finishing the highest among Storm players.