Tucked away in a whitewashed, detached garage behind a Victorian home in the York neighborhood, you'll find Erin Crosby's Crosby Glass Studio. One giant door rolls open to allow sunlight and fresh air into the space. It is magnificent, with jewel-colored windows and hand painted glass hanging from every nook and cranny.
A painted, stained-glass portrait of Crosby's beagle rests on a shelf. A colorful series of glass recreations of famous album covers—from David Bowie to the Beatles—line the walls.
A gigantic window is propped up on an easel, its glass containing intricate details. Blue ocean waves, a floating pirate ship, and octopus tentacles reach out from the deep amid a sun shining on one side, a moon and darkness on the other, split in the middle by a compass. Crosby's getting the window ready to ship off to its new home in the Cayman Islands.
A big table rests at the center of the studio holding two 100-year-old pointed windows taken from Western Washington University's Wilson Library. They're both pulled apart in various stages of repair. Crosby was commissioned to fix all of the library's old panes.
"The windows were broken in multiple places," he says. "Every window had at least one panel that needed fixing; I've been repairing them for a couple of months. This is 100 years' worth of damage."
Crosby is the first one to work on the windows since their original installation in 1923.
"When they started the school, the library was in the Old Main building," he says. "Fifteen or 20 years later, they got a grant to build this library."
The Wilson Library is named after a beloved librarian named Mabel Zoe Wilson. She was the second and most influential librarian and essentially created the university's first library from a stack of books in the basement. She began by meticulously categorizing them, and from there grew the inventory and staff. She advocated for a proper building, until eventually, she won. The beautiful, Romanesque-style building now bears her name.
After looking through archives, Crosby found photos of young children diligently studying at the Wilson Library. "I think it was a resource for the community in general at that time," he says.
Crosby got into the stained-glass business about ten years ago.
His fascination with stained glass started young. "My mom did this when I was a kid, and I saw some of her projects, so I was aware of how it worked," he says. He was taken to church three times a week as a kid, and found looking at the stained glass far more interesting than listening to the sermons.
Crosby's from Texas and was living there before coming to Bellingham to visit friends. He loved it so much here that he decided to stay and found an apprenticeship with a local woman, Lee Alexander.
"I learned better techniques and how to increase the speed and quality as much as possible," he says. After five years of working with Alexander, she retired. He bought her materials and set out on his own.
The process of creating stained glass is lengthy and time-consuming, requiring numerous steps and waiting periods.
It starts with Crosby and the client sending ideas back and forth until they have a "cartoon" or a line drawing demonstrating what the finished piece will look like.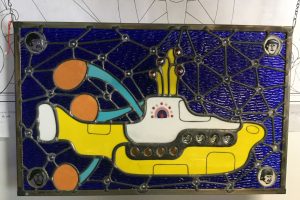 Once they have agreed upon a final design, "you take the glass, score it and cut it to form," he explains. "And then you lead it." This is where he solders each joint and curve, to hold the cut glass pieces together.
After the soldering, he applies a glazing compound, fills in the glass, and then polishes and waxes it.
Crosby attended classes in Everett where he learned to hand paint details onto glass. After hand painting, he uses a kiln to fuse it permanently onto the slippery surface.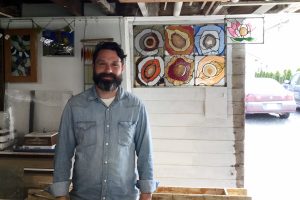 "Glass is tricky," he says. "It doesn't want to hold paint. So there are different methods to get it to hold together." Hand painting allows him to add intricate details that aren't possible with lead.
"I'm pretty much the only person in the county that will repair stained-glass windows," he says, "and I'm one of about two or three that will take commissions."
He's created intricate works of art for homes and important historical buildings all over the county.
Now, he creates his own stained-glass windows in churches, entertaining a new generation of young dreamers during the service.
To see more of Crosby Glass Studio work, visit his website.