Casual, yet classy. Seriously into it, but playfully so. A theater, but more like your living room. The Pickford is there for us. They're there when our filmmaker friend screens their debut. They're there when we want to watch an obscure feminist sci-fi and all we have in our pocket is a handful of quarters, or maybe some dimes. They give us so much food for thought. And now is our chance to give them something back.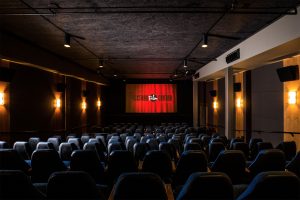 You can support your favorite local, non-profit art house cinema with a shiny new membership! Because it's spring, and maybe you realized that your gym membership from January isn't that appetizing. Just trade it in for something more relaxed! You want butter on that?
A membership to the Pickford means more than just loving the movies. It shows you support their mission to provide a forum for preserving independent cinema, and a space for media education and dialogue.
What you give the Pickford through your support of a membership is turned around and offered back to the community in the form of educational series and programing. "Memberships are supporting parts of PFC that aren't being covered by just ticket sales," explains Susie Purves the Pickford's Executive Director. "We are responding to people who want to see something that's not corporate cinema, and we couldn't be here without our memberships."
A big beneficiary of the membership funding is the PFC's Education Fund, which supports their Doc-ED and Media Literacy programs.
Through Doc-ED, the Pickford invites every public and tribal middle school student in the county to come to the theater to watch a documentary for free. They even provide the funding for the buses and serve popcorn for the event. "It's a chance for these children to learn about people and places they'd never encounter in their daily lives," says Purves.
In case you're not in middle school, you can still educate yourself through the PFC's rotating film series. Some are a short screening over a couple of weeks, some are perennial. "The film series are all fairly deep looks into different niches of the film world," says Purves. "Our Masters of Asian Cinema series has been going on for 10 years now. Someone who started off not knowing anything about those films can go to those series regularly and gain a fairly wide knowledge of the genre."
With over 5,000 members, you'll be in good company. There are membership options to match your flavor: adult, senior, student and business. There is also the option to be a philanthropist and just donate, because you simply love them that much.
"Some of our members are ones because they are people who love movies and come regularly, which makes it more affordable," says Ariel Brownstein, the Pickford's Membership Manager. "Some people are members, but can't come often or even at all during the year. It just means a lot to them to have that membership and show their support."
A PFC membership doesn't just look and feel good—there are perks, too. First off, go see a show on a Monday (or your birthday!) and snag yourself a free member popcorn. And might I remind folks that the Pickford serves it up right with a selection of tasty toppings? Garlic salt, parmesan, nutritional yeast, olive oil. Yes, perks.
If you just can't help yourself and wind up at the Pickford frequently, getting a membership will save you money. Members get VIP reduced price tickets and no service fee for buying them ahead of time online.
And, of course, there's a carrot for those thinking of becoming a member during their spring push. If you join or upgrade your membership before June 30th, you'll be entered into the drawing to win the highly coveted Goldfinger Card. The card grants the wish of free movies or the winner and a guest for an entire year!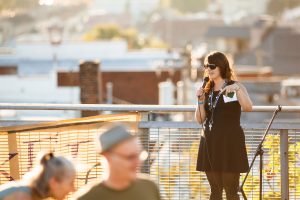 The Pickford does so much to enrich our community. Consider their free Rooftop Cinema events, and their monthly $1 family matinees.
There's simply not many places like the Pickford. A sovereign cinema that is made for the community, by the community. It's important to remember that to keep doing what they do, the Pickford needs our support.
My lovely neighbor, Warren Sheay, happens to be a member—to the extent that he considers the PFC his second home. I asked him why he loves the Pickford. "What to say about the greatest movie theater on earth? The Pickford is my lifeline to art, to ideas, to history, humanity—it's an essential ingredient to 'the good life' in Bellingham. Bravo!"
Sponsored