Directly across from the airport in north Bellingham, you'll find the Holiday Inn and Suites. The front lobby is enormous. A feeling of relaxation surrounds this light, airy space with its soft blue couches, bright white walls and a modern, horizontal fireplace aflame on one wall. A friendly face welcomes you behind a sizable wooden counter, waiting to check in guests.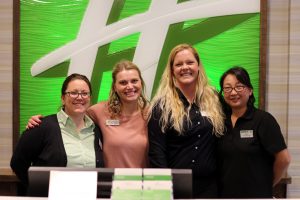 The hotel has been in operation for two years, and management would like to thank their many outstanding staff members who keep them running and have been there, with them, from the start.
Sachin Deo is originally from Fiji. He enjoys working out and playing soccer in his free time.
While at work, Deo is found in the restaurant working as a dishwasher, prep and line cook. He likes working at the Holiday Inn and Suites because of his coworkers.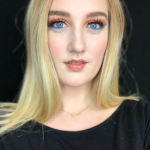 Mary Thompson has lived in Whatcom County almost her entire life. She's a versatile musician, playing the violin, ukulele, dulcimer guitar, djembe, guitar, and piano. She can often be found at home listening to records, cooking, and playing with her two cats Peanut and Baby Marshmallow.
Thompson started at the front desk and as a guest service agent, and was then promoted to front office manager. She loves the genuine, positive people she works with and meeting hotel guests from around the world.
Donna Rekunyk is a Bellingham native who enjoys traveling, reading and cross stitch. She's thrilled to be a grandmother to her seven-month-old granddaughter. Donna is the laundry supervisor for the entire facility, including the restaurant, hotel, and banquets. She loves her coworkers, who make work amusing.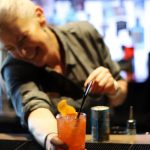 Dianne Maxwell has spent her career in the service industry and is a server, bar lead, banquet bartender and banquet server at the hotel. She and her husband love to take long meandering walks eating and drinking their way through town. They call it the "heel-and-toe express." Dianne loves chatting up new people and enjoys the sunshine and soothing decor that surrounds her at work.
Migali Rosas has lived in Washington for three years. She's happiest when spending time with her children. Rosas is the housekeeping supervisor and enjoys working at the Holiday Inn and Suites because of her coworkers' upbeat attitudes and being able to speak Spanish with the front desk staff.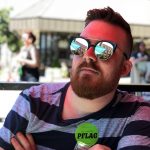 Andrew Roorda is a Whatcom County native. He earned a degree in history and then, naturally, went to culinary school. Roorda is currently pursuing another degree in finance. In his free time, he rides his bike checking out the scene and cuisine at bars and eateries around town. He loves to play Dungeons and Dragons with his coworkers. Roorda is the kitchen lead and likes to create weekend specials at northwater Restaurant, located inside the hotel.
Emily McLennan moved to Bellingham to attend WWU—and then stayed on after graduation. She likes exploring Washington, hiking, doing crossword puzzles at parks, and going to local trivia nights.
McLennan began with the company as a hostess at northwater, and was then promoted to sales and marketing manager for the hotel and restaurant. She's enjoyed the advancement opportunities and exposure to the community and local businesses that the job has allowed her.
MegAnne Offredi moved to Whatcom County from Chicago more than 10 years ago. MegAnne adores outdoor activities like hiking, camping and growing dinner in the garden. She loves to bake and create new recipes for the wild game her husband brings home.
Offredi began as the hotel as a sales manager and is now the director of sales and marketing. She likes getting to know regular guests who come through often on business.
Heather Icenbice spends most of her time caring for chickens and goats, doing yard work, and repurposing old things into useful things. She's a lead server and a fill-in bartender at northwater. Icenbice likes working at the Holiday Inn and Suites because of the great team of coworkers and cheerful culture they embody.
Cory (CJ) Anstett is the hotel's resident goofball. When not working, she takes care of livestock on her five-acre farm and hangs out with her goats, who all have people names. She has made a career out of bartending in Whatcom County, and many know her by her fiery red hair and sassy personality. Anstett likes working for the Holiday Inn and Suites because she's allowed to express her free spirit.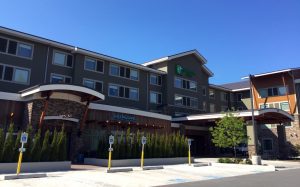 The Holiday Inn and Suites would also like to thank Diane Cross, Hui (Helen) Ni, and Lindsey Volz, who were unable to be interviewed, for being important members of the team since day one.
Thank you to the hard-working staff of the Holiday Inn and Suites for your long hours of dedication to the company. The hotel looks forward to many more years together.
Sponsored