For years, Whatcom County has had limited options for MRIs, CT scans, ultrasound, and X-rays. But Bellingham Advanced Medical Imaging (BAMI) recently arrived, in June 2018, and is shaking up the industry with simpler and more transparent options for area patients.
BAMI is a small, private radiology practice with a comfortable, welcome feeling. You won't run into crowded waiting rooms or overflowing parking lots. It's easy-in-and-out, and a revitalizing choice for patients.
Simple scheduling, highly sub-specialized on-site radiologists, and transparent pricing raise the center above its competition.
"What might come as a surprise to many patients is that they have a choice in where they receive their medical imaging," says Don Enos, director of marketing and business development at BAMI.
If you need an X-ray or MRI, using the hospital and similar service providers is expensive. "Going to our outpatient clinic is less expensive and can be more flexible," says Enos. "Patients have a choice."
Dr. Laurence Cambron, a neuroradiologist at BAMI, recommends having a discussion with your doctor. "Ask them where the most cost-effective place is to go. They should tell you. If you're going to get an MRI, it's most cost-effective to come here."
Hospital pricing can be cost-prohibitive for large numbers of the population. Patients with high deductibles, underinsured and a growing Medicare/Medicaid population often see big unexpected bills, which can be confusing. At BAMI, the goal is to provide patients with billing clarity to give them peace of mind.
"We're here for the patients throughout Whatcom County who care both about quality of service and are cost-conscious about what they pay," says Dr. Cambron. "It's important for us to serve them with great service, great technology, and a great facility."
Patients that choose to use hospital services are often left wondering for weeks how much they'll owe when the bill arrives.
At BAMI, the price is transparent. This is a refreshing, groundbreaking idea in the healthcare field for patients. At BAMI, you don't sit around wondering what the bill will cost. "We'll ask a few questions, and we'll quote prices for you," says Dr. Cambron.
BAMI's facility is equipped to provide quality imaging with lower overhead, giving patients the best possible care at affordable prices. Most every insurance is accepted at BAMI, including Medicaid and Medicare.
"We find ways to get [patients] care," Dr. Cambron says. "We're here to do the right thing for the patient." He genuinely cares about people receiving quality care and does so even at the expense of the center.
If patients have trouble with payment, the staff at BAMI work with them and help to establish payment programs that fit their budget.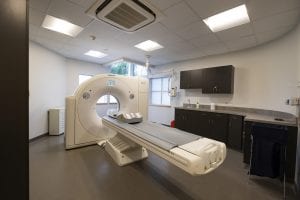 "We are accustomed to dealing with patients that have real challenges with the ability to pay," says Dr. Cambron. "We don't turn them away at our clinic, we find a way to get them the care they need."
Scheduling visits at BAMI is quick and hassle-free. You no longer need to wait for hours or days at the other option in town. "Patients can get in quickly and get out quickly," says Dr. Cambron. The small space allows easy access, simple parking, and no lines.
Imaging exam interpretations are typically delivered to your doctor within the day. Not only are they quick, but BAMI has a team of 16 highly specialized radiologists working together as a team to bring quality diagnosis.
"One of the things that has been a differentiator for us in Bellingham is our availability for your provider to call us up and get you in the same day in many cases. Our schedules are very flexible," says Enos.
"We live by our ability to say "Yes" to patients," he continues. "Patients often run into roadblocks within the medical industry. We take pride in and stand behind our customer service, whether it be scheduling payments or providing flexibility in scheduling."
"We're here to serve a portion of the community that sometimes is underserved by the current options available to them," says Dr. Cambron. He feels that the hospital does a great job in the community, but sometimes people can fall between the cracks with such a large population all utilizing the same space.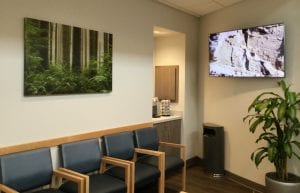 BAMI has created a much-needed option for patients in Whatcom County. People who decide to use their services now have the opportunity for transparency in payments, easy scheduling without long waits, quality diagnosis by a team of specialists, and same-day service.
When it comes to health care, it's good to have choices – and BAMI is a refreshing choice to share with your healthcare provider. If you have any question or want to schedule an appointment, give Bellingham Advanced Medical Imaging a call today.
Sponsored