The YWCA of Bellingham has been standing behind women since 1907.
Perched on North Forest Street between WWU's campus and downtown, the Bellingham YWCA's building is a stately brick, with towering white columns, surrounded by beautiful gardens. Most importantly, it's a haven for women during tough times.

Enormous, light-filled windows illuminate the halls with sunshine. Reading rooms cap each floor with quiet spaces for residents to sit and think while they take in stunning views of the bay and downtown Bellingham.
Originally, the building was a community gathering place, for patrons to enjoy a swim in the basement pool and the companionship of other women.
Changing times altered the needs of the community, and now it's used as a shelter for single women experiencing homelessness.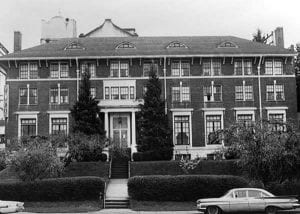 A recent resident suffers from an illness that incapacitates her ability to move around. "She has been able to rest here and get temporary jobs and has been working up to a more permanent position," says Katie Akin, office manager at the YWCA. "She says having a place to rest her head, relax and recuperate has changed her life."
The YWCA offers nine emergency beds, which are free for 90 days for women coming right off the street. "We have 27 beds where they pay very low rent," says Mary Dickman, YWCA housing director.
The program is set up for residents to stay for 18 months while they search for employment and long-term low-income housing. Bellingham currently doesn't have housing available, so residents are staying much longer.
Residents live in large, private, furnished rooms. Shared kitchens and bathrooms give it the air of a college dormitory.
Volunteers keep the center going with generous donations of clothing, furniture and time. It's beautiful to see the way the community rallies around the YWCA, helping residents receive what they need to get back on their feet.
The Lillian Dickerson Boutique is bursting with colorful racks and pre-coordinated pieces.
"We have a free clothing closet for women in need," says Akin. "We don't ask any questions; women can make an appointment for an hour with a volunteer, basically a personal shopper." They're allowed to take up to five outfits, completely free.
"We get wonderful donations," says Dickman. "It started as a back-to-work idea for interview clothes, but it's gotten bigger." Now it's for any woman in need of clothing.
A prom closet is available for high schoolers looking for free fancy dresses. They also have mother of the bride and a few wedding dresses available for anyone who would like them.
Ha Do is the owner of the Sunshine Salon on King Street. She volunteers her time and expertise every month to give women free haircuts.
This year, Twin Cedars Farm will bring fresh produce to residents through Sustainable Connections' Food to Bank on Program. "They pay the farmer, and we get the produce. That goes on all summer. It's a lovely program," says Dickman. "Any excess that we get, we'll take to Maple Alley where they give free food to the homeless."
Unity Care comes in once a week to check on residents. "They help with whatever the women want, make appointments, take their blood pressure, connect them with a case worker, they even helped a lady with her new phone," says Dickman. "They're a wonderful resource."
The Bellingham Food Bank helps residents garden in raised garden beds behind the building. They prepare the soil and "give them starts so they can have a project to work on while they're living here," says Akin. "It's awesome, and it's nice to get people outside and have them talk to each other and bond." The women love it; they grow pumpkins and giant sunflowers, and some find a new passion for gardening.
"I sponsor scholarships for women who have suffered domestic violence," says Dickman. "If they're out of the relationship for a year and they want to go to school, it's free." She works with the Women's Independent Scholarship Program WISP funded by the Sunshine Foundation.
"It covers housing and helps with tuition, food, whatever they need."
Some of the women have gone on to have successful careers in nursing and other fields. One woman started a career as a biological researcher; she dreamt of curing cancer.
YWCA staff is made up of three full-time employees and two part-time staff members. Volunteers and community members are vital to keeping the facility going.
The facility is funded with grants, donations, and one big fundraising event per year.
The YWCA hosts its Leadership Power Breakfast on May 10, 2019, with the CEO of the YWCA Alejandra Y. Castillo. She'll be flying in from Washington D.C. to speak at the Four Points by Sheraton. Email Katie Akin to reserve a seat or table today for yourself or your business. Reservations are due by April 26.
If you're interested in the prom closet or Lillian Dickerson's boutique, contact Katie Akin for an appointment.
A beautiful ballroom and commercial kitchen on the ground floor are available for rent at an affordable price for meetings, weddings, bands, and other events. Contributions go to a good cause.