When you go to the doctor, does it feel like the solution to most of your problems is a healthy diet and more exercise? Increasingly, studies confirm that positive outdoor experiences are the key to a healthier lifestyle and better mental and physical health. That's why Recreation Northwest—with help from local physicians and health care providers—is launching a new public health campaign, Parkscriptions. The program partners with local providers to prescribe patients time outdoors. When you think about it, as Recreation Northwest says, "there's no such thing as a park potato."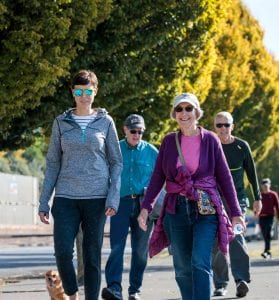 Recreation Northwest's year-round Parkscriptions program will launch on the first annual Whatcom Parkscriptions Day, on Sunday, April 28 with more than 15 concurrent free, all-ages events in more than 10 City, County, and State parks.
"As a nonprofit organization, offering the public free events meets our mission of bringing people together to enjoy, preserve, and improve the places where we play," says Todd Elsworth, executive director of Recreation Northwest. "We've planned a full day of fun for every age and fitness level. Plus great people to connect with at multiple locations throughout the county. Everybody will leave with exercise, education, insight, new motivation, and a greater appreciation of our area parks."
Whatcom Parkscriptions Day, April 28
The first annual Whatcom Parkscriptions Day is an opportunity for the people of Whatcom County to connect with positive outdoor experiences and reap the many proven health benefits of time spent in nature.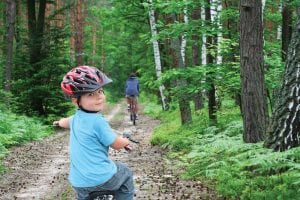 "Recreation Northwest also partners with other Park Rx 'Prescriptions' programs across the country at ParkRx.org," adds Elsworth. "Our Whatcom Parkscriptions Day is celebrated with our partners, nationally celebrating National Park Rx days around the country."
A number of FREE hosted events are planned throughout the day at multiple locations offering a variety of experiences – all highlighting popular public parks in Whatcom County.
Events will be held at Zuanich Point Park (headquarters from 10:00 a.m. to 1:30 p.m.), Bellingham Senior Activity Center, and at each of these City, County, and State Parks:
Fairhaven Park
Stimpson Family Nature Preserve
Hovander Park
Lake Padden Park
Whatcom Falls Park
Cordata Park
Maritime Heritage Park
Peace Arch Historical State Park
Larrabee State Park
Lincoln Park
Activities at each park vary so that everyone—no matter their fitness level, experience, or skill—can participate in at least one. Some events will include:
Walk with a Doc– local providers that use this program in their practice
A Walk in the Park– learn about future plans, history, flora and fauna, topography of the park, and amenities
Park Ranger Walk– a nature walk led by the resident park ranger
Forest Bathing– learn about the healing Japanese practice of simply being in the forest with a focus on breathing
Disc Golf—explore the Lincoln Park course with Whatcom Disc Golf Club
Bocce Ball—Bellingham Senior Activity Center members will lead games on two courts at their facility lawn
Nutrition Therapy with Diabetes educator, Jennifer Berdinka of Peace Health
Sunset Tide Pool Walk with a Larrabee State Park Ranger
Community Family Picnic
Womxn's Mountain Bike Ride led by Shifting Gears
In addition to the City of Bellingham, Unity Care NW, Whatcom County Public Health Department, and Silver Sneakers, Community Partners include: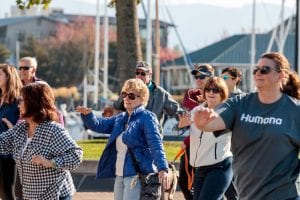 Sponsors include Family Care Network, Peace Health, Mt. Baker Care Center, Bellingham Advanced Medical Imaging, Adventures NW Magazine, Humana, Tivity Health, VibrantUSA, and KAFE/Cascade Radio Group.
You can check the website, the Facebook event and follow @Parkscriptions on Instagram for an updated list of events and details offered throughout the day. Year round you can take advantage of the Whatcom ParkFinder tool to find the right parks near you.
More About Recreation Northwest
A Bellingham, WA-based nonprofit organization, Recreation Northwest is dedicated to promoting outdoor recreation and bring people together to enjoy, preserve, and improve the places where we play. Parkscriptions is its newest community program.
Recreation Northwest is also invested in the success of the recreation economy throughout the Northwest, including Whatcom County. They bring the outdoor recreation community together to learn from each other, raise the profile of this key sector of the economy, and advocate for the value of outdoor recreation and public lands at the state and local level. They do this with monthly Basecamp networking events, an annual spring Recreation Northwest EXPO, and by conducting and producing recreation economy studies.
In addition, Recreation Northwest puts words into action through their Fairhaven Park Stewardship program that maintains the trail system by removing invasive species, rerouting trails to improve access, and restoring wetland habitat through native plantings.
Everyone is welcome to participate in Recreation Northwest programs, including Parkscriptions. The public is invited to join us outside for the first annual Whatcom Parkscriptions Day to get their dose of nature and play in local parks at these fun events on Sunday, April 28. Then don't forget to, "Ask your doctor what park is right for you."
For more information:
Recreation Northwest
Parkscriptions
Todd@RecreationNorthwest.org
360.739.8458
Sponsored