Walk into Old World Deli in downtown Bellingham and it feels like you've entered a big city market on the East Coast. High ceilings, exposed brick, house plants and colorful paintings surround you. Behind the counter sits a cooler loaded with hard-to-find meats and cheeses. A fantastic selection of market goods line the walls: chocolate hazelnut butter, fresh fruit preserves, tarragon mustard, apple onion jam, make-at-home paella kits, and hand-made Italian pastas. An array of olives, pickled asparagus and tahini showcase their international offerings. People sit in groups around small bistro tables munching on paninis and taking in, well, the old-world charm.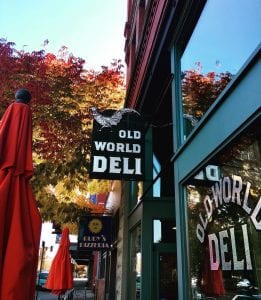 Originally from Kalamazoo, Michigan, co-owner Anna Adams moved to Bellingham at age 20 to attend Western Washington University. After meeting her now-husband, Christos Adams, she decided to stay. Christos hails from Los Angeles, California, they made an unlikely couple. But their different origins may be exactly why they work so beautifully together.
The pair went into business together in 2007 and Old World Deli has served up character and charm ever since, bringing hard-to-find ingredients and imported meats and cheeses to Bellingham and surrounding Whatcom County.
Anna has a long history in the restaurant industry, waiting tables in college. "I've been waiting on a lot of the customers here for almost 20 years," Anna says. "There are a lot of long-term customer relationships that have developed from owning this business. That's my favorite part."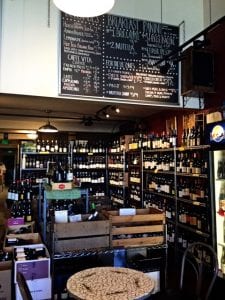 The deli appeals to everyone, from tourists to neighborhood locals. They're well known for their paninis and other sandwiches, especially with their out-of-this-world toppings. "Our bacon is amazing. It's small batch; people that try the bacon don't want to go back to other bacon," Anna says with a laugh.
Old World Deli's counter service style makes it especially family-friendly. It's an easy place to drop in for an exceptional lunch. Or pick up a half pound of Italian salami for you home lunches.
Perhaps the best part? Thursdays!
Old World Deli offers entertainment and exciting dinner specials on Thursdays (and a few other select days) throughout the month: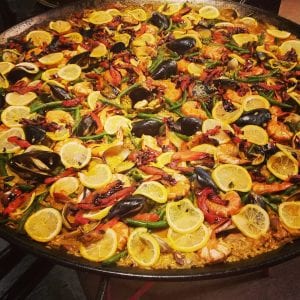 Old World Deli hosts a popular Paella night, every second Thursday of the month. For almost a year and a half, they've shared this beautiful Spanish specialty with Bellingham. Paella is a traditional dish marrying fresh shellfish, lemon, rice, saffron, and fresh vegetables. Reserve your space for a taste of sunny Spain.
Third Thursdays are fresh, hand-carved prime rib night. It's a runaway favorite. The Deli added it to their monthly rotation due to popular demand. Trust us, this savory dish is not-to-miss.
The fourth Thursday of each month features wonderful wine tastings. Old World Deli welcomes a wine purveyor to offer tastings of 8 to 10 different varietals for only $10.
"It's very popular," Anna says. "They set up in the front and offer a raffle."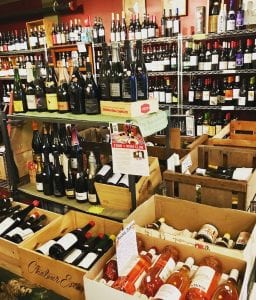 The raffle can be anything from a pound of bacon to a t-shirt. And the deli offers a discount of 15 percent off the bottle price on a case of the wine being tasted during the event.
Thursdays and Fridays from 4:00 p.m. to 6:00 p.m. Old World Deli hosts the Hottest Happy Hour. This event offers $2 off house sine, $2 off sandwiches, $1 off most beers, and no corkage fees on house-bought wines, on Thursdays.
Old World Deli also brings the live music every Saturday. It's family friendly from 6:00 p.m. – 8:00 p.m. "We try to have a few people in the group, not single artists," says Anna. "Kids are free to move around."
Without table service, it's an enjoyable atmosphere for those of all ages. Families enjoy sharing musical entertainment with their children and exposing them to live bands.
And this is just the beginning. Keep your eyes peeled for new things to come.
Old World Deli has several exciting new changes on the horizon. They're working closely with the Small Business Development Center to grow and offer more selection and easier options, like grab-and-go soups and sandwiches, plus online ordering.
Sponsored