Chris Lease is a Bellingham Police officer. Originally from Spokane, he's been a detective, worked undercover, and was on the SWAT team for 10 years. Off-duty, he tackles Ironman and spends time with his wife and five kids, two of whom were adopted from Haiti and the Philippines.
On top of a full work and family life, Lease also fights slavery around the world.
He works with International Justice Mission (IJM), an organization fighting human trafficking and abuse of power. They rescue those forced into slavery and work with police to arrest slave owners and keep slave traders out of business. IJM consists of advocates, social workers, lawyers, government leaders, and people like Lease.
Lease has been with IJM for over 12 years. He was introduced through a mission conference in Vancouver, B.C., and was inspired by their Christian-based work.
"I've always had a strong desire to fight injustice," he says. "I had police work, but I wanted to build my faith into it."
IJM assesses public justice systems and collaborates with local law enforcement. Much of Lease's work is behind the scenes. He trains police in developing countries, teaching basic investigative work to combat slavery and human trafficking.
"We want the justice systems within the country to be effective and get the credit for the work that they're doing, because they're ultimately going to be the ones responsible for it," Lease says. "We try to build them up."
Lease is "deployed" around the world several times a year, sometimes given only a week's notice. His police training in high-risk situations helps him immensely with overseas work.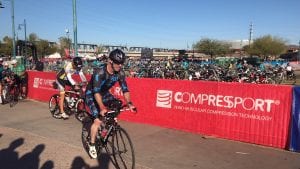 "Every bit of police work I've had over the last 30 years, and all the training, I have to use all of it when I'm there because it's just so difficult. You're dealing with different cultures and different laws, so it can be pretty stressful at times," Lease says.
It's hard work. It's been difficult and life-changing for Lease to see the suffering people go through daily. One of the biggest challenges is leaving his family behind.
"I've had to miss quite a few birthdays," he says.
Things hit harder in 2016, when Lease received a 2:00 a.m. call in Kampala from an IJM office in Kenya. He was needed immediately in Nairobi, where three Kenyan men, including an IJM lawyer and client, were kidnapped by corrupt police. The client testified against an officer who unlawfully shot him during a traffic stop. Lease says they were taken just outside the courthouse.
He flew out to investigate. A week later, the three men were found violently murdered and thrown in a river outside Nairobi.
The grief hit Lease hard. You try to be prepared for anything, he says, but it's difficult to accept when you're faced with it. "It's a darkness you get exposed to," he adds.
That darkness is one of the reasons Lease took up Ironman back home. Running with his thoughts is therapeutic, and it spurs him to continue taking on this intense work.
"A lot of the reason why I do the triathlons is because it helps me process it all," he says. "It strengthens me to continue to do the work."
Despite the hardships, working with IJM has had a lot of positive impact for Lease. Though he's often not directly involved with the children they help, and it's difficult to form relationships with them because of his perpetrator-focused work, seeing them have hope is huge.
"To know that IJM is going to walk alongside them throughout the process – that they're not on their own – makes it easier to leave, because you know that they're in good hands," Lease says.
One impactful memory that sticks out for Lease is a time in Kenya, where a boy living in a Nairobi slum witnessed a corrupt police officer kill a father and son. IJM and Lease helped protect the boy and get him out of the slums.
Years later, Lease hears stories from children they've rescued. Many have gone to school, found good work, and grew up to have families of their own. Some come to work with IJM, often as social workers or attorneys, to help rescue others like they were rescued.
He's also made friends with investigators in other countries and keeps in touch with them frequently.
"That has made a big impact on me, because they're doing the work every single day," Lease says. "It's amazing to see their perseverance and their commitment to rescuing the victims and bringing perpetrators to justice on a consistent basis every year."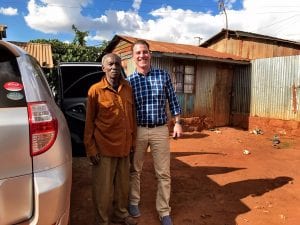 In the future, Lease plans to retire and work full-time with IJM. Community service and his faith in God are enormous components of his life. Even when he was young, he wanted to be a police officer and help those less fortunate – not out of duty, but desire. And, despite hardship and sacrifice, he wants to keep going.
"Many times in life, the difficult things are the most joyful," Lease says. "Many times, you wouldn't want to go through them again, but as you look back, you see how much you learned from it."