Scott Ward brings his life experience as a creator, mentor and teacher to the village as Executive Director of the Historic Fairhaven Association and Co-owner of Current Refurbish. He's a talented and successful artist with a diverse design background. As a result, his creations are whimsical, colorful and fun.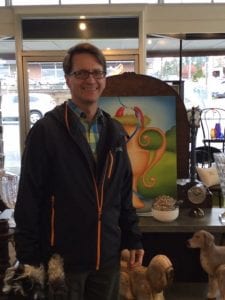 After finishing school having studied nearly every type of design in the '90s – landscape, commercial, interior, clothing, stage, theater, graphics and advertising – Ward was inspired by the famous book The Artist's Way: A Spiritual Path to Higher Creativity by Julia Cameron.
He took principles from The Artist's Way and taught them in three-month increments to classes full of hopeful artists and designers. "I started facilitating creativity groups," Ward says. "We'd go through this three-month process, and then I'd get another group."
Over the years, he guided and inspired hundreds of students on their individual paths, urging his students to follow their passions and showing them how to obtain their dreams – until one day.
"I felt I was being hypocritical and teaching others to do it, but I wasn't doing it myself," he says. "I realized, I'm telling all these other people they can be an artist; why am I not telling myself that?"
So he picked up a paintbrush and began to create vibrantly hued works of art. "Because I'd been going through that creative process for as long as I did, when I started painting, I had a fully developed style that I didn't even know was in there," says Ward.
What came next is truly remarkable. Six months later, he showed 12 paintings in a Seattle café. In one week, he sold four pieces. "It was a little overwhelming to me that the first time I showed my artwork, people wanted to buy it," Ward says. For an artist, this is almost unheard of.
One couple loved his work so much, they felt he needed his own gallery – and opened one for him in Seattle's Pioneer Square. One year later, he held his first one-man show there, selling every single piece – 24 paintings in one evening.
Ward's career took off and he began traveling around the country to show his work. "I started to get recognized because I did art for a big choir festival," he says. "Then several choirs started commissioning me to do work for them. Then galleries within cities of those choirs started bringing me in to show."
The word was out.
Ward eventually opened a gallery space in Ballard and purchased a whole print shop to make re-creations of his paintings. And he continued his creativity groups, albeit "from a different point of view," says Ward.
When Ward crossed paths with a pastor, he decided to see her give a church sermon. "I then realized that I wasn't just called to do visual art, but I was also called to do community work," he says, "to start working with people in a really creative way and inspire them to be the best they can be."
He took a position as the director of community life at a small church in Seattle's Magnolia neighborhood. He joined the Magnolia Chamber of Commerce and eventually became the group's president. He planned and ran their big events and oversaw fundraising.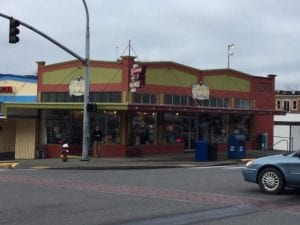 "I love working with people," Ward says. "I want to plug people into places they love to be and put them into the places they fit and work well. It's kind of like working with paint colors and saying, 'This color goes here and this shape goes here.' It's very fulfilling to me."
Ward owned a Seattle store called Current and Furbish along with his partner Cameron Vail. They were growing and hoped to move into a larger, neighboring storefront. But investment delays had them in negotiations for seven months. During the frustrating process, they visited friends in Fairhaven and noticed a "for lease" sign in the window of this historic pharmacy on the corner of Harris Avenue and 12th Street.
"That was on a Monday," Ward says. "By Wednesday, we had sent in a letter of intent, and Friday we were signing the lease."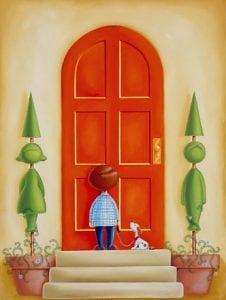 After all the red tape in Seattle, the Fairhaven building practically fell into their laps. That was two and a half years ago. Current and Furbish is now a prominent storefront displaying local art and handmade curios.
The natural next step was joining the Historic Fairhaven Association. At the time, the association had been thinking about appointing an executive director. Ward and the other board members put a plan in motion and he was appointed as the group's first executive director.
Ward is currently the only paid employee at the association, co-owner of Current and Furbish, and a working artist – and he hopes to still run creativity groups in Fairhaven.
He's currently in the process of creating a mural in McKenzie Alley. Stop by, say hi, and watch the development of his newest masterpiece.
View more of Ward's art at scottwardart.com.
Sponsored