Mount Baker High School Wrestling Coach Ron Lepper can count on one hand the number of times he's been 100 percent satisfied following the state championships. "I think there's been about four times I've walked away from the Tacoma Dome where I was pleased," says Lepper, a 2016 inductee into the Washington State Coaches Association Hall of Fame. "Last year was one of the few times I left the state tournament with a smile on my face."

During his two stints as the Mountaineers head coach, spanning nearly 25 years, Lepper has coached more than 100 state placers and 14 state champions, including his own daughter, Raney, in 2011. He led the boys' squad to the 2000 state title in the 2A ranks and duplicated the feat with the girls' team in 2008.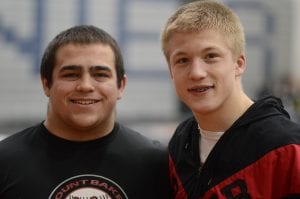 Between 1998 and 2007, under Lepper's watch, Mount Baker placed eighth or higher nine times as a team, including finishing as the runners-up in 1999, 2003 and 2004.
Amid so many lofty accomplishments, what made last season stick out so positively?
"I asked the team last year what they liked best about the state tournament," Lepper says. "To a man, they all said how much they enjoyed people coming up to them and telling them Mount Baker wrestling is kind of back."
That it is.
Lepper, who also serves as the school's head coach in football and fastpitch, took over the program in 1994. Over the next 20 years, he transformed the Mountaineers into one of the state's premier programs, before stepping down after the 2014 season.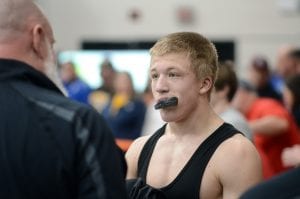 Current senior Skyler Isaacson was a freshman two years after Lepper's departure and was one of just eight wrestlers on the roster – a far cry from where the program used to be just a few years prior.
"I wrestled at 120 (pounds) my freshman year and had to wrestle the guy at 138 in practice because there was no one else," Isaacson says. "It's rough when you don't have anyone in the room around the same weight as you to practice with."
After a brief three-year hiatus, Lepper began his second go-round as the Mountaineers head coach last year. It wasn't long before the team resembled the Mount Baker program of old.
"It was a big year for us," Lepper says. "We finished the season with 11 kids. We took six of them to state, with three of those guys placing. One was a senior, but we have five kids back with that state experience. We're just trying to build on that this year."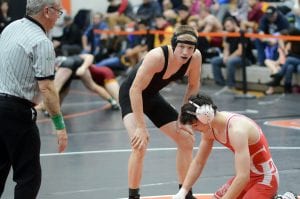 Isaacson and fellow senior Braeden Shannon became state placers numbers 101 and 102, respectively, for Lepper last year, with Isaacson finishing sixth in state at 152 pounds and Shannon collecting a fifth-place finish at 285.
"We took a huge step forward last year," Shannon says. "A lot of the younger kids bought into what we are doing here and the older guys took on more of a leadership role. Everyone just kept pushing each other and it built the foundation for a good team. When I first got here [as a freshman], no one really wrestled very hard. No one had the drive to do anything. I think we made huge strides last year in bringing Mount Baker wrestling back."
Now with twice as many teammates as last year, Isaacson and Shannon are both focused on getting Mount Baker a top 10 state placing for the first time since 2011.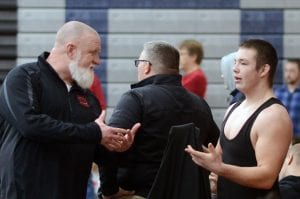 Isaacson, who's looking to become a four-time state participant, is ranked sixth in the 152-pound weight division, while Shannon is ranked third among heavyweights.
"Skyler and Braeden have been really good in the room, leadership-wise, for us. They've been positive with the kids, helping them along," Lepper says. "Everybody talks about wrestling being an individual sport, but we really try to foster more of a team family environment here."
Additional Mount Baker wrestlers currently ranked among the top 10 in the state's 1A classification including sophomore Nico Johnson (106 pounds), freshman Jake Anderson (120), sophomore Killian Cronk (145), junior Kanin Moa (220) and sophomore Cody Saulsbury (220).
"Braeden and I are at the end of our high school wrestling days," Isaacson says, "but it's exciting to see the program build back up. It's great to be a part of that. The goal this year is to get our name on that board (at the state tournament) for the first time in a long time."
The Mountaineers will open the postseason by hosting the 1A sub-regionals on February 2. Winners there advance to the 1A regionals at Meridian High School on February 9 with the state tournament taking place February 15-16 in the Tacoma Dome.