Submitted by: Chrysalis Inn & Spa
The Chrysalis Inn & Spa presented their December 2018 spa donation in the amount of $2,000 to the Whatcom affiliate of the National Alliance on Mental Illness.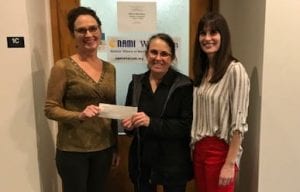 NAMI, the nation's largest grassroots mental health organization, is dedicated to building better lives for the millions of Americans affected by mental illness. The local affiliate offers a helpline, classes, support groups, and public awareness/educational programs that are all free. This work is done with trained volunteers and the support of community members. The funds donated by The Chrysalis Inn & Spa will be used to provide manuals to participants in the 2019 NAMI Family to Family classes.  These classes are for family, friends, and caregivers of individuals who live with mental illness.
The Chrysalis Inn & Spa, a locally owned hotel, spa & restaurant on Fairhaven's waterfront, soon to become part of Hilton's Curio Collection, has given one percent of monthly spa revenues, almost $46,000 total, to a local non-profit since February of 2017.