Semiahmoo Resort is known throughout Western Washington and Canada as a peaceful, romantic getaway from the hustle and bustle of the city. It's surrounded on three sides by quintessential Pacific Northwest beaches, with unobstructed, whitecapped mountain and bay views. Beautiful wildlife abounds in every season.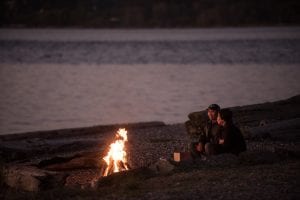 Valentine's Day at the resort is magical. Surprise your significant other with a romantic getaway; wander the beach, dine in a pier-side restaurant and warm your feet by one of the many fireplaces located throughout the resort.
Winter in Semiahmoo can be the perfect elixir for a romantic revamp any time of year, but the slower offseason pace is especially ideal for Valentine's Day.
"Engaged and Married here, this is our favorite place to escape to."
If the weather's nice, you and your partner can enjoy long, relaxed walks on the beach, comb for shells, watch marine life and birds. Semiahmoo also offers bike rentals. It's gray outside? Spend time in your lovely room with a crackling fire, listening to the rain on the water.
"Semiahmoo holds a special place in our hearts."
One of the lesser known winter secrets is the unique birdwatching in this area. Semiahmoo Bay and Drayton Harbor host thousands of migratory birds in the winter. They settle for the season to enjoy the calm, protected waters of Drayton Harbor while their inland summer nesting grounds are frozen over.
Enjoy Semiahmoo's Month of Love Events
Valentine's Day at the Seaside is a special three-course dinner served in the beautiful Packers Kitchen + Bar with floor to ceiling views of Drayton Harbor, February 14 – February 17, with a wine pairing available with each course. Call 360-318-2090 for reservations.
Love Twice as Much at the spa and enjoy a relaxing couple's massage during the month of February. You'll have a choice of a Tranquility Massage, Jasmine and Geranium Polishing Scrub, Eminence Custom Facial or Foot Refresher. Each option is 50 minutes long, includes a glass of Champagne, a Davines Oil Scalp Treatment and a choice of aromatherapy scented massage oil to take back to your room. Call 360-318-2009 for reservations.
Love is the Answer on February 14. Semiahmoo Resort hosts musicians from the Drayton Harbor Music Festival for a live show to remember. Nick Biello, a New York City saxophonist, will perform with a sextet featuring West Coast brassmen and a New York rhythm group. The band will pay tribute to some of the greatest love song composers of all times including Irving Berlin, Cole Porter and Michel Legrand. Dance the night away in a grand ballroom complete with a cheesecake display and open cash bar. Purchase your tickets at draytonharbormusic.org.
Gamache Vintners Winemaker Dinner also takes place on February 14. Join executive Chef Devin Kellogg in an intimate, private banquet space, where he will prepare a three- to five-course seasonal dinner with wine pairings for each course. Champagne and appetizers will greet you upon arrival. Reservations are limited; purchase tickets at Semiahmoo.com.
"We had the best wedding weekend at Semiahmoo and cannot wait to be back!!"
Other February Events
Tap Takeover Series at the Packers Kitchen + Bar invites Schilling Hard Cider to borrow the tap on February 1. They'll be pouring drinks from their own location for Semiahmoo guests. Come on in and give Schilling Hard Cider a try, no reservations needed.
Candlelight Flow, where you can relax and forget about everyday stresses by candlelight while you work to unwind, focus on breathing and relax your mind and body. February 15, complimentary to hotel guests. Call 360-318-2009 for reservations.
DIY Homemade Bath & Body Products, a class led by Semiahmoo's lead esthetician, Ashley Spaulding, brings home knowledge and products you can use in your day-to-day life. February 8, Spaulding will be making Just for Two Homemade Massage Lotion Bars & Body Scrub. Make a reservation at 360-318-2009
Dancing Classes held at Semiahmoo Golf & Country Club. Feel free to come alone or bring a partner to this entertaining night of Cha Cha on February 13. To make a reservation, call 360-371-7005 ext. 5.
The whole family can enjoy Semiahmoo Resort: kids and furry friends are more than welcome. Family-friendly events are held all month long.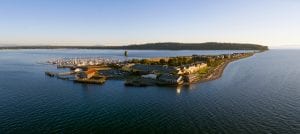 It's Semiahmoovie Night at the Discovery Theater every Friday and Saturday evening for a family-friendly movie. The theater is also open for guests upon availability. Sit back and enjoy your movie in style on one of 50 plush leather seats.
Semiahmoo Kids Club is a kids' guided exploration filled with activities, arts and crafts, offered every Saturday from 1:00 p.m. – 3:00 p.m. During the month of February kids will create homemade Valentines. Call 360-318-2009 for reservations.
Bird watch with Semiahmoo guides while learning about native birds of the area. All ages are welcome every Saturday at 2:00 p.m.
"We had our daughter's wedding at Semiahmoo, the venue was perfect. The chef created an amazing menu for two dinners, a late buffet and a brunch! We have been back several times since, for a great getaway weekend! Our favorite resort!"
Sponsored