On January 4, Sehome High School's boys' varsity basketball played their first home game in the new gym, with senior Eddy Hochsprung leading the team. They ended up losing 77-52 to Lynden High School, but Coach Skyler Gillispie is happy with how they performed. "I think that's the closest game they've had all year for Lynden," he says. "We gave them a pretty good fight. All I can really ask for is for my guys to play hard, and they did that."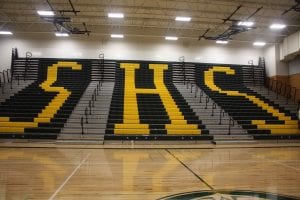 The experience of playing in the new gym was also exciting, as it's considerably updated from the old gym. "It's a little bit bigger space, so that obviously helps for practicing and whatnot," says Gillispie. "The new LED scoreboards and the new bleacher situation are really nice."
In addition, the new gym also features a better sound system, a separate seating area for the band, and an auxiliary gym so multiple games can occur at once. There are also different locker rooms in the new building. "They're newer and they're isolated between general P.E. and the team rooms a little bit, so it's nice to have our own space," Gillispie explains.
Since the old gym has been a Bellingham staple for the past 50 years, the game drew a larger crowd than usual. This was the first time the new gym had been opened to the public. "Obviously there's a basketball community in the area that wants something to be proud of and they showed up tonight," Gillispie says. "The boys played really hard and it was fun to have an electric game to start the new building. I think the community's interested in the new building, and showing up, and wanting to see all the hard work that's been going on."
The last home game for the basketball team also brought in a lot of fans, as it was the "Bellinghome" game against Bellingham High School. The event included student spirit competitions and lots of audience involvement. It was the old gym's last hurrah, with demolition starting the following day.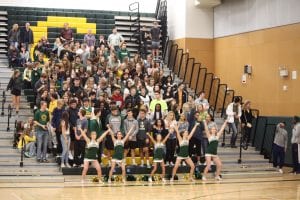 Many students are looking forward to the benefits the new buildings will allow. "Not all student athletes were able to practice at school because we didn't have the facilities," says Markian Romanyshyn, a senior who's played for Sehome for many years. "For tennis, we had to practice on the courts at Western even before the construction started. The new courts will save us travel time so we can make the most of our practice time. It will be nice to compete for Sehome at Sehome." This will also be the case for athletes who play fast pitch, football and cross country.
Since the groundbreaking in March of 2017, there has been lots of work on the new school. Much of the construction occurred during the school year. The old Sehome gym was mostly knocked down over winter break, leaving only the art mural reading "Mariners." For the new year, P.E. and sports medicine classes were moved into the new building, which also features an updated weight training room, a mat room, and an athletic training room. Gillispie, who teaches P.E. and health in addition to coaching basketball, has had classes in the new building for the past several days.
There are also plans for new sports fields to be built. Currently, there's a new turf baseball field in the same place as the old one, and a softball field, football field, tennis court, and running track are scheduled to be built in the place of the old school building once it's been demolished. Athletic Director Colin Cushman says the new Sehome should be officially finished by October of this year.
As far as basketball goes, Gillispie and his team are excited for the rest of the season. "Our goal is to make it to the district playoffs and give ourselves a chance to get to state," he says. "We're still in a position to do that, so we're just going to keep working towards that goal."