Fan of comic books? Video games? Tabletop? Say no more, because you're speaking my language. As a fellow nerd, I know the pain of trying to meet like-minded people offline and in the wild.
That's why I've put together a list of some of the best spots in Bellingham that cater to all kinds of nerds and geeks, from Nintendo fans to avid Dungeons & Dragons players. Whether you're new in town, or just looking for places to meet people that share your passions, I highly recommend each place on this list.
1-Up Lounge
Address: 1121 McKenzie Avenue
What you'll find: Video games, tabletop games
1-Up Lounge prides itself on being Bellingham's first console gaming arcade bar "for nerds, by nerds." 1-Up boasts a library of 2,300+ games across 27 systems, from Nintendo to PlayStation, and more.  Owned by Alex and Hugh Newmark, the lounge aims to create a gaming community that welcomes everyone.
It's common to walk in and find someone nursing a beer and playing the latest game. There are several gaming stations around the room, and you can also sit at the bar and plug in from the screens above. The lounge also hosts dozens of events including tournaments, viewing parties, anime nights, cosplay contests and more. Check out their Facebook group and Discord to find events, ask questions and get to know people.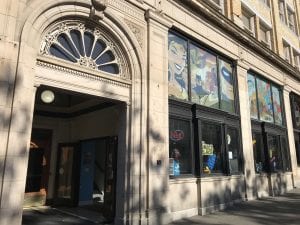 The Comics Place
Address: 105 E Holly Street
What you'll find: Comic books, tabletop games, role-playing games
The Comics Place is a well-established spot in downtown Bellingham that offers a ridiculous amount of new and old comic books. With an unbelievably knowledgeable and friendly staff, it's easy to find a variety of comics, from Marvel, DC, Image Comics and more. They also sell tabletop games, dice, nerdy knick-knacks and even have a couple pinball machines in the back.
Upstairs, they have a game room. Every week, they host Friday Night Board Games and Saturday Night Role-Playing Games from 6:00 to 10:00 p.m. Bring your friends, bring your dice – just don't bring any actual dragons.
Reset Games: Arcade Edition
Address: 1255 Barkley Boulevard
What you'll find: Video games
Reset Games: Arcade Edition is a great little arcade bar in the Sunset area with a focus on classic games, pinball, craft beer, snacks and a little local flair. Situated right next to Reset Games, Arcade Edition is a great spot to chill at on a Friday night (or afternoon).
You can circle the room and try out each game. They even have cupholders (creatively styled like Mario warp pipes) next to the machines, in case of "hold my beer" emergencies while you're dominating Marvel vs. Capcom – or, in my case, sweating bullets over the final round on Street Fighter 3.
Reset Games is part of Another Castle, another locally-owned video game store founded in Edmonds. Arcade Edition also hosts tournaments; check out their events on Facebook.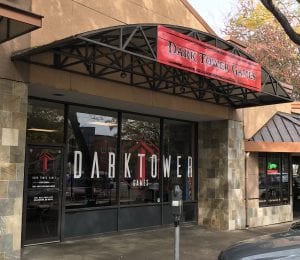 Dark Tower Games
Address: 1421 Railroad Avenue
What you'll find: Tabletop games, role-playing games
Dark Tower Games is one of the largest providers of tabletop gaming around. They feature a HUGE variety of board and card games, and also host and supply role-playing games, miniature wargaming and hobby supplies.
The shop focuses largely on Magic: The Gathering, but they cover many different games too. They also host frequent tabletop sessions and tournaments for both casual and serious players of a variety of games. For Dungeons & Dragons, check out their DM (Dungeon Master) Internship program, where you can fill out an online form to find a DM for your game.
They also host Hobby Day every Thursday and Saturday, where they give the community a space to work on hobby projects, get advice and get to know others, whether you're painting Warhammer miniatures or designing a map for your D&D campaign.
Many of their tournament times and general events are on their website.
Cosmic Games
Address: 410 W Bakerview Road #106
What you'll find: Tabletop games, role-playing games, video games
Cosmic Games, formerly Cosmic Comics, provides a lot of tabletop games, role-playing games, video games and even disc golf! They provide tons of cards, including Magic: The Gathering and Pokemon packs.
They also have a LOT in the way of retro games, like Nintendo 64, and hold regular events where they play Magic: The Gathering Tournaments, Pokemon leagues and Dungeons & Dragons sessions.