If you've ever yearned to be transported back in time – back to the ages of trolleys, lavish Victorian architecture and charming corner markets – then a trip to Nelson's Market is just what you need.

A callback to Victorian times, this general store is located in the heart of the historic York neighborhood and is a true testament to community involvement and preservation. Despite being located in ever-progressing Bellingham, the market, built in 1895, retains its historic roots and remains a hub for members of the community. They proudly decree the motto: "The stationary float in the parade of life."
"As the world changes, we're still here," explains Anne Mackie, who co-owns the market and café with her husband, John Ostby.
Ostby purchased Nelson's Market over 37 years ago, renovating it from the ground-up and adding Marlin's Café in the late 2000s. Marlin's Café derives its name from Ostby's slow pitch softball team, and three large, decorative Marlins are on display throughout the building. The space is decorated with Ostby's collection of vintage memorabilia, from sports banners to old posters, and neon signs. Although the café started out serving only breakfast, word quickly spread in the neighborhood and business grew. They now serve three meals a day, seven days per week.
Originally built as York Addition Meat Market, the butcher shop was converted into Nelson's Market in 1916. Because of its location off Humboldt Street next to the trolley line, it became a "hub of activity," says Mackie.
The Meat Market was even a participant in the very first Ski to Sea Race in Bellingham! The building's rich history is still on display in the café, where visitors can see original photos of the Meat Market, previous owners, and peek back into the old York neighborhood.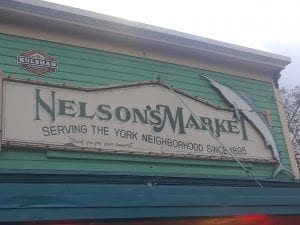 "We're about honoring the past and carrying it into the future," says Mackie.
In fact, the market and café serves up more than just food and necessary provisions – it's a gathering place for community involvement. Mackie, a board member on the York Neighborhood Association Board, is committed to seeing a healthy, safe and historically protected community.
"We want to see it maintain its integrity," says Mackie.
According to the City of Bellingham's official website, the York neighborhood is one of the oldest neighborhoods in the city. A majority of its houses were built between 1890 and 1910, with approximately 260 houses currently contributing to the neighborhood's historic designation. It is a densely populated, multi-generational neighborhood that actively resists re-development and the tearing down of old buildings.
"It would be a shame to lose this," says Mackie.
Nelson's hosts several community events throughout the year, from sponsoring a little league team, helping with neighborhood clean-ups, and providing free ice cream cones for children on their last day of school. During the holidays, neighbors gather outside the Market for the annual York Holiday Caroling Party and Horse Wagon Rides, where participants give donations to the food bank in exchange for a ride in authentic horse-pulled buggies to a nearby nursing home to sing Christmas carols.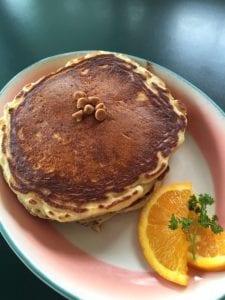 "We build a sense of community, so that everyone looks out for each other," says Mackie.
And, of course, you can't forget about the food! Marlin's Café focuses on authentic, from scratch food, breakfast to dinner. Their specialties include homemade soups with meat and vegetarian options, hamburgers and hand-cut fries, a plethora of fresh seafood dishes, and their mouth-watering biscuits and gravy.
Because of the central location of the café, it is especially popular as a weekend breakfast stop for families, and a great place for college students to grab a quick breakfast burrito before heading off to school. "It's really a convenient neighborhood," says Mackie.
However, as with any business, it hasn't always been smooth sailing. When Ostby purchased Nelson's in the early 1980s, it was in a state of disrepair and the Marlin's side of the building was boarded up. After working on every square inch and "taking the floor down to dirt," as Anne puts it, they rebuilt the kitchen, built seating, and double-paned the windows for energy efficiency.
Although the start-up of Marlins was slow, Nelson's Market was able to carry it financially, and now they are both vital entities. "We're fortunate to have the support of the neighborhood," says Mackie.
Whether you're looking for a historical experience, a place to get involved, a delicious brunch, or to simply grab a few household items, Nelson's Market and Marlin's Café is a community must-see. Fortunately, it's located just off Lakeway Drive and tucked directly outside the ever-moving Downtown, making it the perfect hidden treasure of Bellingham. Although off the beaten path, according to Mackie, the support of the community has kept Nelson's alive for well over a century. "This place could live another 150 years-easily," Mackie says.
Nelson's Market/Marlin's Café
514 Potter Street, Bellingham WA
360-734-2448
Hours:
Monday – Friday 7:00 a.m. – 9:00 p.m.
Saturday and Sunday 8:00 a.m. – 8:00 p.m.
Grill closes one hour prior to closing