In the winter of 1968, the Sehome High School gym saw its first season. Now, 50 years from its opening, the whole school is being rebuilt, with its new gym opening after winter break this January. The rest of the new school will open for the second semester.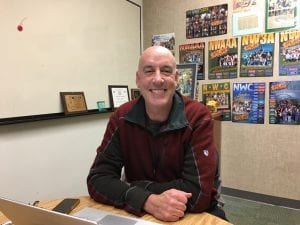 The process to build the new school has been extensive. "There was a design committee two years ago, where the design was put together, and that was probably about thirty people," says Colin Cushman, the school's Athletic Director.
The committee included teachers, assistant superintendents from the district office, community members, an architect, and a few people from the construction company. "We started with what do we see as the main purpose of the school," Cushman explains. "We came up with some driving principles to help us through the design. [We wanted it to be] student friendly, so that there were a lot of places for classrooms to break out into the hallway areas, lots of places for socializing, and also the ability to sustain growth or changes that might happen, because we probably need to have this building for another 50 years. The architects guided us through the nuts and bolts of our ideas and how we could put those actually to work for our building, to meet our needs."
For the new gym, this means modernization and ease of use. "I didn't want the big, giant gym like they have at Bellingham or Squalicum," Cushman says. "I wanted to have a bigger gym than we have, but have a separate gym so that when you have some sort of event going on in the main gym, you could still do other things. You don't have to find another place for teams to practice or PE classes. If we have an assembly, and we take a half hour to set up for the assembly, then the PE classes get displaced right now. But with an auxiliary gym, they can go into that space. We could set up in the main gym, and everyone still can do their thing. It's way more efficient and allows for a lot of different things to happen at the same time."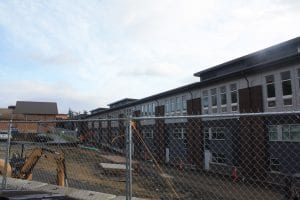 This also allows for c-team, JV and varsity games to happen concurrently, as there will be two courts in the main gym and one in the auxiliary gym.
There's also better technology and design for assemblies and other events. The current Sehome gym has very poor acoustics, which interferes with band performances and the sound system during school assemblies. In the new gym, there will be a state-of-the-art sound system, as well as a large video screen.
These additions mark a huge change from the original gym, which has seen minor updates through the years. "When I first started here, we had these wood bleachers that you had to pull out by hand, and they were treacherous, to say the least, because there were gaps in between," says Cushman, who started working at Sehome in 1992. "They were always worried that kids were going to fall through them or something like that. It also was really dark in that gym all the time. We did a lot of little things to try and lighten it up and make it a happier facility."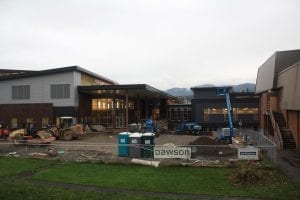 However, the move into the new gym will still be bittersweet for the Sehome community. "We've had a lot of teams come through," Cushman says. "We had a team back in the mid-90s that a lot of people consider the best high school basketball team in the state of Washington, ever. They went undefeated – they won the state championship by like 40 points – and we had some games in there that year that were really, really fun; great memories. It's not so much necessarily the gym but the things that were happening in the gym that were really cool."
The very last day for the current Sehome gym will be December 14. To celebrate, there will be a "Bellinghome" basketball game against Bellingham High School, one of Sehome's main rivals. The game will include friendly spirit competitions and crowd involvement.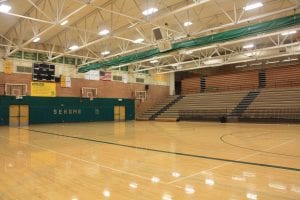 "We're also going to have alumni invited in," Cushman says. "Different people from different decades, and honoring the different things that have happened in the gym. Make it a neat little sendoff. At that point, that'll be it – last thing we'll have in there. Then, we'll do a celebration when we open the new gym too. Lots of fun stuff."
Over winter break, the old gym will be knocked down to make room for construction parking, after a team goes through and salvages parts for resale. Throughout the next year, the old building will be demolished and new sports fields will be built. By October 2019, the new Sehome High School should be up and running – looking forward to another 50 years.