Maggie Davis-Bower is a poised, strong, confident woman. The 17-year-old has seen more than some people will ever see and, because of that, she's decided to make a difference. One of the leaders of Students For Action, a Bellingham-based organization focused on student safety, Maggie, now a senior, hopes to pass the reigns of the organization onto fellow students after she heads off to college.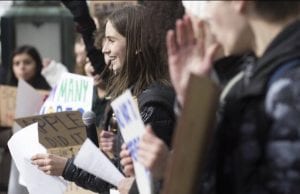 Maggie created Students For Action following the Stoneman Douglas High School Shooting in Parkland, Florida. She had heard and seen enough. She didn't want anyone – student or otherwise – to lose their lives to gun violence again. This issue affected her deeply, as she's a survivor of the 2016 Cascade Mall Shooting in Burlington.
Students For Action was designed to get Whatcom County students involved in efforts to prevent gun violence, and to help of-age students register to vote. The organization was created via an Instagram post, following the Parkland shooting. Maggie posted about the idea of a Whatcom County school-wide walk-out and, the next thing she knew, 25 local students showed up at her house to help facilitate her goals.
Since founding Students For Action, Maggie has gone on to attend the March For Our Lives Rally in Washington D.C., protest, and helped register voters at school and throughout Whatcom County.
"We want to keep our peers informed about the issues impacting us," Maggie says. "That's why we use social media to keep in touch with them, and I think we have highly motivated underclassmen that will help keep Students For Action functioning once I leave."
Maggie is one busy high school senior.
Amidst all her political action, she still goes to school like a normal teenager, is captain of the Squalicum High School women's cross country team and plays tennis for the school in the spring.
As the cross country season comes to a close, she's, unfortunately, battling two sprained ankles, but that doesn't stop her from participating. Although her time competing for Squalicum may be over, she's still a huge supporter. Maggie shows up to every practice to cheer on her team even when she can't run.
Coach Erin Fraser says she isn't just a remarkable runner, but a remarkable person who's going to continue to do great things in life. Maggie smiles and thanks her coach; the camaraderie between the two is palpable.
"Maggie is just amazing," Erin says. "She's our team captain and, although she was injured this year, she was still a very important part of the team. She helped show the younger girls the ropes and was a great role model."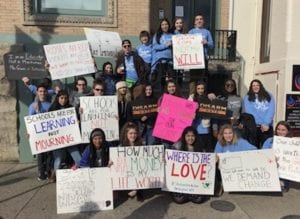 Maggie doesn't have plans to run in college yet, but thinks she might try to walk on the team at Pitzer College in Claremont, California, the university she's applying to this fall. Maggie says walking onto the cross country team is enticing because it's important to exercise and build community with other peers.
She doesn't know for sure if she wants to go into politics specifically, she says she enjoys it and has become very politically active. She also has an affinity for marine biology, and ideally could combine the two areas of interest into her future line of work.
"A good understanding of both marine biology and political science will help me if I want to work on research that goes into policy making," Maggie says.
Instead of just reading the stories on the news, Maggie is involved and making a difference. Her organization, Students For Action, is a bastion for change not only in her local community, but nationally. And she isn't done yet – who knows where her future studies and career will take her.