The holiday season is just around the corner and there are many events you and your family can partake in to spread cheer and blissfully usher in the winter months. From Thanksgiving to the end of December, Whatcom County is packed with fun events. Here is your guide to can't-miss holiday happenings.
Free Thanksgiving Meal
November 23
There will be a free Thanksgiving meal held at Assumption Church Gym in Bellingham. And everybody is welcome! Doors open at 12:00 p.m. If you would like to volunteer, you can check out the Lighthouse Mission volunteer page here.
Fairhaven Winterfest
November 23 to December 22
Fairhaven Winterfest, located in historic downtown Fairhaven, has a plethora of different holiday-themed events. Check out all their unique offerings below:
Father Christmas – November 23 from 3:00 p.m. to 5:00 p.m.
Father Christmas will be at the Fairhaven gazebo ready to take pictures with all those who wish to pay a visit.
Holiday Art Walk – November 23 from 5:00 p.m. to 8:30 p.m.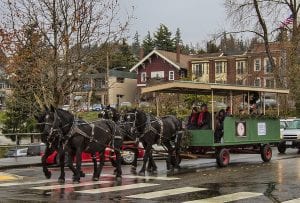 The Holiday Art Walk and Open House will take place throughout Fairhaven's shops and restaurants, and will display work from artists conveying the holiday spirit.
Horse Drawn Carriage Rides – November 23 from 12:00 p.m. to 3:00 p.m.
Journey to historic downtown Fairhaven and catch a horse drawn carriage ride from the Village Inn. There's no better way to enjoy a beautiful afternoon around historic downtown Fairhaven.
Holiday Market on the Fairhaven Village Green – November 23 12:00 p.m. to 5:00 p.m.  
Nonprofit organizations sell wares and offerings benefiting a good cause. Don't miss out on a chance to help those less fortunate than you, and walk away with some nifty holiday wares. This event takes place on the Fairhaven Village Green.
Christmas Tree Lighting followed by Christmas carol sing-alongs on the Fairhaven Village Green – November 23 5:00 p.m.
Watch the Christmas tree get lit, then sing to your heart's content! The annual Christmas tree lighting will take place at Fairhaven's Winterfest, followed by group Christmas carol sing-alongs.
Fairhaven Fa-La-La Caroling Competition – December 22
Fairhaven Fa-La-La Caroling Competition benefits the Historic Fairhaven Association and NW Youth Services. Dozens of caroling teams will compete and sing their hearts out in downtown Fairhaven. Top teams will compete against each other on the main stage of the Fairhaven Village Green.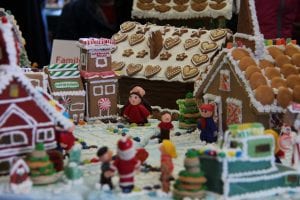 Miscellaneous Special Events
Yep, that's right! It's Washington State Parks FREE Day. Go out and bask in the beautiful late fall foliage. No Discover Pass required in observance of Autumn Day.
Shipwrecked! The Amazing Adventures of Louis De Rougemont (As Told By Himself) – November 23 to December 9
Don't miss this wonderful show at the Bellingham Theatre Guild! Shipwrecked tells the story of Louis de Rougemont as he's whisked away by the high seas following his leave of 19th century England. There are many things to be excited about in this play, including flying wombats and giant sea turtles. Shipwrecked runs from November 23 to December 9.
Holiday Festival of the Arts – November to December 24, 10:00 a.m. to 7:00 p.m., 7 days a week
The Holiday Festival of the Arts is a five-week long indoor arts festival in Whatcom County. The festival features over 100 different artists and artisans throughout the region. Peruse the vendors, enjoy live music and check out their art workshops. The festival is open daily, except on Thanksgiving Day and Christmas Eve.
Don't miss the chance to gather with friends and family at the locally beloved Hoiliday Port Festival. Enjoy festive holiday performances, free holiday goodies and a plethora of creative gingerbread houses.
Bring your companion animal for a visit with Santa Paws on December 1 and 2, from 11:00 a..m. – 3:00 p.m. at Mud Bay. Give a $20 donation and receive a 4×6 print and digital file which will be sent via email. Proceeds benefit the Whatcom Humane Society. No appointment necessary. All animals must be on leash or in a secure carrier. For more information visit www.whatcomhumane.org or call 360-733-2080.
Holiday Events at Semiahmoo Resort
Discover the magic of the season at Semiahmoo Resort, Golf and Spa. From gingerbread house making, to festive and fun crafts, to curling up with a hot cup of cider by the fire, they have something for everyone.
Wreath Making – Wednesday, November 21
Elf on the Shelf – Saturday, November 24
Photos with Santa – Saturday, December 1
Holiday Ornaments – Wednesday, December 5
Gingerbread Houses – Saturday, December 15 and Saturday, December 22
Holiday Scramble – Saturday, December 22
Snow Slime and Winter Paintings – Saturday, December 26
Christmas-Related Events
Whatcom Symphony: Holiday Magic! December 16
Featuring Director of Orchestral Studies at Western Washington University Ryan Dudenbostel, the Whatcom Symphony provides an evening filled with holiday cheer. They will showcase holiday musical favorites for the whole family, and there's hot cocoa at intermission for the kids! This event takes place at Mount Baker Theatre.
Tour of the Trees – November 30 and December 1
Enjoy cookies, view trees and listen to live music at this free, family-friendly event. The Tour of Trees is a walk-through of beautifully-decorated trees in Bellingham hosted by the Bellingham Festival of Trees and Bellingham Senior Activity Center.
Festival of Trees – December 1
The Bellingham Senior Activity Center, a program of the Whatcom Council on Aging, hosts the Festival of Trees. This event features a wonderful dinner, scrumptious dessert courses and a live auction of special Christmas trees. This really is a wonderful way to spend the evening!
Hanukkah-Related Events
Hanukkah Party at Congregation Beth Israel – December 9, 12:00 p.m. – 2:00 p.m.
Everyone is welcome to attend the Hanukkah Party at Congregation Beth Israel in Bellingham. The celebration will feature food, music, games and more. And don't miss the annual Dreidel Spin-Off!
Public Menorah Lighting – December 2
The Public Menorah Lighting will take place at Lee Memorial Park in Bellingham. The event is hosted by the Rohr Center for Jewish Life-Chabad of Bellingham and WWU. This public event marks the beginning of Hanukkah.