The regular season begins November 9 for Western Washington University's Men's Basketball. The Vikings start the 2018-2019 campaign by taking part in the CCAA/GNAC Challenge, where they will face California State University, Dominguez Hills, followed by a game against UC San Diego the next night on November 10.
For the Vikings, there's a lot to look forward to this year. A couple of key freshman including Jalen Green and D'Angelo Minnis have joined the team, and the team is returning key starter Trevor Jasinsky and last year's sixth man Siaan Rojas. Although the team will look different than last year's second-place GNAC finisher, it will be an exciting season. New faces will need to seamlessly blend in with the old to create a competitor.
In the annual Great Northwest Athletic Conference Preseason Men's Basketball Poll, Western was picked to finish fourth in the conference. This is understandable, although it's a slight drop from their second-place finish last year. It makes sense to get a fourth-place selection due to the number of new faces filling the roster this season.
In addition to the new freshman, four new transfer student-athletes will join the team, and the Vikings will lose three key players from last season. In fact, the team's top three scorers from the 2017-2018 season have departed. Guard Trey Drechsel, a First-Team All GNAC player last season, has transferred to Grand Canyon University for his senior season. Forward Daulton Hommes, another First-Team All GNAC selection, has transferred to Point Loma Nazarene University. Forward Deandre Dickson, a Second-Team All GNAC selection, graduated following his senior season and now plays professionally overseas in Slovakia.
In eight of their last 10 seasons, Western has recorded at least 20 wins. They look to continue that trend this year with their new roster full of fresh faces. The play of true freshmen Jalen Green and D'Angelo Minnis (although Minnis could still redshirt) could be major factors toward that 20-win total. In this year's Blue-White Scrimmage (where the Vikings split into two practice squads and play each other), Green had 21 points and Minnis 22. If Minnis and Green can remain consistent scoring threats throughout the year, it will take some pressure off head coach Tony Dominguez to figure out where the new roster will get some of its scoring power.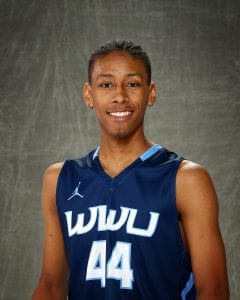 Dominguez has been with Western for 24 years, and is entering his seventh season as the head coach of the program. Since becoming head coach, Dominguez has led Western to a combined record of 133-51. Western has notched a winning each of the last 11 years, and looks to continue the trend in 2018-2019.
"We definitely have a new look to our team, but I like how we are improving and I think we will showcase a very quick, athletic brand of basketball," Dominguez said. "We are expecting to have a team of contributions rather than a specific position or person carrying the load."
The Vikings won the GNAC regular-season and tournament titles in 2016-17, and if they want to regain those titles they'll need to learn how to play together quickly and efficiently. In basketball, an overhauled roster can take teams some time to get used to. But once the chemistry is there and everything clicks, new rosters have been known to usher in great periods of winning.
Last year's season was impressive, as the Vikings had a second place GNAC finish with a record of 16-4. Even with all the changes this year, the Vikings have the ability to take first place in the GNAC; they just need to continue scoring at a high clip (they averaged 83.4 points per game last year) and playing lock-down defense.
The Vikings finished up exhibition games against the Whatcom Slam on October 27 and the Seattle Mountaineers on October 30; the last two tune-ups before regular season games begin. Following the CCAA/GNAC Challenge in La Jolla, California, the Vikings travel to Canada to play two more away games in Burnaby, British Columbia against Minnesota State University Moorhead and Humboldt State University.
"We will be road tested, that is for sure," Dominguez said when asked how the team starts the season with four games on the road. "But that's what's in front of us and all we can do is accept the challenge head on. Our reputation and past performances has made it tough to create a good competitive home schedule, in recent years. For us to work towards the NCAA tournament, we need to play potentially ranked opponents. This year that meant playing on the road and we are very excited about the opportunity."
Western's first two home games of the season will be at Carver Gym and on November 23 and November 24. The Vikings will play host to Capilano and Langara Colleges. Both universities are from Vancouver, British Columbia.
"Carver Gym is a special place for our program, our fans, the community and the student-body," Dominguez said. "We look forward to any time we get to play in front of the home crowd as we have always had a home court advantage due to our fan base."
Tickets for Vikings' home games can be found here. To view the entirety of Western's 2018-2019 schedule click here.