Fall is a wonderful time of year in Whatcom County. The leaves put on a vibrant show, the air smells especially fresh and the temperatures drop to an invigorating chill. Best of all? It's apple cider season. Nothing embodies the joy of fall like a nice cup of fresh apple cider. And there's no better place to savor this delightful fall flavor than at BelleWood Acres' Ciderfest – now in its seventh season!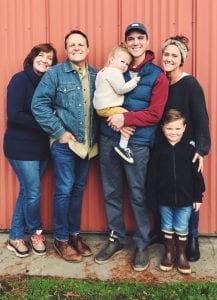 We sat down with new BelleWood Acres Owner Eric Abel to chat about this weekend's upcoming festivities.
WhatcomTalk: What can people expect at Ciderfest?
Eric Abel: Hard cider in the Pacific Northwest is booming, and as the premiere apple and pear orchard in the region, BelleWood Farms will be celebrating the success of all cideries. Guests can sample the many ciders available from the area and we'll have a special food menu including our famous pulled pork sandwiches, homemade apple cider pretzels and squash soup made from our garden. There will be live music and our distillery will be open for free tastings of our farm to bottle spirits.
WhatcomTalk: Tell us about the Home Cider Brewing Competition: How many people will be participating and what does the competition entail?
Eric Abel: The growth of hard cider is largely due to craft makers who have started in their own home kitchens and we want to encourage makers to keep innovating. We haven't even tapped the surface in the United States of the potential for hard cider as seen in Europe. Each year we usually have a dozen or so individuals who bring a couple of bottles of their homebrew, and our judges award a winner, along with prize money.
WhatcomTalk: What is a Community Carboy Fill?
Eric Abel: At BelleWood, we're the largest apple orchard in the western part of the state, with over 21 varieties. Local brewers love our premium quality fruit and the Carboy Fill is a great opportunity for homebrewers to get access to our soft cider and fill up their carboys, in order to make their own hard cider.
WhatcomTalk: Who will be performing at this year's Ciderfest?
Eric Abel: Guests will love our live music – Bellingham's own Hot Damn Scandal. They're a hugely popular band with an almost indescribable genre; an upbeat folk sound coined "Northwest Devil Swing" with what I think of as sort of a country-gypsy-jazz flair… Ha! Anyway, they're entirely creative and as fun to watch as they are to listen to.
WhatcomTalk: Which hard ciders will be available for sampling?
Eric Abel: Guests will be able to taste hard cider from Pacific Northwest cideries including Honey Moon, Herbs, Lost Giants, Bellingham Cider, and more. And as I mentioned, our distillery tasting room will have free samples of our farm made spirits
WhatcomTalk: Which cider is your favorite and why?
Eric Abel: Our cider community in Whatcom County is creating so many amazing brews with a wide range of flavor profiles. I like them all! But my favorite are the dryer, less sweet ciders. A couple of the local cideries are using our own Bellewood apple and pears in their concoctions.
WhatcomTalk: Is there anything else you want the community to know about Ciderfest in particular, or BelleWood Acres in general?
Eric Abel: We hope the community will come and support the amazing work that our local cideries are doing to bring delightful products to our community. They're putting Whatcom County on the map when it comes to this industry. It's really quite special and we're glad to be a part of it.
Don't miss Ciderfest at BelleWood Acres on November 10 from 12:00 – 5:00 p.m. For more information and to purchase your tickets, visit the BelleWood Acres events page.
Come on down, raise your glass and toast to another beautiful Whatcom County fall!