Grateful couples often tell Mary Gibb, co-owner of Gary's Plumbing and Heating, "You saved our marriage."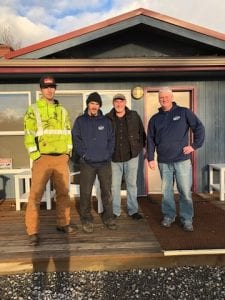 People sometimes tackle what seems like a small heating or plumbing job on their own, only to end up with a huge mess. What seemed like a one-hour job turns into an eight-hour job, and everything goes downhill from there. Pieces are broken that didn't start that way. Parts are laying all over the floor. Someone's yelling, someone's crying, the dog is barking, everyone is freezing and weekend plans are ruined.
But Gary's Plumbing and Heating can restore sanity – saving a marriage in the process. "We have a thank you note board in our shop and there have been more than a few occasions when people sent notes saying this," says Gibb.
It's endearing to read these notes and see how much Gary's team has helped people.
The techs at Gary's Plumbing and Heating are professionals, knowledgeable about every heating and plumbing system. They often know what the problem is within a matter of minutes. An untrained eye may take hours to figure it out – if that's even possible without the proper diagnostic tools. And if a part gets broken while you're trying to figure out what's wrong, you now have a whole new set of problems, including a stress headache.
"Some people are very capable of fixing things themselves," says Gibb, "and some people aren't. That's where the Gary's team comes in to the rescue."
People often cause more damage during the do-it-yourself process. This is especially true with modern furnaces. "People can't always fix their own cars anymore because of the computerized systems they have now," says Gibb. "It's the same thing with heating systems." With so many computerized parts and a wide variety of furnaces on the market, professionals are more highly sought after than ever.
"Now they don't have to argue, and they can be warm and toasty," says Gibb of her happy customers. And with Gary's reasonable rates, it's a small price to pay for harmony and happiness.
Now that seasons are changing and cooler weather is moving in, it's important to make an appointment to book your furnace inspection. This can prevent an unwanted surprise like your heater breaking during Thanksgiving dinner. Many heating companies book out for weeks. If your furnace hasn't been serviced recently, it's important to do it now before a seemingly minor event turns cold.
Gary's Top Heating Tips: 
Service Your Furnace
Similar to a car tune up, your furnace needs an "oil change," so to speak. It needs to be greased, cleaned and tweaked to keep running at maximum efficiency. The technicians at Gary's will check the performance of your heating system.
Schedule Yearly Services
Gibb says homeowners often aren't on a yearly tune-up schedule, turning what might be a small problem into a big one. It's like the brakes on your car: if you fix them right away, all you need is brake pads; if you let them go, rotors are going to set you back and cause harm to your vehicle. A furnace works in the same way and even brand new furnaces need to be checked annually.
Freshen Filters
Allergens and wildfire smoke can cause extremely bad air quality here in Whatcom County. Your heating filters are likely to need a good cleaning or replacement every year. Don't recirculate forest fire smoke through your home. Furnaces with clean air filters save money by letting air through efficiently and improving air quality.
This will not only keep your family warm, but will also keep them safe. If filters aren't kept clean, it can cause the heat exchanger to crack, potentially leading to carbon monoxide poisoning in your home.
Gary's friendly staff is ready to help. Photo courtesy: Gary's Plumbing and Heating.

Clear Airways
Take a look at your air vents. Are they dirty, blocked by furniture or closed? Is there a dog bed or a sleeping cat on one? It's eviction time.
Thermostat
Programmable thermostats can save you money when you're away from home. However, it's important to leave only small degrees of difference. You don't want to set it too low while you're away, making your furnace work overtime when you come home. "Consistency is key," says Gibb. The technicians at Gary's have recommendations for the perfect type of programmable unit suited for different home layouts.
"I have a huge sense of pride for what our techs do and how they help people," says Gibb. "When people call, they really need our help. So we get out there and help solve their problems. Our techs really care. When we say we have all-star service, that's what we provide."
Their ratings prove it. Gary's has over 500 five-star reviews from hundreds of happy customers. Victor, a customer from Blaine, commented on their fast response and good follow up:
"Gary's Plumbing and Heating is the main plumbing company we call for our repairs. They are very honest and will help you understand any issue. The advice they give is very good and helpful in making decisions concerning the plumbing!"
Call Gary's Plumbing and Heating today to schedule a cleaning and evaluation with an expert technician.
Gary's Plumbing and Heating
4760 Pacific Hwy
Bellingham
360-734-9700
Sponsored