Interior design is among the most personal ways to make a house your own, highlighting your sense of both style and utility. The folks at Adaptations Design Studio – the design division of A-1 Builders – are ready and willing to help make your plans a reality. Maggie Bates and Sharon Petker, members of Adaptations' first-rate design team, have some pointers to consider for your home's next interior design project.
#1: Utilize Space
In general, your home's interior layout should be planned with function foremost in mind. The use of space, says Bates, should be both logical and comfortable. Clearances for doors, windows and appliances should be proper and meeting code. After that, ask yourself how you want to utilize an area's open space.
"How do you want it to feel inside?" Bates asks. "Do you want it to feel cozy, with a low ceiling, or do you want it to feel cathedral-like?"
One of the most popular floor plans is the "open concept" model, adds Petker. This trends toward opening up the living, dining and kitchen areas to one another. For many people, that means having a spot where guests are separate from a cooking area, but still nearby for entertaining purposes.
"Most people say, when they're entertaining or have anyone in their house, everyone wants to be in the kitchen," Petker says.
#2 Find the Right Storage Solutions
The two places people say they need the most storage are the main bedroom suite and laundry area. For bedrooms, walk-in closets can't be beat. In addition, most people commonly like having either a pantry cabinet or full-size pantry closet in their kitchen. Petker adds that many original kitchens don't have cabinets extending all the way to the ceiling. Gaining cabinet storage space in a kitchen, whether it's a pull-out spice cabinet or a place to store appliances, is always a plus.
#3: Light it Up
People love making lighting changes to a home. "When they re-design, lighting is always a big part of it," Bates says. "I'd say 98 percent of the time, we have clients that say they want to talk about lighting."
Lighting considerations can include accent cove lighting, task lighting and lights in your showers and closets. It's also an easy segue into electrical considerations regarding switches and fans.  Hidden plug molds and simple switches can also be connected to smart appliances. Petker says smart fans and outlets with USB ports are becoming especially popular.
Colored lighting is also something to consider, says Bates. She's seen colored LED lights for accent coves, shelving and even in showers. LED lighting also has the added benefit of being low voltage, thus saving on power, and easily configured via smart device if using wi-fi or Bluetooth enabled light strips or bulbs.
#4: Choose Sustainable Materials
From countertops to flooring, consider where your building materials come from and how they're made. Petker suggests getting sustainably produced countertops, while Bates says anything that's wood – trim, doors, mantles or floors – should ideally be sustainably harvested.
Bates also notes that linoleum is a great sustainable material. Vinyl tiles, no matter how luxurious, are generally made from non-sustainable materials, despite being cheap and durable. Flooring is typically full of unsustainable products that people are often too heavily sold on, she says. With a lot of flooring coming from places like China, it means a large ecological footprint is being used just to get the product to a client.
Water flow is also something to consider. While most water flow devices, from toilets to shower heads, are now regulated for low-flow, manufacturers are coming up with ways to make it feel like you're getting more water than you are. Furthermore, consider your options when it comes to water temperature controls. Thermostatic and pressure-balance valves can make a big difference in ensuring the water that reaches your sinks and showers is just how you like it.
#5: Always in Style
Among the design elements that Petker and Bates never see going out of style? Stone countertops.
"They're extremely durable and long-lasting," says Bates. "And when they're manufactured correctly, they're also sustainable."
Fireplaces are also timeless elements, whether traditional or gas. Customized showers are another style trend to think about, as is whether or not to get rid of bathtubs. Many people, says Bates, tend to keep just one tub in their home.
"Usually, if people don't love tubs, you'll see them saying, 'We just need one. In case we need it. In case a guest needs it. In case we sell the house,'" she says. At the same time, however, she notes many of her clients have installed gorgeous tubs and surrounding style elements. Bates even has a personal connection. "My man loves tubs," she says with a laugh.
#6: Aging in Place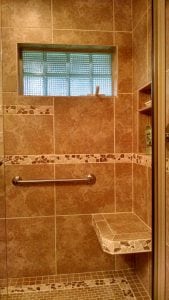 As medical or mobility issues arise with age or disability, many people understandably don't want to leave their homes to recuperate in a nursing facility. That's why making plans and investing in "aging in place" mechanics are important to consider.
Bates notes that many of her clients are reluctant to talk about this until they reach old age. But if you're buying a home and have no plans to move again, you'll inevitably have to address it. She likes to reframe the idea for her clients.
"I like people to imagine themselves doing their favorite sport or activity," she says. "Let's say something happened and you injured yourself. Could you get around in your own house? When people can frame it that way, it's a great way to plan for the future."
Aging in place options include putting grab bars in showers and near toilets, creating visibly noticeable spaces where stairs begin and end, and having strong handrails that are up to code. Petker adds that minimizing the appearance of some of these elements, especially in bathrooms, is easier than you think.
"It doesn't have to look institutional," she says. "That's part of our job, too: making sure it doesn't look like a bathroom at the mall."
In addition, Bates says to consider "universal design" elements in your home.
"A house that's designed with universal design principles works for every age," she says. "Little people and young children are short, and they have a hard time reaching things. And they can get hurt trying to reach things. So, you build in for that."
#7: Get Smart and Hide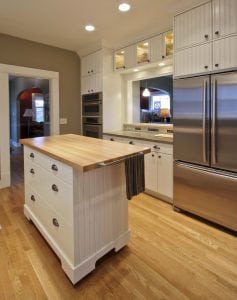 A growing trend in many homes is the use of smart appliances. Consider motion-sensing lights, smart fans for bathrooms and laundry rooms, and more.  Petker says some smart appliances, like new washers and dryers, can even be controlled from your phone.
In addition, consider hiding your appliances to create a more seamless appearance. Bates says that many people install cabinet doors in front of their dishwasher or refrigerator. Some hide their microwaves as part of creating non-cluttered countertops. Where to put a microwave can also address several issues at once.
"It's a big deal for many people, where they put their microwave," Bates says. "How tall are you? Are children going to be using it? Do you not want children using it?"
#8: Historic Updates
For those with historical homes, Bates and Petker's goals are to both preserve and modernize.
"If you have a beautiful, historic home, we're going to recommend that you stay with the style of the historical period," Bates says. "So, how do you modernize a historical home? That's where you get into smart appliances that are hidden, for instance."
Understanding the historical period in which your home was built, and what it means, is also important.
"We all think of 'historical' as late 1800s or early 1900s, but it's way more than that," she says. "You have to dive into it and research it to find the beautiful things that happened in your home's era and then celebrate those."
From the 1920s to the 1970s, there are plenty of ways to make your home look old in a new and appealing fashion. From plumbing fixtures to paint colors to moldings and trim work, the little details attended to many decades ago can still be properly restored and preserved.
"We still can get the knives that cut that molding," Bates says. "They're available in our state and we know where to get them, to get your moldings cut exactly the way they were 75 years ago."
It's really worth it, she notes, to reference historical literature about era-correct paint colors. Mixing south-of-the-border colors with a Craftsman house, for instance, is a recipe for a risky outcome. A basic rule many people follow is this: If you want to resell, don't be too bold. Consider generally neutral tones. Bates says those who plan to stay put generally do the opposite, diving into creative colors. Whatever you choose, she advocates finding complex colors that can produce pleasing and diverse color schemes.
#9: Get Artisans
Interior design isn't just about quality materials; it's also about quality people. Both Bates and Petker say it's critical to get craftsman and artisans who know how to get the job done right. Whether they're tile setters, trim carpenters, cabinet makers or floor installers, do your homework in finding highly-rated and qualified professionals. Fortunately, the folks at A-1 know quite a few of them.
"We have a small army of amazingly talented people, between our carpenters and our sub-contractors," Bates says. "And believe me: we're picky about it."
For more, check out the A-1 Builders website or visit them in-person at 3310 Northwest Avenue in Bellingham.
Sponsored