Don your galoshes and start lifting pumpkin weights, because it's fall ya'll! Autumn is one of the most beloved seasons of the year for good reason, the wind through the trees, the fresh crisp scent in the air and crunching of leaves underfoot.

It's time to pull out a warm scarf, pick up some hot cider, pull on your mud boots and hit the pumpkin patch. Farms are a complete experience these days – there's so much more to them then picking out a pumpkin.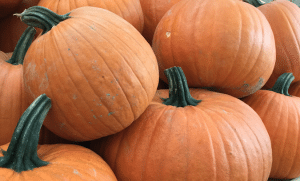 Get transported back in time to the early 1900s. If you haven't experienced Pumpkin Patch on Rails, it's time. This is where to take your kids for a genuine, old timey experience.
Ride on a 100-year-old Locomotive with a banjo player walking up and down the cars entertaining passengers. Gaze out of the window and dream of playing the spoons on a front porch on South Hill.
You're welcome to bring a picnic with you; a lunch of hot chocolate and sandwiches make this a complete experience that you'll never forget. The staff is knowledgeable and friendly, and love to answer historical questions about the rails.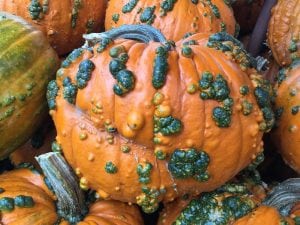 A pumpkin and a professional photographer are included in your ticket price.
The train stops at the beautiful Mirror Lake where you can get out, take a hand car and pick out your perfect pumpkin. Come early to admire the steam engine and other attractions they have on hand. They only run this event two days in October and it fills up quickly, so hurry and buy your tickets now.
October 13 and 27 at 9:00 a.m., 11:00 a.m., 1:00 p.m. and 3:00 p.m.
5159 N.P. Road, Sedro-Woolley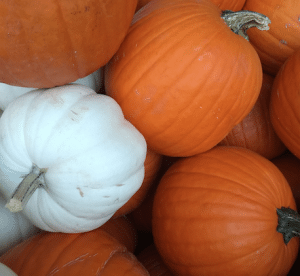 Dress up the family in period costumes and go on the train ride to Dan Cramer's Western town for a full day of historical adventures.
Cramer's is practically a fall amusement park with duck races, a hay jump, petting zoo, pony rides, train rides, an area full of dried corn for toddlers to play, a maze, wagon rides, horses, hay tosses and, of course, pumpkins – all within an awesome Western Town setting. This is a well-loved family farm and is worth the drive to Lynden to check it out.
Open Friday to Sunday from 10:00 a.m. to 5:00 p.m.
956 Van Dyk Road, Lynden
Come out for their 29th annual fruit festival and taste an impressive amount of their 200 varieties of fruit – all grown here on the farm. Dance to the music and savor Goat Mountain Pizza and Mallards ice cream made with Cloud Mountain fruit. There will also be events for children and fresh veggies for sale.
October 6 and 7 from 10:00 a.m. to 5:00 p.m.
$5. Per person or $10 per carload.
6906 Goodwin Road, Everson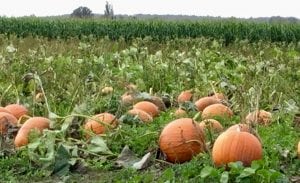 During the summer, Triple Wren Farms grows flowers and offers workshops for budding flower farmers. During harvest time, their pumpkin fields open for a pumpkin pop-up shop. Come out on Friday October 6 to celebrate the opening of pumpkin season with a Feast food truck, music and games.
Open Fridays and Saturdays from October 6 through October 27 from 10:00 a.m. to 5:00 p.m.
2424 Zell Road, Ferndale
Throw the kids in the car (leave the dog at home) and go for a colorful, scenic drive to Deming, for the Mama's Garden Annual Harvest Celebration. They'll have JT's Smokin' Barbeque food truck and $5 horse rides benefiting 4H. Make crafts, wander the corn maze, indulge at the bake sale and play with the farm animals. They'll have produce, pumpkins, wine, beer and fresh angus beef for sale.
This is a beautiful, laid back, family friendly space with a massive sand box for kids to play. Come enjoy the incredible location at the foothills of the Cascades. With free admission to boot!
October 6 and 7 from 10:00 a.m. to 4:00 p.m.
2600 Valley Hwy Deming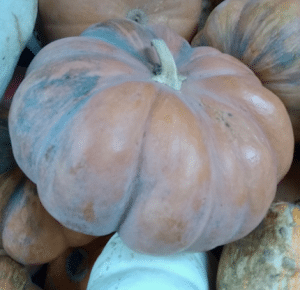 After a two-year hiatus, Stoney Ridge is back and ready for the 2018 pumpkin harvest. They've created a new space for pumpkins with all the events from previous years, including farm animals, produce, food, pumpkin doughnuts, cider, wagon rides, a corn and bin maze and playground. Saturdays will have a barbeque food truck and kettle corn. And it's affordable – $3 admission covers all the activities.
Open from October 12 to October 31, Fridays from 1:00 p.m. to 5:00 p.m. Saturdays from 10:00 a.m. to 5:00 p.m.
2092 Van Dyk Road in Everson, Washington.
The most well-known spot in Lynden is back at it with pick-your-own pumpkins and apples. Take a train ride through the apple orchard then on to the pumpkin patch. Bellewood also has a selection of everything that you need to decorate your doorstep and mantle with colorful gourds, Indian corn, hay, mums and corn stalks. Wander through the gift store, market, café and bakery; stop in for lunch and don't forget a tasting at the distillery.
Open every day from 8:00 a.m. to 5:00 p.m.
6140 Guide Meridian, Lynden
With so many events happening in your backyard, there's no reason to mourn the loss of summer. Go, buy a fresh pumpkin and try something new. Then, try the best pumpkin soup recipe ever and enjoy it by the fireplace after a fulfilling day at the pumpkin patch.