"I call it the mid-air opossum," says Jonathan Munsterman, owner of Pathfinder Wildlife. A dog brought a wet opossum home; it played dead and bore an uncanny resemblance to the dog's favorite toy. "Realizing that it was an opossum, the woman screamed. So the dog dropped the opossum and it dashed somewhere inside the house."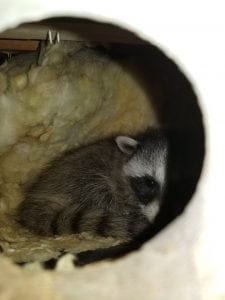 That's when Munsterman's phone rang sometime in the wee hours of the early morning. He couldn't remember exactly when, but it was somewhere around 2:00 a.m.
Munsterman came up with a plan to corner the opossum, make a loud noise and cause it to run into a cage. A neighbor – who thought of himself as a macho man – was there to help out. He was given the task of making sure the spring door on the cage closed when the opossum ran in.
The plan was set into action with Munsterman dropping a heavy atlas. "[Then] the opossum jumps on top of the trap and runs into the kitchen; the neighbor screams," Munsterman recalls. "I pull some kind of lunge, where I jump up onto the couch, throw myself over the corner table and grab the opossum as it's jumping up the last step. As he's in mid-air, I catch the thing like a hail Mary for the winning touch-down."
"I have stories for days," Munsterman says; the opossum story is one of his favorites.
Munsterman is used to late-night calls and is always available to help out in an emergency. He says one of his favorite parts of the job "is knowing I'm one of the very few people that will answer their phone at 2:00 a.m. to help someone that's in distress over something inside the house."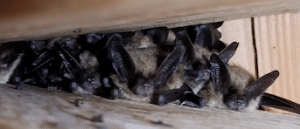 Munsterman is originally from Chicago, but now travels all over Snohomish, Skagit and Whatcom Counties evicting unwanted wildlife from people's homes. It's a recession-proof industry and his busy schedule proves that wildlife is alive and well in Western Washington. A large percentage of his work comes from Whatcom County.
Then there was the squatting bobcat. A couple owned a ski home in Skykomish, which they only visited in the winter. When they arrived at their beautiful vacation home one day, a bobcat was there waiting for them.
Munsterman says you could smell the house from yards away. "It smelled like 100 of the worst litter boxes you can imagine," he says. "The house was destroyed; all the drywall was stained yellow from the cat marking it, the hardwood floors were ruined as animal bits, debris, garbage and animal remains were all over the house. The place was ruined. The entire bedroom was the cat box."
They believe that the bobcat was living in their home for anywhere from four to six months, coming and going as it pleased through a dog door they'd inadvertently left open.
Munsterman opened the external doors, suited up and chased it around the house. "Three times we do laps around the house until finally I smack it in the back leg, and it swipes at me and goes bolting out the door," says Munsterman. The homeowners paid $35,000 for post cat renovations.
"Animals aren't stupid; they will take the easiest way of living they possibly can," says Munsterman.
Another one of his calls was for a skunk who lived in a couple's home for an entire week without them knowing. They had two cats and just thought they were exceptionally hungry that week.
The homeowner had an inkling something was wrong one night, and stayed up late to see what it was. "This skunk comes trundling down his hallway, goes to the cat dish, eats his fill, drinks from the cat bowl and then goes back to the bedroom," says Munsterman. The skunk had come in through a dog door and had been living it up in the luxury of the couple's spare bedroom.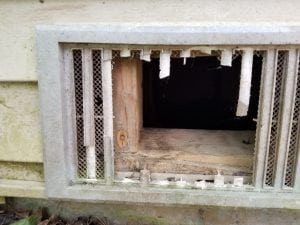 Each season Munsterman sees surges of home infestations depending on which species has juveniles. When young leave the nest, they get into trouble looking for new homes.
In the fall, he's inundated with bat infestations. The winter brings beaver problems. Spring and summer bring raccoons and squirrels.
Whatcom County problems are usually from beaver, bats, skunks and squirrels. "Whatcom is one of the few places that actually has a substantial skunk population," says Munsterman.
Here are some tips on how to keep your home critter free:
Cover open spaces including dryer vents, chimneys, crawlspaces and especially dog doors. Bird Block vents can be used over open ducts.
Get an inspection by a wildlife professional after buying a home.
Keep trees and bushes away from the gutter line.
Feed your pets inside your home.
River otters can be very vicious so call a professional if you find one nesting in your crawl space.
If you find a bat in your living space, you must call the Washington State Department of Health to have it tested for rabies.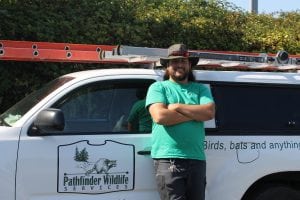 Hopefully, you'll never need to call Jonathan Munsterman; but if you do, he'll answer.
Pathfinder Wildlife is offering a five percent discount if you mention this article.
Jonathan Munsterman
Pathfinder Wildlife
425-256-3883
trapperjon@pathfinderwildlife.com