Shama and Tim "Herb" Alexander love cider. In 2015, the self-classified cider aficionados began a journey that has only gathered steam (and a whole lot of apples) along the way. Their passion project turned into much more.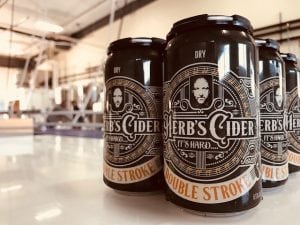 It started with a bit of luck and a whole lot of practice.
Three years ago, Tim and Shama discovered their property was the fortunate bearer of a small apple orchard. These apples possessed a unique flavor profile and were perfect for crafting cider, a bumper crop of Ambrosia and Gravenstein apples.
The couple decided to throw caution to the wind, go out on a limb and try something they'd never done before: cidermaking.
They had enough space in their garage to begin a small fermentation project. They just needed to find a way to press the apples.
They traveled to Mount Vernon to check out an apple press, rented it and officially began their fledgling cider operation.
Tim pressed as many apples as he could gather from the property. Then, he and Shama set up a makeshift fermentation area in their garage. Once fermentation was complete, it was time to break out the mason jars (but don't forget the ice; Tim loves certain ciders on ice, especially his own).
Sitting on their back deck, overlooking Bellingham Bay, sipping their newly crafted libation, Tim and Shama came to a realization: "Our cider is really good," Shama said.
Tim agreed; it was comparable to, if not better than, some of their favorite brands.
Thus, Herb's Cider was born. A lot still needed to be done, but now the Alexanders had the confidence to move forward in the cider industry.
The research and development phase proved critical. It allowed them to meet and add head cider maker Chris Weir (formerly of Finnriver Farm & Cidery and Port Townsend Brewing Company) to the team.
Chris, one of the forerunners of the Pacific Northwest cider industry, has created award-winning ciders throughout the years. Using traditional methods, heirloom fruit and organic juices, Chris embodied the values of sustainability and traditional cider making methods Tim and Shama wanted in their product.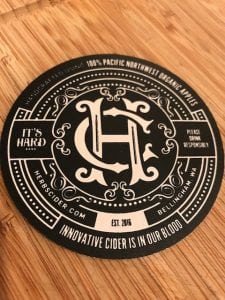 Following a year of important research and development with current head cider maker at Finnriver Andrew Byers, it was time to bottle. On September 29, 2017, Herb's Cider was on the market. A release party took place at Elizabeth Station in Bellingham (Tim and Shama's go-to cider-tasting spot) and the cidery was in full swing.
They kept it simple at first; during year one, you could only purchase the cider in bottles at retail establishments. But that was never the long-term plan. They quickly realized their operation had the opportunity for substantial growth; they just needed a few additions and adjustments to get there.
The crew at Herb's added two things to the agenda: build a tasting room and set up a warehouse. A sufficiently sized warehouse would enable them to take production into their own hands and a tasting room with a centralized location in downtown Bellingham would give them visibility as they poured their heirloom ciders and served them with intentionally-paired charcuterie.
Fast-forward to September 7, 2018, and the warehouse is built, the canning line set up and cider is making its way into the aluminum vessels emblazoned with the Herb's Cider logo. This logo symbolizes Tim's passion, career and lifelong pursuit: drumming. Two drumsticks surround a score of musical notes and a circular design reminiscent of a turntable on each can of Herb's cider.
Tim is a drummer by trade. He's drummed for many different projects, perhaps most notably for the eclectic genre-bending group Primus. From the logo to cider names, one can find allusions to the art of drumming. For example, the Single Stroke, Double Stroke and Triplet foundational ciders are all subtle references to actions Tim has made countless times behind his kit. These small reminders are a fun addition to this professional operation.
I sipped from a can of Double Stroke as I sat down with Tim and Shama atop the crow's nest area of the Herb's Cider warehouse. This is Shama's command center, where product oversight, marketing, event coordinating and merchandising all take place.
Charlie – cider house dog and unequivocal mascot (she has a blog where she wears a GoPro as she oversees cider production) – licked my hand as I took my first sip of the house dry cider; I think she wanted some too. Like her owners, she's got good taste. The Double Stroke dry is made from a blend of 100 percent organic dessert apples and heirloom crabapples, and you better believe it's on ice. Before the pour, Tim made sure to fetch some frozen water and shovel it into my glass. The cider's combination of tart and dry makes for a refreshingly balanced drink.
Shama says they're about a month away from opening the tasting room; it should be complete by the end of September, coinciding with the company's one-year anniversary.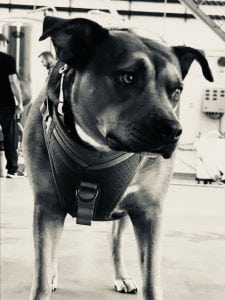 A big party is in the works, which will be hosted by their good friends at Bellingham Cider Company, who will provide appetizers paired to Herb's Cider and show a movie about Herb's origins, filmed by Mt. Baker Media House.
We wrapped up our interview so Tim and Shama could take the whole staff out to dinner – it was a long day at the warehouse learning the ins and outs of the canning line.
The couple treat their staff like they treat their cider: with love, care and affection. Shama told me Tim really appreciates family values and good organic sustainable cider. Well, they've got both.
Herb's Cider Tasting room will be located at 1228 Bay Street in Bellingham. Stop by and enjoy this new local treasure or check them out online at herbscider.com to find out more about their tasting room opening date, check out cool merchandise and see which events they'll be pouring at.