Gary's Plumbing and Heating is championing veterans through a new donation program supporting Brigadoon Service Dogs. The Bellingham-based plumbing company recently donated several thousand dollars toward the training of a service dog. Upon completion of the dog's training, it will be presented to a veteran suffering from post-traumatic stress disorder (PTSD).
"It really just called to us," says Gary's co-owner Mary Gibb, who also acts as marketing and human resources manager.
It started when Gibb heard Denise Costanten, Brigadoon's founder, speak about the company's prison programs, in which select incarcerated veterans train service dogs for six months.
"I've always been interested in how we can help prisoners become more a part of society," Gibb says. "Isn't it tragic that there are veterans who are in prison, when they served and did so much for us?"
Helping and Healing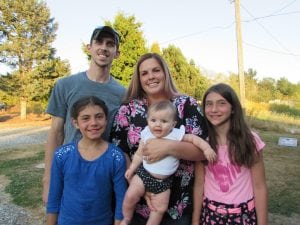 Mario Bonilla, a Brigadoon advocate, board member and Vietnam veteran, says they're very careful about the dogs they use for training, which begins as early as six weeks after birth.
Dogs are bred by Brigadoon or received from a selected breeder. Bonilla says they rely on specific breeders because dogs taken from places like the Human Society may have temperament or physical issues that aren't revealed until after training has begun. If issues are found, the animal is usually rejected from the program, wasting both time and money.
The money is especially critical, as each dog's training can cost up to $25,000. Brigadoon has no government funding, relying solely on donations from businesses like Gary's, as well as individual community contributions.
Common breeds used in the program include Labradors and "Collie-Doodles" – a mix between a Border Collie and Poodle. Once they're selected by Brigadoon, dogs will be in training for up to two years.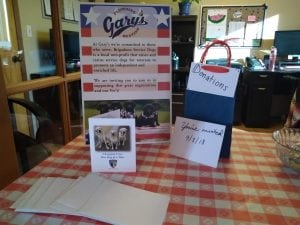 "It takes that long to get a dog physically and emotionally ready to take on a life partner," says Bonilla, noting the service life of each dog averages eight to 10 years. After that, they're typically retired from service and become regular pets.  Around six months of age, select Brigadoon dogs become part of their aforementioned prison programs, continuing training with an incarcerated veteran.
"Their number one job is to train for the basic behaviors that a service dog needs to have," says Bonilla. For those veterans, the benefits of training a dog that will go to another veteran are immense.
"When you're with a dog that doesn't have any negative vibes at all – they're always wanting to help, wanting to please – and being loving and kind to an individual, it rubs off on you. Veterans write us letters, telling us about getting their humanity back, being able to have this opportunity."
Some prisoners, upon release, end up getting a service dog, though not necessarily the same one they trained. Some, Bonilla adds, have also wanted to become trainers, although Brigadoon currently lacks the funding and resources to pay them what a trainer would make. It is, he says, a future goal for the organization.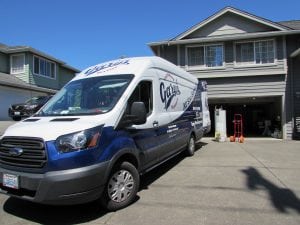 Upon finishing training, dogs are matched with an individual client, which could be anyone from a child to an elderly person. Matches are made based on specific needs, including a person's size and disability issues.
Veterans are provided service dogs free of charge. Brigadoon's current seven-person board of directors includes three veterans. Bonilla, who keeps a rejected Brigadoon Collie-Doodle as a pet, served in the Navy from 1967 to 1971, with service in the Philippines, South Vietnam and Thailand.
"It makes my heart feel good, knowing I'm doing something for these men and women," he says of being part of the Brigadoon family.
Raising Dogs and Dollars
Bonilla is ecstatic over the support provided by Gary's Plumbing & Heating. "It's just so nice to have an organization that is so solidly doing so many good things in the community," he says. "Mary is a wonderful human being. She has shoulders about half a mile wide, carrying an awful lot of good things that she helps people with."
Sarah Gibb, 20, is a dispatcher and customer service representative for Gary's. She also happens to be Mary's daughter and is quick to credit her mom, a former teacher, with the idea of supporting Brigadoon.
"She's always very involved and excited, to get people together doing good things," Sarah says, adding that she and several other office employees would like to do volunteer work with Brigadoon.
"I'm really happy we're supporting it," she says. "Who doesn't love dogs and working with veterans?"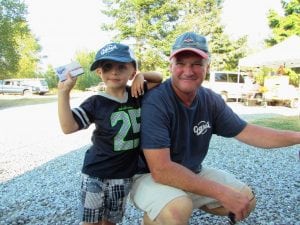 The hope, of course, is that Gary's contributions will be backed up by donations from their customers. In addition to seeking donations for Brigadoon, Gary's is also an avid supporter of drawing people to work in trade vocations like plumbing.
Gary's currently has 16 full-time employees, including six full-time plumbers, four apprentices and an HVAC technician. They're always on the lookout for more quality apprentices and employees.
"It's a great family job," says Mary, of working in a trade. "Knowing how to fix things? There's a real need for people to know how to do that."
Gary's Plumbing and Heating believes in giving back. In addition to raising funds for a Brigadoon service dog, they've supported Women Sharing Hope and the Red Cross Golf Tournament for over 12 years and Salvation Army for over 5 years. They know the importance of community and their contributions make Whatcom County a better place.
Sponsored