With summer winding down and autumnal harvest season on the horizon, Bellingham's waterfront is readying itself for a celebration. Between welcoming our fishing fleets back to port and the commencement of crabbing season, SeaFeast honors the people, industry and food that merge in our harbor.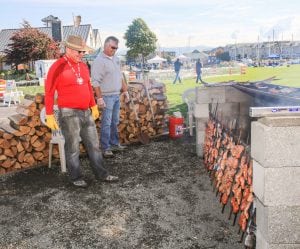 Now in its third year, SeaFeast will be held on September 21 and 22. It has an engaging itinerary of both new and perennial favorites featuring food, live events, courses and vendors. While seafood is assuredly the star of the show, this year's festival intends to encompass that and much more.
Associate Executive Director Liz Purdy oversees this year's SeaFeast and will spearhead its organization in the future. "Our goal is that when people come to the waterfront, they'll leave SeaFeast knowing more than when they arrived," she says. "We want visitors to have a broader understanding of what it takes to harvest and process Pacific Northwest seafood, all the way up to how to recreate safely out in the water."
Educational booths will comprise some of the 120 vendors stationed on the SeaFeast Wharf. Education booths will have a hands-on engagement activity, which SeaFeast attendees can mark in their passport for a prize. Visitors will witness a demonstrated Coast Guard rescue, learn to identify the main species of salmon and hear from marine nonprofits.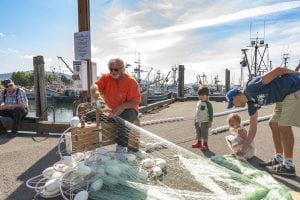 The tented SeaFeed at the Harbor will be a highlight for many, expanding on the success of last year's feast at Depot Market Square. This all-day, come-and-go seafood experience offers meals of Bornstein's Dungeness crab, savory Lummi Nation pit roasted salmon, Drayton Harbor oysters and Alaska WeatherVane scallops. Visitors can also enjoy exclusive seafood pairings at Taste the Sea presented by Haggen Northwest Fresh with four ticketed sessions taking place in the Squalicum Boathouse.
The Introductory Paddle Adventure Course is new this year, cohosted by the Community Boating Center, Kite Paddle Surf, Moondance Kayak, Whatcom Association of Kayak Enthusiasts, and Recreation Northwest. A full curriculum of basic safety, weather, tides and marine resource information will be covered. The course requires pre-registration, so reserve your spot soon.
Admittance to many SeaFeast events is free, but keep an eye on their schedule for gatherings that require tickets. Passes for these are available on the SeaFeast website or at festival doors, while they last.
SeaFeast's visionary, Deb Granger, wanted to celebrate the robust impact and historical significance of our county's seaside ports. The Deming Logging Show celebrates our timber industry, while the bounty of our agriculture is honored at the Northwest Washington Fair in Lynden. No such annual celebration of the Salish Sea's bounty and economic impact existed until SeaFeast.
"Whatcom County is a crown jewel of Pacific Northwest seafood, but we don't even have a fish market," Purdy explains. "SeaFeast is here to bring support to this integral local industry."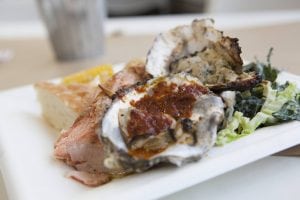 According to an impact study by the Working Waterfront Coalition, the economic significance of our harbor is similar to that of the county's refineries, in that seven percent of our economy is based on it. This includes everything that happens at the marina, from recreation to processing and storage.
As the event grows, a principle goal is to highlight the waterfront's importance to the local economy by connecting the harbor with downtown commerce. This year a shuttle from the waterfront will deliver visitors to downtown venues for SeaFeast events. Cultural draws, like a live performance by the Bellingham Chamber Chorale and FisherPoets readings, will help bridge the divide between the two districts.
The Port of Bellingham is a Presenting Sponsor of the event, and looks forward to the boon that traveling visitors bring to the area. "The Port is excited to be a part of a community event that displays its waterfront and its maritime industries, and creates awareness of the challenges facing the maritime industry," says Rob Fix, executive director of the Port of Bellingham.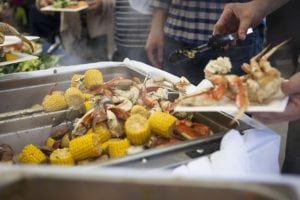 Fix will be joined by Lummi Nation Chairman Jay Julius and Bellingham Mayor Kelli Linville in hosting a SeaFeast welcome ceremony. Lummi Nation will guide their canoes up the Whatcom Creek waterway to launch the service taking place at Maritime Heritage Amphitheater on Friday, September 21.
SeaFeast is shaping up to be a regular Bellingham celebration, expecting upwards of 10,000 visitors this year. "While Ski to Sea is a local tradition welcoming in the summer, we hope that SeaFeast will be the closeout," says Purdy. "We want to see SeaFeast grow into the kind of reliable community event that everyone looks forward to."