From brightly colored neon marquees to supermarket aisle markers, we use signs every day. But do you ever think about who put them there?  For Steve Wydur, the answer is definitely yes.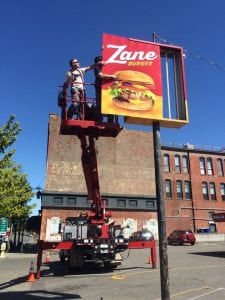 "It's a little bit of a disease if you ask my wife," he says with a laugh. "I don't know if it's a blessing or a curse. I look at signs all day, every day."
Wydur is the Service and Installation Coordinator for Bellingham-based Signs Plus. This is Whatcom County's number one sign shop and one of the most utilized throughout Western Washington. The company has been creating and installing signs of all shapes and sizes since 1992. Chances are good you've seen their work without even knowing it.
Wydur worked as a sign installer from 1999 until a couple years ago, when he ruptured an Achilles' tendon. Since then, he's moved to an office role as the Service & Installation Coordinator, helping schedule the company's seven full-time sign installers on jobs across Washington.
So, what does it take to be a professional sign installer?
It Requires Dedication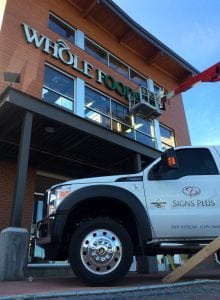 Sign installers must be versed in several skill sets: basic mechanical know-how and proficiency using a drill, screw gun and tape measure. Common sense is necessary, as is ingenuity – being both willing and able to troubleshoot problems in the field and finish the job is critical.
"That's what separates a good sign guy from a great sign guy," Wydur says. "We never want to see signs come back to the shop."
It also goes, perhaps without saying, that installers shouldn't be afraid of heights. A lot of time is spent above the ground, whether on ladders or in work buckets hoisted off the backs of trucks, at heights of up to 115 feet.
Installers also work an extremely flexible schedule. While a normal workday involves arriving at the shop around 7:30 a.m. and finishing by about 4:30 p.m., installers must sometimes work well into the evening or even overnight.
"It's not your typical 8:00 to 5:00 job," says Ben Strom. Strom has been with Signs Plus since 2002 and has 23 years of sign installation experience. Strom's co-worker, Joel Klander, has been at Signs Plus for the last eight years, with 18 years of total experience. Klander says many jobs necessitate overnight work, as installing signs over sidewalks or near a drive-through can cause issues during business hours.
"You've got to go in there when it's convenient, safe and not putting anybody else in harm's way," he says.
Occasionally, hours can get crazy. Several years ago, when Haggen attempted an expansion and began converting Safeway and Albertson's stores, Signs Plus crews had to re-brand stores to Haggen signage as quickly as possible. That led to jobs lasting 30 hours straight, as everything from aisle markers to the sign over the front doors were switched.
"For a small company, it was pretty extraordinary to pull such a thing off," Klander says.
It Takes Guts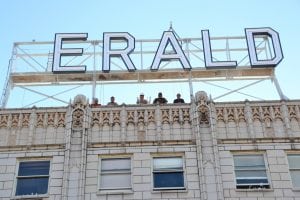 When Wydur was employed by another sign company in 2000, the crane he was in broke, retracting 35 feet in a split-second.  When the work basket came to an abrupt stop, Wydur kept moving. His face was badly damaged, knocking bone fragments from his upper jaw into his sinus cavity and breaking most of his teeth. He required hundreds of thousands of dollars in re-constructive oral surgeries.
"That one was scary," he says. "It took me awhile to get back in the basket after that."
Accidents like this aren't typical, and have never happened at Signs Plus, but they can happen. While common injuries for installers aren't any different than other manual labor trades (cuts, abrasions, sunburns or aches and pains caused by working at odd angles), some hazards are more unique. Pigeon poop, for instance.
"It's highly toxic," Wydur says. "A lot of times, we'll get into places where they've been roosting for years. We've actually done a couple jobs where we pulled off and said, 'You've got to get HAZMAT in here.'"
Fortunately, Signs Plus prioritizes safety. If a crew feels their install environment isn't safe, they aren't questioned by management. The fleet of shiny new aerial trucks isn't just for a great image in the eyes of the Signs Plus owners and management. They ask a lot of their installers every day, and they have a commitment to provide the best equipment available to allow their crews to perform their jobs as safely as possible. For work full of awkward angles, twisting through crawl spaces and wiring things up in the air, it's a great comfort to guys like Wydur, Strom and Klander.
It Takes Versatility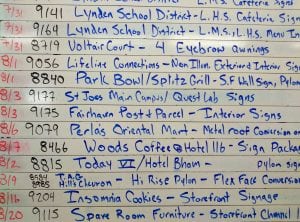 All three men say their favorite part of being sign installers is the variety of work. On any given day, they must be ready to take on a project requiring several different jobs, from electrical work to crane operation to vinyl-wrapping a vehicle. The work can be inside or outside, big or small, concrete or metal.
"It takes about a good 10 years to really get it mastered," Strom says of becoming an efficient jack of all trades in installation work.
The Signs Plus team is comprised of 32 team members with various specialties, from fabrication to painting. Seventy to eighty percent of their signs are created in-house, with the other twenty to thirty percent shipped in for install.
Most projects are single-day jobs, done with crews consisting of two to four people. Installers are also called out on shorter service calls, like when small sign repairs are needed. Some projects, like the 2016 installation of LED letters atop the Bellingham Herald building, can take up to a week.
Each installer has their favorite signs. For Strom, it's the downtown Rocket Donuts rocket, which sits atop a pole next to the popular donut shop. Wydur's most memorable job goes back to doing maintenance on the iconic Seattle Post-Intelligencer globe.
"There's something like 800 pieces of neon on that thing," he recalls, adding that the Associated Press captured some cool pictures of him in action.
It Takes a Good Attitude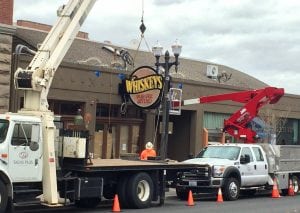 While the job they do is serious, the men say working together provides plenty of time for bonding and joking around.
Strom once put a stuffed mouse in the passenger seat visor of his truck. When a co-worker pulled the visor down, he began screaming at what he thought was a real mouse. The next day, Strom opened his lunchbox cooler to find a mummified rat from their job site, face-up and wrapped in paper towels.
"We've got to take our jobs seriously but we've got to have fun, too," he says.
Neither Strom nor Klander are sure how long they'll keep doing sign installation, but Klander says he's worked with guys who've done it until nearly 60. Installers are in better shape now thanks to better technology, such as lighter weight tools. When he finally does walk away, Klander's goal is to hand down wisdom to his replacement, just as advice was handed down to him.
"You pass it down to the next generation," he says.
A lot of information can be gleaned from a sign, but there's more hidden there than you'd think. There's a history of skilled craftspeople, each as unique as the signs they install. So the next time you find yourself gazing up at a sign, pause to think about the path it took to get there and the people it encountered along the way.
Sponsored