Wine, vino, bubbly – whichever you prefer, there's a place for you to sit back, relax and have a glass in Whatcom County. Though the area is known for pubs and breweries, wine bars and tasting rooms have a marked presence. Seven local wineries and a plethora of wine bars are dotted throughout the county, serving delectable drinks and offering a sense of home to visitors.
Your new go-to watering hole is definitely on this list.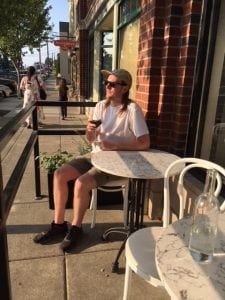 1143 11th Street, Bellingham
360-392-0304

A few blocks from the bay in the heart of Fairhaven lies Gainsbarre, a trendy lounge serving organic wines from across the globe. Most come from European countries like France and Italy, but some are sourced from wineries closer to home – notably, the Willamette Valley.
At Gainsbarre, you're no longer in Bellingham. Instead, you're in a Parisian bistro. The spot-on French decor is only rivaled by its next-door neighbor with the same owner, Swim Club Wet Bar and Resto.
Beyond natural, preservative-free wine, Gainsbarre elegantly serves refreshingly light cocktails, non-alcoholic drinks, beer and lighter fare like salads and cheese plates. The outdoor patio beckons sun seekers and is an ideal spot for a romantic date, a solo outing accompanied by a good book or a casual lunch. Don't miss their daily happy hour (before 5:00 p.m.) for discount glasses and snacks.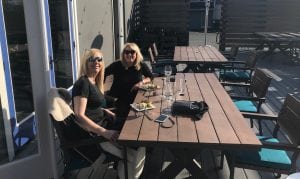 277 G Street, Blaine
360-392-0955
Head north to get to this classic wine bar and event venue. The variety of wines at The Vault is impressive, boasting more than 100 reds alone. To accompany your drinks, enjoy tasty bites that enhance the flavors in your wine.
Not only do they serve food and drink, The Vault offers the only event space in downtown Blaine. They hold weekly wine-centric events that often involve live music. Their Friday Night Flights events offer guests a low-cost flight of wine samples. Their space can also be reserved for large celebrations and comes equipped with a granite-topped bar and locally-sourced maple tables. They'll even cater for you.
It wouldn't be called The Vault Wine Bar without a vault. They make it easy for anyone to store and age wine for future use by preserving bottles in a climate-controlled facility. A monthly storage fee is worth the convenience for those of us without cellars.
120 W Holly Street, Bellingham
360-656-6817

I have three words: wine on tap. Bellingham's premier wine venue features 20 rotating and carefully selected wines on tap offering a unique experience for visitors. Though you can't serve yourself, the taps are an interesting sight.
They're called WineStations and Vinostrology is one of two places in Washington to use the innovative machines that maintain taste and freshness.
Vinostrology's lounge is located in downtown Bellingham on Holly Street. It's a relaxing refuge offering hand-picked snacks and regular community events, including an informal wine introductory course – tastings included. 
1053 N State St, Bellingham
360-734-0728
Mead, sometimes called honey wine, is Honey Moon's specialty. Though not a typical grape wine, mead is served similarly and tastes heavenly accompanied by live music and twinkly lights at Honey Moon.
They use pure wildflower honey harvested from the foothills of the North Cascades to make their mead, adding local berries and herbs to experiment with flavors. A solid list of tried and true meads are complemented by new creations. Try a mead flight to find your favorite flavor.
Cider is their second love. Ciderhead is made from fresh, local apples with no added sugar or concentrate. Mix their two specialties together and you have a magical champagne-like drink. Add a splash of raspberry mead and you won't look back.
The bar's atmosphere is one-of-a-kind; it's lively and upbeat yet relaxing and familiar. Live music is a regular occurrence here and Honey Moon hosts musical groups from all genres. They have regular storytelling events and open mic nights too, so check their calendar before planning your visit.
1628 Huntley Road, Bellingham
360-756-6770
Did you know Whatcom County is home to a handful of top-notch wineries? Well, now you do. Vartanyan Estate Winery is a standout. Their tasting room ($7 to taste five wines) has a view of Mount Baker and a patio to enjoy it from. It may not be a wine bar per se, but it does deserve a spot on this list.
Margarita Vartanyan owns the boutique winery and uses her knowledge of winemaking from her upbringing in Armenia to create unique and flavorful libations in Bellingham. Events like paint nights and outdoor concerts make this space even more of a destination. Their tasting room is open on weekends and the tasting fee is waived with the purchase of a bottle.