There's a good chance you've spent time in the Port of Bellingham's parks and trails system – possibly without even knowing it. The Port's 14 designated parks cover more than 22 acres of public space. These are some of Whatcom County's best spots for taking a walk, having a picnic, flying a kite or hosting a private event for friends and family. These parks offer fantastic views, fresh air and thousands of flowers planted and maintained by the Port's grounds crew each year.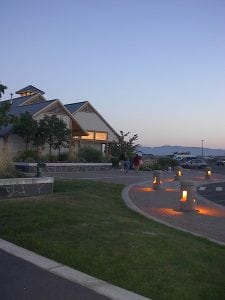 "An average of 145,000 people a year use those public spaces, which doesn't include the public parks where people take their dogs for a walk or to fly a kite," says Tiffany DeSimone, Port of Bellingham's meeting and events supervisor. "The Port is thankful for the community's support and use of the parks and facilities."
Here's a run-down on several of the Port's fantastic places:
Fairhaven Marine Park
This 1.9-acre park is located in Fairhaven near the Bellingham Cruise Terminal. It features a gentle, sloping beach perfect for beach combing, building sandcastles and kayaking. The picnic shelter is available for outdoor gatherings on a first-come, first-serve basis. Open dawn to dusk.
Tom Glenn Common
This 1.6-acre waterfront park and plaza near Squalicum Harbor includes the Bellwether on the Bay development. It features patio-style chairs, tables and benches, making it ideal for relaxing or having a picnic. During the summer months, outdoor events and concerts are featured on the Bellwether stage. Open dawn to dusk.
Squalicum Promenade
This 1.7 mile paved bike and pedestrian path, loops around Squalicum Harbor, connecting to the Bellwether development. Good for walking, biking or even roller-blading, while enjoying the vast perennial gardens adjacent to the path.  Open dawn to dusk.
Marine Life Center
A favorite for children, this modest-sized aquarium contains local marine flora and fauna. It features a hands-on touch tank and sees over 70,000 visitors each year. Here you can watch crabs, sea stars, fish and even a Giant Pacific Octopus! The Marine Life Center also provides a summer internship program for Western Washington University students to gain work experience. Open 10:00 a.m. to 6:00 p.m. each day from June to August, and 11:00 a.m. to 5:00 p.m. daily from September to May.
Zuanich Point Park
This 4.4-acre park overlooks Squalicum Harbor and features benches, a paved pathway, picnic tables, restrooms, a children's play area and water access via dock. It's perfect for community events, boating celebrations, picnics and, of course, kite flying. The area also includes the Squalicum Boathouse, a popular community meeting rental facility and the Squalicum Fishers' Memorial. Open dawn to dusk.
The Port of Bellingham's other locations include Cow Beach, the Bellingham Commercial Fleet Interpretive Center, Little Squalicum Beach, Lone Tree Park, Airport Viewpoint Park and Marine Drive Trail. In Blaine Harbor, you'll find the Blaine Promenade, Blaine Public Fishing Pier and the Blaine Seafarers Memorial Park.
Events O' Plenty
Approximately 500 private events are hosted in the Port's public facilities each year, including graduation parties, celebrations of life, weddings, bar mitzvahs and retirement parties, among others.
As for public events, there are several big ones. Whatcom County's biggest multisport relay race, Ski to Sea, is hosted in May. Mid-summer you'll enjoy fireworks, live music and the 4th of July celebration at Zuanich Point Park.
September brings the beckoning of autumn and three fantastic events: The Bellingham AirFest, held this year on September 8 from 11:00 a.m. to 4:00 p.m., is a free, family-friendly event held at the Bellingham International Airport. It features historical and specialized aircraft displays, an airport fire truck demonstration, paid helicopter rides and chances to talk with local flying clubs and aviation professionals about local and career aviation opportunities.
And there's plenty for kids to do: Face-painting, games and free flights for a limited number of children, ages 8 to 17, through the EAA Young Eagles Program. There are also food trucks, arts and crafts vendors, and raffle prizes.
September 15 brings the Bellingham Traverse, a 37.15-mile multisport relay race celebrating the journey of wild salmon, which begins and ends at Boundary Bay Brewery. The road bike and trail run portions of the event pass through Fairhaven Marine Park. The race begins at noon.
September 22 features the return of Bellingham SeaFeast, a celebration of local seafood and culture taking place at Zuanich Point Park and Squalicum Harbor between 10:00 a.m. and 8:00 p.m. Featuring crab and salmon dinners, tasting and supply demonstrations by local businesses, a beer garden, live music, commercial fishing activities, several fun competitions and plenty of fun stuff for the kids, too. Admission is free!
Once the chill of winter sets in, the Port lights things up with their Holiday Port Festival; a free, family-friendly event held the first weekend in December at the Bellingham Cruise Terminal. This event features live music and dancing, gingerbread house displays, and free cookies and hot apple cider.
No matter the time of year, there's plenty to see and do in the Port's parks and trails system. See you out there!
Sponsored