When a woman becomes a mother, it's a whole new ballgame. Who do you talk to about what your body is going through? The sleepless nights? This small human? Some have their own mom to guide them, but many don't want to share those T.M.I. details.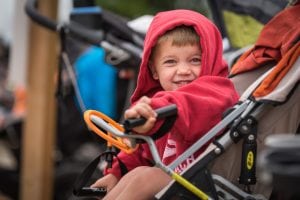 Since 2017, moms have been coming together and building community under the guidance of Staci Lopshire at FIT4MOM. Lopshire is the owner and pre-postnatal fitness instructor at FIT4MOM Lyden/Bellingham – the country's largest fitness program for moms. They have classes for every stage of motherhood. These programs do more than offer a good workout – they create connections.
"You're not alone," says Lopshire. "Even though a mama might be in a different stage of motherhood then you are, they have been there, done that. We create a village. Connections happen. We have mom-to-mom connections; you get that support and now have a community and village to rely on. Then, mom to baby, mom to kiddo, moms can feel connected to the little ones. It's fit for Mom, fun for baby."
FIT4MOM Lyden/Bellingham has several programs to choose from, such as Mama & Me workouts, Just for Mama routines, Mama-To-Be and Baby-To-be. Lopshire and her team offer classes Monday through Friday and each program is adjustable to any fitness level. Programs take place at BelleWood Acres during the warm months or Gritworks Athletics during the winter season. They strengthen motherhood all year round.
"After becoming a mom, it's hard to know your place," says Lopshire. "'Do I fit in at the gym? Do I want to put my kiddo in childcare? Can I afford that?' FIT4MOM gives you an opportunity to bring your kiddo with you and be supported by the staff and the other moms."
Community-Building Programs
Programs like Stroller Strides, FIT4Baby and Body Back Transformation are designed to meet mamas at the varying stages of motherhood. FIT4MOM Lynden/Bellingham has clients from their young 20s to late 40s. They work with every kind of mama: pregnant mamas, first time mamas, mamas of twins, mamas of multiple children, working mamas and stay-at-home mamas. Sometimes they even include nannies and other caregivers like grandmas, friends and aunts.
Stroller Strides is a fitness program that moms can do with their young ones. It's all about power walking or jogging with intervals of strength and body toning. Stroller Strides instructors weave songs and activities into the routine, designed to engage and entertain baby, while moms are led through a series of exercises specific to her role. Every instructor is certified and has specialty training for pre and postnatal women.
"I have been going to stroller strides for a little over six months and also have completed one body back session and am currently in the middle of another body back session," says Brooke Ward, the FIT4MOM Mom's Night Out social coordinator. "I'm stronger physically now than I have ever been which is crazy because I'm in my mid-thirties and I have three kids. Staci is an excellent trainer and the FIT4MOM community is amazing. Working out with other moms allows you to be totally you. Come as you are, unshowered, with kids melting down and/or bags under your eyes without fear of judgement."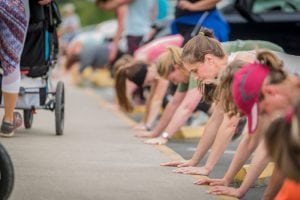 Body Back Transformation is a just-for-mama workout that focuses on getting your pre-baby body back. During the eight-week program, new moms experience high-intensity workouts and enjoy a nutrition program designed by and for moms.
For mamas-to-be who are looking to connect with other mamas before their little ones arrive, there is Fit4Baby. This program is all about strengthening the body for all the changes it will experience during pregnancy. Regular activity like Fit4Baby can help reduce maternal aches and pains, increase energy and possibly speed up labor and delivery, and the recovery process. All prenatal instructors are certified and fully equipped to lead pregnant women in safe exercises.
"FIT4MOM is a place where we as moms come together to set a great example of health and strength in motherhood to our children and to other mothers that is free of judgement," says Lopshire. "It's truly a place where you can come and be you."
As a teacher, coach and mom, Lopshire has a passion for health, fitness and friendship. When her first son was six weeks old, she became a FIT4MOM client in West Seattle. After a year, she took the next step and became a Stroller Strides and Fit4Baby instructor. Upon moving to Bellingham, she missed the connections with other moms she had made in West Seattle.
"I didn't have my village," she says. "I just yearned for it. I didn't want anyone feeling that lonely and desperate and depressed."
In June of 2017, she made the leap to bring FIT4MOM to the Bellingham area. It was a true investment in motherhood, herself and her family. Now FIT4MOM offers programs and fun events for moms throughout the area.
This moms' village has a monthly Moms' Night Out, with adventures like trivia nights, paint and sip, comedy at UpFront, climbing at Vital, cowling, dinner at Bellingham Cider Company, yoga nights and game nights.
FIT4MOM Lynden/Bellingham also offers free playgroups and a monthly birthday celebration for kids and mamas alike. They craft, plant flowers, do bubble play and parachute play, host epic dance parties, story times and free play. FIT4MOM is all about creating a safe environment to support, connect and empower.
"I don't want any mama to feel alone or that she doesn't have support or a place to belong," says Lopshire. "I want moms to feel empowered and I know the feeling of losing your identity when you get into the routine of motherhood which, again, is a beautiful thing."
Since FIT4MOM Lynden/Bellingham's creation, they have supported Lydia Place with a diaper drive, hosted a canned food drive for the Bellingham Food Bank and raised money with a yoga session for a local breast cancer clinic. They've also supported Kids in Motion and international communities.
If one mom is a force to be reckoned with, imagine what a group of moms can do. Motherhood often takes 110 percent. Connecting with a group of people to share stories, laugh and learn is invaluable.
"FIT4MOM is about being able to maintain 'who I am' and the connection to the woman that you are, while providing the self-care and self-love we deserve, so we can be the best moms that we can be," says Lopshire.
FIT4MOM
Staci Lopshire
Owner/Certified Pre and Postnatal Fitness Instructor
360-296-9286
stacilopshire@fit4mom.com
Sponsored