Submitted by: Hotel Bellwether
Hotel Bellwether is bringing back the popular live music series, "Blues, Brews & BBQ," for Summer 2018. Every Thursday, Hotel Bellwether will host a local band, provide a wide selection of delicious BBQ offerings and showcase beer the way only Bellingham can!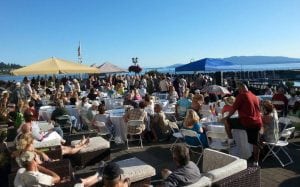 The Details:
Our Blues, Brews and BBQ series will take place every Thursday from June 14 to Sept. 13. Doors will open at 5:00 p.m., with the headliner playing from 6:00 p.m. to 9:00 p.m.
How much does it cost?
Admission to Blues, Brews & BBQ events will be either $7 or $10, depending on the band. The price will be posted on Hotel Bellwether's Facebook page days before each event. The first show, on June 14, will be $7 and will feature The Shannanagins. Most food options will cost anywhere between $7 and $17.
What will the food be like?
The BBQ side of Blues, Brews & BBQ will include a variety of options, all cooked on-site over all-natural mesquite lump charcoal by the talented folks at the Hotel's restaurant, the Lighthouse Grill. You'll be able to purchase cheeseburgers, ribs, bratwursts, a bucket of crab, as well as other seafood and BBQ options. Entrée purchases come with house-made potato salad, fruit salad and coleslaw.
Will it be just Blues bands?
Blues, Brews and BBQ events will feature a variety of music genres, including two nights where Hotel Bellwether goes Country and hosts Miller Campbell, a rising star born and raised in the Pacific Northwest, whose debut album "Sweet Whiskey" released in 2017 to great success.
Is it always only on Thursdays?
No! Hotel Bellwether will host two special Blues, Brews & BBQ events – one on Wednesday July 4 to celebrate our Independence Day, where you'll have a spectacular view of the fireworks over Bellingham Bay, and one on Tuesday, July 31, when Hotel Bellwether will host the LowDown Brass band, who is on a special tour from Chicago!
Where can I find the full schedule?
The schedule for Blues, Brews & BBQ can be found at http://hotelbellwether.com/featured/blues-brews-and-bbq/
I can't make any of those dates. Are there other times for Live Music at Hotel Bellwether?
Hotel Bellwether hosts several musicians and bands on Friday and Saturday, as well as Jazz music on Sunday. During these times, you can take advantage of the Lighthouse Grill's six-day a week happy hour!