Forget a gym membership and subscribe to the outdoors with these fun spring activities! Outdoor exercise is great for both your physical and mental health, and we just so happen to live in one of Washington's most recreation-focused cities. Here in Whatcom County, the options are endless for staying fit outside, so we've rounded up a few that are easily accessible and require little to no additional equipment than what you already own.
Hiking
Hiking is both an amazing total body workout and a refreshing break from your normal routine. Lose calories while gaining clarity on one of the many trails Bellingham has to offer. Depending on the trail you choose, you'll be rewarded with views of mountains, rivers, hidden lakes and even some hot springs.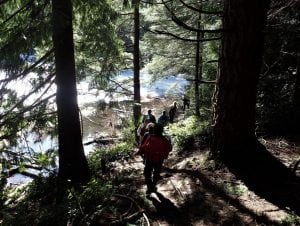 Though the Mount Baker hikes are generally icy until summer, great trails for spring hiking can be found on the Chuckanut Mountains and in the Lake Padden recreation area. Favorite trails in this area are the Oyster Dome Trail and Pine and Cedar Lakes Trail. For a complete list of hikes, visit the Washington Trails Association website. And, if you don't feel like hiking alone, join a hiking group such as Bellingham Trails Meetup, Bellingham/Skagit Hiking Meetup or the Mount Baker Club.
Trail Running
Cardio seems to have gotten a bad reputation in the past few years, but before you roll your eyes at the thought of a "fun run," check out these scenic trails perfect for a jog. One of the most popular running trails is the Lake Padden loop – a scenic, 2.6 mile trail around the lake with easy rolling hills. The view of the lake will almost make you forget you're running!
Sehome Arboretum and Whatcom Falls Park are also great trails for beginners as they allow you to choose your own distance. Most trails in these parks are under one mile but can be combined until you reach the distance of your choosing. All three trails are just outside of Bellingham and stay maintained all year round. To increase the difficulty or for advanced trail runners, try running some of the hikes listed above. For more cardio motivation, run with a group like the Greater Bellingham Running Club, the BBay Running Pub Run or register for a local 5k.
Mountain Biking
Let adrenaline be the only pre-workout you need and try mountain biking on Galbraith Mountain. Mountain biking combines the grind of the uphill climb with the freedom and thrill of riding back down, giving you instant reward for your hard work. Enthusiasts from all over the U.S. seek out Bellingham's infamous Galbraith Mountain, better known as "Galby," for its perfect mountain biking terrain.
Galbraith has over 50 miles of trails spread out over 3,000 acres of forest overlooking Bellingham and the Bellingham Bay. It may seem overwhelming, but this expansive network of trails has something to offer bikers of any experience level. For beginners, Lost Giants Trail and Jack and the Beanstalk are the best places to start. For more trails and organized group rides, visit the Whatcom Mountain Bike Coalition webpage. Don't have a bike? Rent one from a variety of local bike shops.
Snow Activities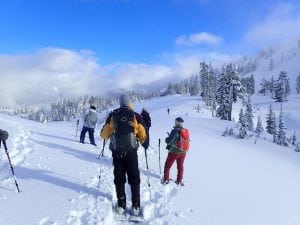 Snow sports in the spring? You bet! In fact, spring ski season is widely considered to be better for families and beginners due to better visibility and weather. Currently, the Mount Baker Ski Area is scheduled to be open into late April. Lift ticket prices and the operation calendar can be found on their website.
Even after the ski area closes, skiers and snowboarders alike continue to hike up and ride down runs well into the late spring and early summer. But if you'd rather have shoes on your feet instead of boards, rent a pair of snowshoes from the Glacier Ski Shop and check out the White Salmon Road snowshoe trail. This easy and family-friendly trail provides views of Mount Shuksan and the Nooksack River. It's a relatively non-technical trail with low incline and low avalanche danger, making it perfect for people wanting to learn.
So get out there and hike, run, bike, ski and snowshoe your way to better health and a brighter future. Your body and mind will thank you for it.