Submitted by: United Way of Whatcom County
United Way of Whatcom County announced their new single-issue focus during a meeting at the Whatcom Center for Philanthropy. In order to have a greater impact on our community, the local organization will narrow their focus to one major issue: helping families and individuals who struggle financially. With typical annual investments of nearly $1 million into area social services and projects, this could mean a brighter future for Whatcom County residents, but President/CEO Peter Theisen says it's about more than just fundraising.
"With stronger collaboration and strategic partnerships, we believe our community can make more effective use of every dollar raised," says Theisen. "We expect our community to band together, to volunteer more. It'll be less about the dollars raised and more about the impact made."
The organization will still conduct annual workplace giving campaigns and will continue to rely on volunteers to serve on their fund distribution committee. They'll simply focus their purpose in hopes of achieving more measurable outcomes and a greater return on investment.
United Way of Whatcom County spent over a year researching, surveying the public and meeting with stakeholders to get to this point. Selecting an issue was a community-wide decision.
Emily O'Connor, Executive Director of Lydia Place says, "United Way of Whatcom County has been carefully evaluating how they can make the biggest, long-term difference in our community. As the director of a partner agency for many years, I appreciate the thought and planning put into this process."
Two in five households in Whatcom County struggle to make ends meet (ALICE Report, 2014). United Way will focus not only on the 16 percent of households who are below the federal poverty line, but also the additional 22 percent of households who have at least one employed person, but still cannot afford the local cost of living, including: food, housing, child care, health care and transportation. For these 31,000 families, United Way is looking to offer a hand-up in a way that will create lasting change for everyone in our community.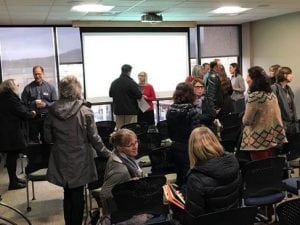 Carol Gipson, Executive Director of Whatcom Alliance for Health Advancement (WAHA) says, "We see financial instability and the stressors and barriers associated with poverty limit access to health care – due to lack of reliable transportation, lack of child care or simply the inability to afford preventive care. This can become a vicious circle where poverty leads to lack of preventive care, leading to more expensive emergency care and greater impoverishment."
O'Connor adds, "The impact of those [financial] struggles has serious consequences for individual health, the vibrancy of our community and, most tragically, the children caught in the wake. When we collectively commit to such an important goal, our community will feel the positive impact of this focused investment for generations to come."
United Way of Whatcom County opened their 2018-2019 fund distribution process today to both returning and potential partners interested in working together to live United against poverty. To learn more about submitting a request for qualifications for your program, visit www.unitedwaywhatcom.org.