Submitted by: The Chrysalis Inn & Spa
The Chrysalis Inn & Spa was proud to present their November spa donation in the amount of $1,300 to Unity Care NW. Imagine a strong and healthy community where everyone has access to needed medical, dental, behavioral health and pharmacy services regardless of ability to pay. Unity Care NW (UCNW) is a local non-profit Federally Qualified Community Health Center with four locations in Whatcom County, serving one in 10 residents annually. Their mission is to provide access to high-quality affordable health care for all ages, regardless of insurance status or ability to pay.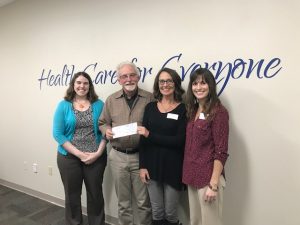 UCNW accepts most insurance plans and has a sliding fee scale to keep care affordable for families and individuals who are low-income or living in poverty. Since 2008, UCNW's patient population has increased 74 percent. They currently serve approximately 20,000 Whatcom County residents. To accommodate this increase, UCNW is pursuing plans to build a new health center off Portal Way in Ferndale to which The Chrysalis' donation will be applied. Visit the Unity Care NW website to learn more and donate to this project.
The Chrysalis, a locally owned hotel, spa & restaurant on Fairhaven's waterfront, has been giving one percent of monthly spa revenues to a local non-profit since February of 2017. With the passing of the new federal tax plan, owner Mike Keenan is even more committed to putting his corporate tax cuts into the hands of those most in need.
December's donation recipient will be Ferndale Community Resource Cooperative whose mission is to strengthen families and build community in Ferndale by linking, supporting and strengthening the organizations that serve them.