Anyone who loves experiencing the exotic smells and tastes, knows that On Rice restaurants are a focal point of tasty food fare in select hubs of activity in Bellingham. Whether you're a student at WWU stopping in for happy hour and a cold brew or a "village person" who works or shops in Barkley or Fairhaven, you've undoubtedly seen or smelled the heavenly scents emanating from one or more of these Ken Tipa owned establishments.
When I met with Ken, my burning question concerned his Asian cuisine adventure, Zen Sushi. The first thing that hits you upon entering Zen Sushi is the floor-to-extremely tall ceiling, bronze, one ton Buddha that rests in the middle of the restaurant, surrounded by a moat of Koi. Towering several feet above diners, I wanted to know how he managed to get the giant Buddha into this space. The restaurant walls are almost all glass, making the puzzle even more perplexing. I knew there would be a story here, but I had no idea it would be so amazing.
It all started when Ken's then nine-year-old daughter who loves sushi, told him that they needed to start their own sushi restaurant. This was right before the opening of the Regal Barkley Village complex. Ken took his daughter's advice and thought the new entertainment center would be the perfect spot. He pondered the idea of a "grab and go," family-oriented sushi place that would cater to moviegoers. Ken and his family started visiting their old stomping grounds, Seattle, to try out various sushi places and make a plan. Ken pitched his landlord the new restaurant idea. It wasn't long before his landlord called him back and said, "Let's do it!"
Ken wanted to ensure that he showed respect to the Japanese culture and cuisine he'd be embracing, so he reached out to his mom in Bangkok, Thailand to see if she could get a lead on a Buddha statue. She ran with it and soon managed to track down a giant, bronze statue that would serve as the focal point of his new business. Since it was coming from Thailand, it had to come by sea aboard a container ship. Unfortunately, it was much too tall to fit, so the only option was to put it on a top container, with the statue's giant head sticking out. It finally arrived safely in Seattle, except for a "rash" that appeared on the Buddha's head as a result of the salt spray on its journey across the sea. The slight erosion and discoloration, barely noticeable, only adds to the story.
When it arrived in Seattle, Ken's next challenge was to find a semi truck and trailer that was low enough to the ground that the speeding Buddha wouldn't clip any of the bridges or overpasses on its way to Bellingham.
Moving it into the restaurant space was another nail biter. The initial idea was that it would fit if it was tipped over on its side. While a great idea in theory, in practice it didn't work, so Ken and his landlord had to come up with a "plan B." Eventually, the landlord cut two of the space's formidable steel beams in half so that the entire front end could part ways to allow the huge Buddha to enter his final resting place amid the gently swimming koi and hundreds of tiny, quickly moving, multi colored sushi plates.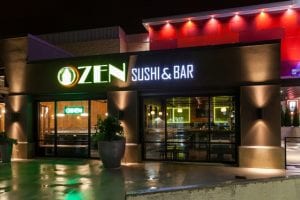 Ken told me that this giant Buddha is the largest in all of Washington State (and that includes Seattle). It is certainly worth seeing on its own, however it would be a pity not to eat at least some of the delicious samplings on Zen Sushi's menu, including the teriyaki chicken and the tasty sushi.
The ambiance at Zen Sushi is, as the name suggests, zen-like. I found myself hypnotized by the tiny, colorful sushi plates as they danced by me on the long sushi conveyor on their way around the restaurant. It's a great family or date night place, complete with an equally nice bar and outdoor fireplace and seating. Zen Sushi is truly a jewel in Barkley Village's crown.
Zen Sushi
3001 Cinema Place
Bellingham
360-734-7888