Nestled at the end of a county road, with misty pastures and clucking chickens, volunteers gather for Spa Day at the Windy Acres Farm. The lavished pampering is for the resident horses, who are the stars of the equine assisted psychotherapy programs offered through Animals as Natural Therapy.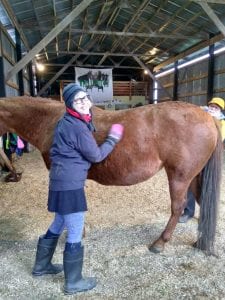 A non-profit healing program, Animals as Natural Therapy is dedicated to nurturing at-risk youth's and veteran's self-empowerment and helping them develop trusting, honest relationships by using animals, particularly horses, as medium and metaphor. By modeling the traits of respectful relationships and social intelligence through work with horses, the program allows the participants to make connections and bring those same life skills back to their homes and schools.
In working with animals, children take on a leadership position, which allows them to empathize with those in their lives who are leaders to them, their parents and teachers. "All animals have a social structure, a herd or a flock. We have ours too, like a family or a school. A horse's needs and social interactions are simpler, but the children can see the metaphors and we discuss how they can apply what they've learned to their home life," says program volunteer, Laura Hale.
Each participant is paired with a horse and guided by both a mental health and equine behavior expert. Children are provided this safe structure, but from there they are allowed to explore their relationship with their horse at their own pace. Laura Hale calls it "guided experiential learning," where there is one-on-one counsel with a child, yet they're allowed to learn about relationships on their own in a safe way. "It is experiential learning in such a way that they're gathering experiences on their own, as opposed to being fed knowledge by someone else. When kids make their own connections, have those 'aha' moments, it really sticks," she says.
One activity is building obstacle courses in the arena. Program participants set up physical obstacles that translate to emotional or contextual ones they have in their lives. When they lead the horse through the course, they re-enact their problems from a new vantage, with the goal of making a connection for its resolution.
Charlie Detel has been volunteering for about a year and works with the Visions Program, a unit devoted to helping teen girls overcome behavioral and substance abuse problems. "What's been rewarding is seeing girls go from being timid and non-assertive, to being able to establish boundaries and be confident and more assertive," Charlie says. "One girl I worked with was particularly passive. But after a few weeks working with this horse, Obie, the way she talked changed. When she would talk about her experiences, there was confidence in her voice and when we reflected on what she learned that day, she had ideas about how she could apply her relationship with Obie to her life in other ways."
Many of the horses that live on the ANT farm were relinquished by owners who could no longer care for them. Some came from particularly dire circumstances, having been neglected or abused. For some children, this can be a point of connection – the horse they are bonding with shares a difficult past that they can relate to.
Barn Manager, Kelly Hartmann, believes the horses have an uncanny ability to choose to work with children with a similar history. "I think horses are intuitive. They can read people and their intentions without telling them. We have horses that tend to make connections with people who have been through something traumatic, a history that they sometimes have in common."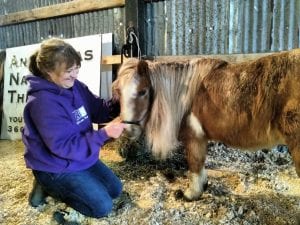 Although equine therapy is the main thrust of the program, the farm is also home to a menagerie of small animals. Goats, bunnies, chickens and miniature horses all get to go on the road to offer their calming presence to residents of local senior homes.
Ruth Sisco volunteers with the mobile arm of ANT. "We often take our animals to an Alzheimers unit and when we walk in, faces just light up. The animals behave so serenely for those residents that crave touch, and some non-verbals will open up to the animals and reminisce about pets they had in their lives. It's such a surprise what they can do for us, spiritually, emotionally and physically."
The demographics that the Animals as Natural Therapy program serve are overwhelmingly low income and many child participants come from unstable living situations. ANT allocates 82 percent of their funding to their programs and makes their services available regardless of a participant's income. To support ANT and their vision for animal assisted healing, visit their website where they have an updated volunteer training schedule and ways to donate.