For many of us, food is synonymous with home. A comforting meal prepared with love goes a long way toward making people feel at home, and Solstice Senior Living's Executive Chef Rob Mott knows a thing or two about good food.

Originally from Illinois, Mott had been working on a business degree at the University of Iowa when, just before his 21st birthday, his father died unexpectedly of a massive heart attack. "It was a big shock and it really threw my world into a spin," Mott shared. After his father passed away, Mott's mother moved to the west coast to be closer to her parents who had relocated to Oak Harbor, WA, where he would visit on school breaks.
"I saw the mountains and the trees, and I just fell in love with it," he shared. "I came out to Washington after graduating and really never looked back."
Mott's first job out of school was training to become a manager at a small family-owned restaurant in Oak Harbor. After two years of working under Chef Jean Paul Combettes, Mott was inspired to get a culinary degree from the California Culinary Academy in San Francisco.
Mott brought this experience to many endeavors, and eventually opened Pacific Prime Rib in Ferndale in 1997. He ran the restaurant until 2003, when the changing economic landscape made keeping the doors open a challenge. Mott worked in Seattle for several years. He then made the jump to Parkway Chateau, which now has changed hands to Solstice Senior Living. He has been the Executive Chef here for the past eight years and has never looked back.
"I love this job and I love getting to know people," said Mott. "I feel like I'm cooking for family, and I enjoy coming to work daily. I have a smile on my face and a song in my heart driving into work."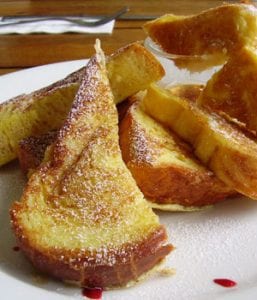 Mott credits this happy work environment to the new company and his team members, his Sous Chef, Ron, and evening cook, Jerry. "It's such a nice, enjoyable, healthy atmosphere in the kitchen, and I think it shows in the food, I have a great supporting cast as well, with part time cooks, dishwashers and service staff."
As Solstice Senior Living makes the transition, bringing in the new company services and culture, Mott and his kitchen crew are excited about the opportunities they'll have to continue to provide delicious, high-quality, healthy meals to residents, regardless of their special dietary needs.
Mott will provide color to the new culinary offerings Solstice will be bringing to their residents. "The new program is titled ELEVATE," he said. "This enhanced culinary experience will feature a restaurant inspired dining experience and a chef created menu that focuses on resident and regional favorites. The program will also include 'Food for Thought' meetings to promote open communication between residents and the culinary team. The program is designed to continually enhance the community's dining and resident experience."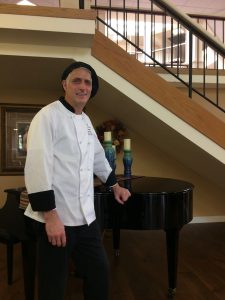 If you're exploring independent senior living options, Solstice Senior Living's staff is ready to help you find the right fit. Arrange a visit by calling 360-671-6060. And because food is such an important part of feeling at home, you'll enjoy a fresh meal when you do. Plus Chef Mott is confident his will be the best you can find in our county.
"If you go to another retirement community in Whatcom County and you have a better meal than what you had here, you let me know because I want to go work for them," Mott said. "I would put our food up against any other retirement community in this county and I know we would beat them hands down."
Local seniors that are considering or curious about the Solstice Senior Living lifestyle are invited to come enjoy a meal. For more information, please contact Denise Irey at 360-671-6060.
Sponsored