For over 70 years, Boys & Girls Clubs of Whatcom County have been opening doors of opportunity and preparing young people for a great future. Our local Boys & Girls Clubs see possibility in every young person and are committed to
being a voice for all youth in our community, no matter where they come from.
Program Focus Areas
The Boys & Girls Clubs of Whatcom County have three focus areas that encompass all Club programing: Academic success, healthy lifestyles and good character & citizenship.
Academic Success: Young people who graduate high school are significantly more likely to secure a good job, earn an adequate salary and have a promising future. High school graduation is an important goal for all club members.

Staff member, Ben, assists Henry during the Lighthouse Mission clean-up project on November 9 as part of the Boys & Girls Clubs' Million Hours of Service program. Photo courtesy: Boys & Girls Clubs of Whatcom County.

Athletics: Belonging to an athletic team is more than just playing a sport. Athletics at the Boys & Girls Clubs instill and reinforce self-esteem, character, sportsmanship, responsibility, participation and skill-development, all while developing positive relationships.

Good Character & Citizenship: Good character is integral to a young person's ability to become a productive, caring and responsible citizen. Boys & Girls Club programs aim to develop a positive sense of self and community.
Healthy Lifestyles: Health habits and self-care practices developed in childhood and adolescence affect an individual's health and quality of life throughout adulthood.
While athletics are a key component of their overall organization, the Boys & Girls Clubs of Whatcom County provide much more than sports teams for Whatcom County kids. All four of their clubhouses are open after school, and Lynden and Ferndale clubs are also open before school to give kids a safe space to make positive choices. Clubs provide engaging programming, nutritious snacks and meals, and strong adult role models for the young people in our community who need it most.
Giving Back to the Community
One of the clubs' major areas of focus is developing good character and citizenship in each of their members. One program that all local clubhouses run is the Million Hours of Service program, which focuses on engaging members in community service and volunteering. We believe that kids who are involved in volunteer opportunities do better in school, maintain positive behaviors, and avoid risky behaviors.
Some of the service projects that Whatcom County Clubhouses have been working on are:
During the month of October at the Lynden Clubhouse, first through third graders collected donations for local pet hospitals and animal shelters. And during the week of December 12, first through fifth graders will decorate holiday cards that will be delivered to Lynden Manor.
Ferndale Clubhouse will be collecting donations for The Whatcom Humane Society during the month of November
Sixth graders Henry, Emily and Serenity from the Bellingham Clubhouse visited Light House Mission on November 9 to clean up the surrounding grounds with the help of club staff member, Ben.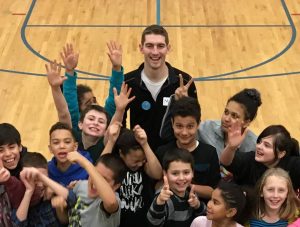 Community Support
The four Whatcom County Clubhouses – Lynden, Blaine, Bellingham and Ferndale – are dependent on each of their individual communities. The Boys & Girls Clubs of Whatcom County are fortunate to have engaged citizens who recognize the importance of the clubs' impact on the 6,000 members they serve.
Community support often comes in the form of event attendance. For example, on September 30, the Ferndale Clubhouse hosted the 3rd Annual Cornhole Tournament. Thanks to attendees, volunteers and sponsors the tournament raised $26,000 for the kids of Ferndale.
How to Support Boys & Girls Clubs of Whatcom County
The Boys & Girls Clubs of Whatcom County make a promise every day, to every young person who walks through their doors: "Great Futures Start Here." They are able to keep that promise because of community partners and individual supporters. You can help support youth in Whatcom County this holiday season during any of the following events:
McDonald's Smiles Campaign, November 22 – December 31: Restaurant guests have the opportunity to donate $1 or more to the Boys & Girls Clubs of Whatcom County with every purchase.
On Saturday, December 9, show off your best ugly sweater for a night of bingo to support the Boys & Girls Clubs of Whatcom County's Blaine Clubhouse. This ugly sweater themed night will bring the Blaine community together for an unforgettable event. Proceeds directly benefit the lives of club members, helping them reach their full potential as productive, caring, responsible citizens. Tickets are $35 and include six games of bingo and dinner (ages 21+).
To donate, learn more, or join one of the Boys & Girls Clubs of Whatcom County, visit their website.
Sponsored