As the weather gets colder and the days grow shorter, many of us start to look forward to our favorite holiday traditions. From warming mugs of mulled cider to festive songs hanging in the air, holiday events in Whatcom County offer countless opportunities to fight the seasonal darkness (something that feels even more necessary with our early cold-snap).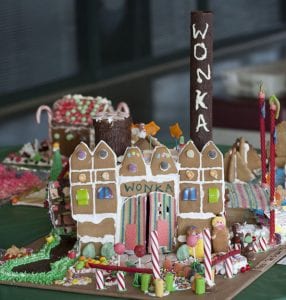 Ready to start making your holiday plans? In need of a little cheer? The Holiday Port Festival is a free, family-friendly event held the weekend of December 1 – 3, 2017 at the Bellingham Cruise Terminal. This family-friendly weekend is the perfect way to ring in the season, featuring the annual gingerbread contest, dozens of performances, art activities, wagon rides, visits with Santa and Mrs. Claus, and much more.
"The Port of Bellingham is excited to host the 27th Annual Holiday Port Festival at the Bellingham Cruise Terminal," shared Port of Bellingham Meeting and Event Supervisor, Tiffany DeSimone. "We have a little something for everyone from free art projects to cookies and cider, princesses and Santa visits. Local schools and groups bring more than 900 performers to entertain family and friends, and with more than 100 gingerbread creations on display it is a festive location!"
Gingerbread House Contest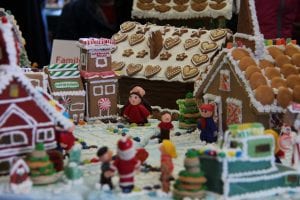 One of Bellingham's most beloved holiday events is their annual Gingerbread House Contest, now celebrating its 22nd year of wowing the community. From candy-adorned gingerbread houses by young kiddos to elaborate buildings by professional bakers, these delightful food-based pieces are sight to behold. All entries will be on display at the Holiday Port Festival and everyone who attends will get a chance to vote for their favorite contest entry for the People's Choice award.
Interested in entering the competition? The contest is free and open to bakers of all ages and abilities. Entries don't have to be houses – they don't even have to be made out of gingerbread! Structures just need to be visibly edible. Graham cracker walls, fences made of pretzel sticks, melted hard candy "lakes" and other creative uses of food are encouraged!
Medals will be awarded to the top three entries in each category and the top winner in the People's Choice category will be awarded a prize from San Juan Cruises! Learn more and find the online entry form on the contest website. But don't wait too long – the deadline to enter is November 27.
Memorable Visits and Entertainment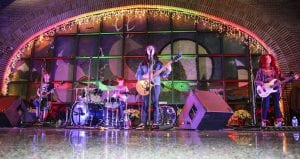 The Holiday Port Festival features free visits with Santa and Mrs. Claus, kids' art activities with Allied Arts of Whatcom County, horse and wagon rides and free photos with winter princesses. Attendees will also enjoy performances by more than 700 performers in over 35 local bands, orchestras, choirs and performance groups.
Plus, thanks to generous donations by Haggen, Maxum Petroleum and BP, all activities are free!
Streat Food Café and Sugar & Spice food truck will be open with food available for purchase. Want photos with Santa? Those are available for purchase from Turner Photographics.
Opportunities to Give Back
Many of the Gingerbread House Contest entries are donated to a silent auction that runs throughout the three-day Holiday Port Festival. Proceeds from this benefit Toys for Tots.
"The Port appreciates the community participation in this event on the waterfront in Fairhaven," shared DeSimone. "We look forward to seeing everyone throughout the weekend!"
The 27th Annual Holiday Port Festival runs from Friday, December 1 through Sunday, December 3, 2017 at the Bellingham Cruise Terminal. This free, family friendly festival features performances by dozens of local performance groups, free hot apple cider and cookies thanks to Haggen, visits with Santa and Mrs. Claus, art activities for kids, horse and wagon rides and free photos with winter princesses.
Find a full schedule of events Holiday Port Festival website. You won't want to miss it!
Sponsored