For most diners, seeing the top chef in action is a rare occurrence. Maybe you'll see a flash of white through a swinging door or hear a voice shouting directions over the kitchen din. It's almost as though they prefer to remain an enigma. If a chef steps outside the kitchen to chat with a table, other guests sit in jealous awe at the special treatment.

At BowEdison Fine Food and Drink, everyone gets the special treatment.
After selling her wildly popular Agate Pass Café in downtown Suquamish, Executive Chef and Owner Marty Bracken knew what she wanted to do differently—knock down those walls and barriers between the chef's kitchen and the patrons.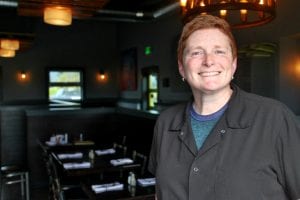 Although there are plenty of cozy niches within the restaurant offering intimate dining experiences, at BowEdison Fine Food and Drink, you are highly encouraged to reserve ringside seats at the "Chef's Table" where all the magic that goes into food prep is revealed.
"I like that it creates honesty in what you're doing," Marty explained. "Interacting with the chef and learning their stories and motivation is the direction food is going in now, and I embrace that presentation."
Some folks are born with skills and others are influenced by their environment. Marty laughed and shared that as one of five kids, her mom wasn't keen on preparing haute cuisine.
Armed with a degree in hotel and restaurant management from Oregon State, Marty spent over a decade in administration before landing an unpaid apprenticeship in her mid-30s at a Seattle chef's cooking school. There, she discovered a passion for masterminding dishes in the back of the house, rather than directing the front.
And that's how great chefs are born. After years of grunt work and elbow-grease and learning all sides of the industry, they hit their stride.
"I was definitely the oldest line cook, but I worked with notable Seattle chefs Johnathan Sundstrom and Maria Heinz," Marty said.
Ready for a challenge in 2007, Marty saw a for-lease sign on a restaurant in the booming metropolis of Suquamish, wrote a business plan and opened the Agate Pass Café. After eight years, she was made an offer she couldn't refuse and looked for her next adventure.
After searching throughout Whatcom and Skagit Counties for a suitable location, Marty stumbled upon a building on the corner of Chuckanut Drive and Bow Hill road and squinting her eyes, could imagine its potential.
Plus it had a range hood, so that was a start. She had disengaged from the design process in her first restaurant, but now she managed the teardown and rebuild in the new location. With everything taken down to the studs, she was free to envision how the space should flow to complement her culinary creations.
Through her efforts, the one-time gas station and convenience store was transformed into a chic, open-concept dining experience. Sight lines create a feast for the eyes—one can appreciate the contemporary paintings of local artist Kathryn Hackney adorning the walls, observe the kitchen in action, or take in the hung pallet chandeliers and bold yellow accents.
Equally important to the restaurant design was planning the front of the house. Partnering with General Manager Bridget McShane, they decided on some critical policies, including being a no tipping establishment. Bridget's restaurant career has included everything from busing tables to high-end catering and with her insight, they cooked up an appealing compensation plan that included revenue sharing to recruit top talent.
"As a manager, I have seen that the people who work here truly care about serving, and genuinely like the industry," Bridget explains. "They're not working a table for a potential tip and they know that the better the restaurant does, the better everyone will do. Universally, servers have commented that this literally fixes every problem with the industry. No more fighting or blame between the front and back of the house."
Marty has also noticed more teamwork. "It's not competitive. They're not behaving like independent contractors marking their territory. Everyone pitches in to take care of the tables and all shifts are equally appealing. I'm happy about the energy in the country behind eliminating tipping and increasing minimum wage. It all fed into what seemed like the right decision. I hope more restaurants will follow."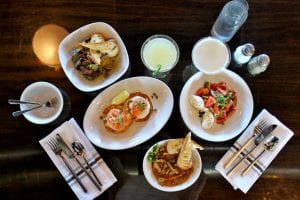 To appeal to a diverse range of diners, Bridget advised Marty that the restaurant should offer more vegan and gluten-free options. So Marty adopted those restrictions in her personal diet for a month to learn how to create things she would want to eat.
"As a chef, completely changing your diet is like learning another language," she said. "And like any new skill, at first it was difficult to be creative on the fly, but I've become more nimble with practice."
During the experiment, Marty discovered how frustrating it was to eat at many restaurants when on a restricted diet. She and Bridget sought to make it easier for their own diners with clearly listed menu options. And because Marty missed French fries, they added a dedicated fryer to accommodate vegan and gluten-free foods.
BowEdison serves "eclectic, modern American" cooking. What that means for diners is a sophisticated, creative, yet accessible menu with seasonal offerings showcasing local producers. Partnerships with Well Fed Farms, BreadFarm, Bow Hill Blueberries and other local businesses allow diners to get a taste of where they live, while supporting local artisanal food producers.
"I feel very strongly that four people seated at a table here with their differing tastes and dietary restrictions will each find something they love on our menu," Bridget stated.
At BowEdison, Marty is free to indulge in her creative whims and bring others into the fold. By removing the barriers, both physically and socially, between herself and the diners, she's creating a new kind of fine-dining experience. A restaurant where you can show up wearing whatever but eat like you're at The Ritz.
"I want this place to be known for the quality of the food and the integrity of the establishment," Marty said.
She's found the best way is to remove those walls and meet her customers at the table.
Sponsored