The first snow has fallen and with it comes the reminder that the holidays are just around the corner – a wonderful time of year, filled with excitement and anticipation. The days are shorter now and it seems that there is less time to get things done, present shopping included.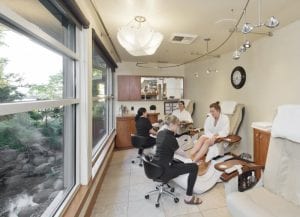 The holiday season is all about getting to spend quality time with the people you love and expressing your gratitude for them. This year I've discovered the perfect way to show the special people in my life just how much I care.
I've always enjoyed the idea of giving gifts to friends and family that make a positive difference in their lives, which is where The Chrysalis Inn & Spa plays perfectly into my holiday plans. The Chrysalis is well-known in the Bellingham community for its relaxing qualities and incredible restaurant — it's scenic bay views and tranquil atmosphere — and of course, its incredible massages and spa treatments.
There are so many people in my life that deserve to be recognized for their hard-work and gifted a calming trip to The Chrysalis. When I think of Tracy, my friend that restores boats, I think about how straining and demanding bringing back these beautiful wooden boats' luster can be. A gift-certificate to The Chrysalis will present Tracy with a well-deserved, pampered afternoon off. She can relax in the eucalyptus steam room, enjoy the views of the water and wildlife and most importantly, she can let the worries of the world pass her by.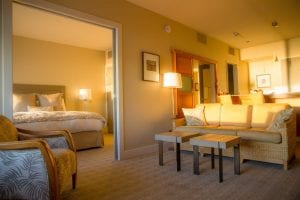 This is what I love so much about The Chrysalis, it provides complete relaxation and stress-relief. In a world that is so fast-paced and connected, often the best way to recharge is by spending time focusing on healing ourselves in a quiet sanctuary, unplugged from the world around us.
A good friend of mine is a new mother, masseuse and now a full-time student. Kristina works harder than anyone I know and is always putting everyone in her life first – that's the amazing woman that she is. A weekend at The Chrysalis is the best gift I can think of for her, a stay at the hotel to enjoy the beautiful views of the bay, breakfast in bed and plenty of time in the spa. Kristina loves time at The Chrysalis to reset, which is why I chose the Signature Trio spa package for her. This includes an hour-long Swedish massage, organic facial and a hydrating pedicure. This will surely have her feeling rejuvenated and rested in no time.
My partner owns Hammertime Carpentry, a Bellingham construction company, with his brother. Their days are filled with difficult, strenuous work as they create custom projects, regardless of if it's raining or snowing. They build houses and they build dreams, creating spaces for families to grow and thrive, truly helping to build this community from the ground up. Their hard-work and determination deserves to be rewarded – and what better way to treat them than to gift them each a deep tissue massage (or three)?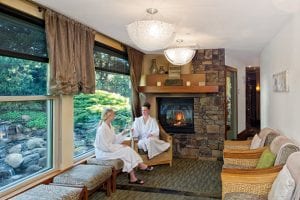 Anyone would love a gift card to the Chrysalis. You could give your children's teachers yet another craft or treat them to a massage for all their hard work cultivating young minds. Imagine your mail carrier's surprise when he or she discovers a special gift just for them in the mailbox. Your married friends would love a gift card to be used for a romantic dinner at Keenan's at the Pier. Girlfriends would be thrilled by a friend's spa day. And who wouldn't love a chance to just unplug and relax?
Gift cards to The Chrysalis can be used at the spa, Keenan's at the Pier and the hotel. The Chrysalis will be hosting a holiday sale from November 24 to December 23. For each $150 gift card purchased, a $25 promotional gift card will be given to the purchaser.
Let's not let the holidays catch us off guard this year. Instead, relax and know that all your gifts are taken care of with The Chrysalis Inn & Spa. Show those that you love in your life just how much you care for them by giving them the ultimate gift of relaxation. And while you're booking holiday gifts for your friends and family, you might as well treat yourself to a luxurious bayside weekend too.
Sponsored